How the Natrelle® 410 Breast Implant Can Benefit You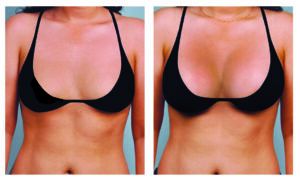 Dr. Christine Petti is proud to offer the Natrelle® 410 shaped gel breast implants as an option for her patients seeking breast augmentation, breast implant revision, or breast lift surgery. Read on to learn more about why Dr. Petti feels this implant can offer benefits for many of her patients:
As a surgeon, I feel that the Natrelle® 410 cohesive gel breast implant can be a good choice for many patients because it offers many benefits that can be backed up by scientific data — it was originally developed after much scientific research, ultimately leading to its approval by the Food and Drug Administration (FDA) in the United States. The benefits of the Natrelle® 410 anatomical implant are also supported through an abundance of clinical data from Europe, where it has been used for almost two decades now.
I often recommend the Natrelle® 410 breast implants to patients who have a very underdeveloped breast, such as an A cup or smaller, as well as to patients who have a conical, tubular shaped ("constricted") breast. The cohesive gel implants can help to give these patients a natural contour and feel due to the anatomical shape, full form, and consistency of the silicone used in these implants.
For some patients who are considering a breast lift, Natrelle® Style 410 anatomical breast implants can often be a good alternative. Many of my patients who have mild mammary ptosis (breast sag) have been able to benefit from the upper pole fullness, as well as the lower pole fullness of the Natrelle® 410 implant. This fullness can lift the mildly sagging breast, which eliminates the need for a formal lift and the consequential breast scars associated with a breast lift.
To learn more about Natrelle® 410 anatomical gel implants, or to schedule a consultation, please contact my office today. Please also check back to our blog soon to read about one of my patients who was able to regain her confidence after a breast implant revision with the Natrelle® 410 breast implant.