Dr. Petti Awarded BEST Cosmetic Surgeon of 2020 for the 7th Year in a Row by Daily Breeze of Los Angeles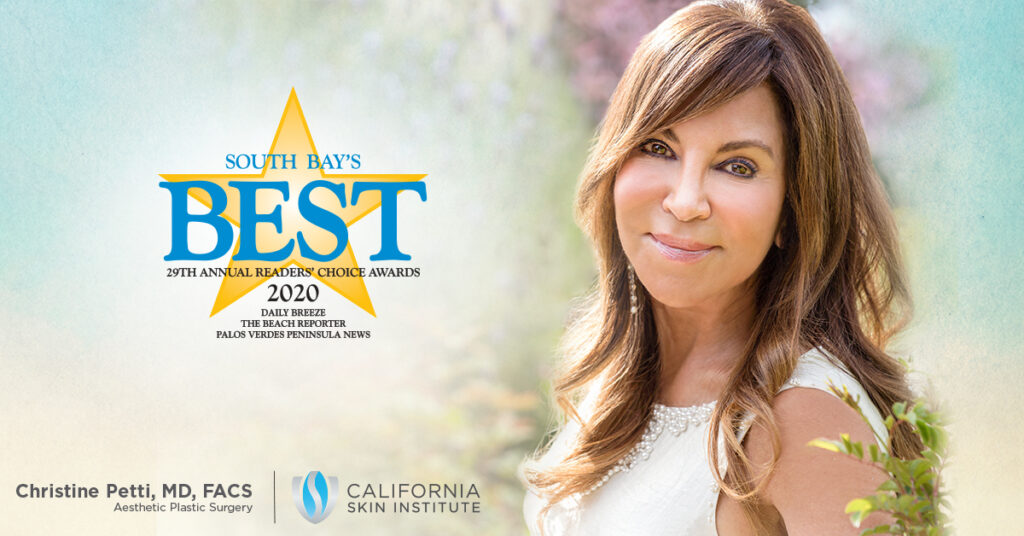 Each year, for the past 29 years, the Daily Breeze of Los Angeles asks its readership to vote for the most esteemed professionals and local businesses to reveal the annual Readers' Choice South Bay's BEST Awards! For the seventh year in a row board-certified plastic surgeon Christine Petti, MD, FACS has taken home the top prize of "BEST Cosmetic Surgeon". Dr. Petti is grateful for the support she continues to receive from her local South Bay community—including friends, family, patients, and colleagues who each took the time to cast their votes.
Dr. Petti feels incredibly fortunate and gratified to receive awards for her work; however, she has never been one to rest on her laurels. Dr. Petti is constantly advancing her knowledge and skills, as well as engaging in research, publications, and lectures—she also serves as a consultant for major laser corporations. These "off duty" commitments she makes (most of which she performs after her daily work hours and on weekends), compliment her perpetual weekly work and experience in the operating room, perfecting her craft and taking it to new levels of performance. Providing customized, state-of-the-art cosmetic surgery and procedures allows her to improve the way her patients look and feel. Most importantly, these aesthetic enhancements serve as life-changing events that can create positive turning points in lives that may have been challenged in a variety of ways.
Dr. Petti performs the full spectrum of aesthetic surgery enhancing procedures—facelift, neck lift, eyelid lift, rhinoplasty, breast augmentation/lift/reduction, fat transfer, SmartLipo Triplex® liposuction, abdominoplasty, PrecisionTx® laser lift, and other face and body contouring procedures.
Dr. Petti has had medical day spa procedures in her practice for decades, and has been a pioneer in use of a broad spectrum of non-surgical cosmetic treatments for skin from head to toe. She designs her non-surgical aesthetic treatments to promote results with minimal downtime. Her practice includes the latest energy-based technologies—such as CoolPeel™with the Tetra CO2 laser, SmartSkin® peel, Vivace® radiofrequency fractional microneedling, platelet rich plasma, WarmSculpting with SculpSure® (non-surgical fat reduction), laser leg vein therapy, FotoFacial®, BOTOX® Cosmetic, dermal fillers, Sculptra®, KYBELLA®, and contemporary medical skin care—all innovative treatment techniques for modern aesthetically beautiful, natural, and balanced outcomes!
Share Dr. Petti's news of her "BEST Cosmetic Surgeon" win with your friends and family! Visit our websites at www.dr-petti.com and www.caskin.com.