"Solve Your Biggest Double Dilemmas"
Dr. Christine Petti has offered her expertise as a plastic surgeon on "The Doctors" twice before, and has now made her third appearance on the Emmy Award-winning daytime talk show that discusses vital and valid current medical topics from sound and expert medical resources.
Introducing "The Doubles"
During the episode, "Solve Your Biggest Double Dilemmas", Dr. Petti was asked to evaluate and correct a "double chin". Tricia, the patient chosen by Dr. Petti, is a 30 year old model, actress and bride to be! She has had a double chin all her life, despite the fact that she had been in perfect physical condition. She thought about having it corrected all her adult life, but with the wedding coming up-she now had a timely motivating factor.
Tricia's Treatment Plan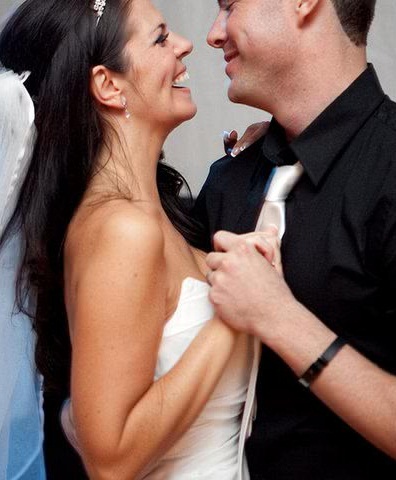 Dr. Petti performed a combination of procedures which included placement of a silicone implant along the chin and jaw line to create a very natural augmentation of her weak chin and mandible. Dr. Petti also performed Smartlipo Triplex™ of the neck to remove a congenital pocket of fat under her chin, which was always there, despite the patient's ideal body weight. She also performed SmartSkin ™ fractional CO2 laser resurfacing of the skin of the neck for further tightening and contouring of the neck skin. The surgery was remarkable for being minimally invasive-as the silicone chin/jowl implant was placed through an incision hidden in the lower lip of the mouth and the Smartlipo Triplex™ was done with small incisions behind the ear. Tricia had tears of joy when she saw her result! She was ready to hold her head high and her chin up for her October wedding on her family's Texas ranch!
Tricia's Results Revealed
Tricia's Before and After Photographs
As Seen on "The Doctors" Tricia is pictured before and 15 days after Chin augmentation with Silicone Chin/Jowl Implant (medium size), Smartlipo Triplex™ of the Neck, SmartSkin CO2™ fractional laser resurfacing of the Neck.

Exclusive Behind The Scenes Video Footage From Our Office
Click on the play button below to view exclusive video footage from Tricia who discusses her dramatic transformation.