Dr. Petti Presenting at The Aesthetic Academy 2019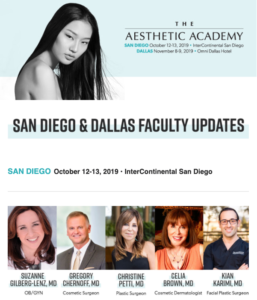 Plastic surgeon Christine Petti, MD will present her manuscript "Clinical Study to Assess the 1060 nm diode laser for the Treatment of Post-Liposuction Deformities" at The Aesthetic Academy in San Diego at the InterContinental on October 12-13, 2019. Her manuscript was published in the Journal of Lasers in Surgery and Medicine in May. Dr. Petti's presentation will take place during the body shaping session titled "A New Body of Work – The Evolving Silhouette", which will be held from 3:15pm to 5:00pm on Sunday, October 13th.
The Aesthetic Academy is a two-day, hands-on educational event focusing on the constantly innovating and evolving trends in medical aesthetics. Attendees will have the opportunity to earn continuing medical education (CME) credits and learn from world-class innovators and top practitioners in the field, like Dr. Petti. Dr. Petti is thrilled to be sharing the findings of her clinical research in such an exciting and receptive forum.
For more information on this event or to learn more about Dr. Petti's published research, we invite you to contact our practice!