Smartlipo Triplex™
Before

After

View Gallery


Liposuction is the most popular cosmetic surgery procedure in this country. Dr. Petti has taken a special interest and has developed her own specialized techniques in body sculpting procedures utilizing liposuction.

Many of her patients come in for body sculpting and look to her to define and refine their figures, rather than de-bulk them of fat. Dr. Petti sculpts the fat in body areas that are, in many instances, genetically determined and controlled pockets of fat that plague patients for a lifetime.

As one of the first plastic surgeons on the West Coast performing Smartlipo Triplex, Dr. Petti has a passion for liposuction and takes pride in achieving her goal of producing the best possible outcome for each patient. Dr. Petti and her patients live by her motto, "What a difference a day of Smartlipo Triplex can make!", since many of them are at or near their ideal body weight and have spent a lifetime dreaming of making the change that her Smartlipo Triplex procedure creates-in hours.
What is Smartlipo Triplex?
Smartlipo Triplex is a minimally invasive body contouring procedure that combines advanced laser technology and liposuction to both reduce fat and tighten skin. Customized Smartlipo Triplex sessions help male and female patients smooth pockets of stubborn fat and retract skin around their leaner areas with just local anesthetic, a quick recovery, minimal (if any) scar tissue, and beautifully sculpted results.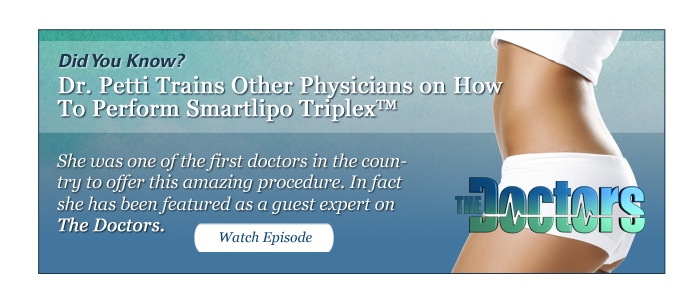 What Patients Are Saying About Smartlipo Triplex
I've been fairly athletic most of my life but have always had some stubborn belly fat that just wouldn't go away. I've considering liposuction on my abdomen for the last several years but I needed to get back to work within a few days so traditional liposuction with general anesthesia was not an option for me. Dr. Petti suggested Smartlipo Triplex™ on my upper and lower abdomen with local anesthesia and minimal down time. Dr. Petti called me personally the day after my procedure to check on my recovery and in addition to my follow-up visits, my phone calls to her nurses to discuss my progress were all handled promptly and professionally. Thank you Dr. Petti for the smooth Smartlipo Triplex™ experience (pun intended).
W.M.
The whole staff was extremely personable and genuinely caring. Thank you for "fixing" something I had been so self conscious and unhappy about for so long. It was a pleasure meeting you, Dr. Petti, and your kind staff.
BB – Los Angeles
"Cordial, warm, personalized and undo-attention. The experience was excellent!"
GD – Los Angeles
I felt very comfortable with the anesthesiologist. He was patient, personable and very pleasant. I felt the same way with the nurses. Dr. Petti was amazing, it felt like I was talking with my sister! And I have complete confidence in her and her staff! A++
KS – Los Angeles
Dr. Petti is very warm and personable. She can relate to the patient on a personal level since she's been there and can understand what we are going through. I am only two weeks post surgery and I can already tell a difference. I can't wait for the final results to show through. Dr. Petti and the office staff were lovely and very understanding and supportive. It was a good experience.
BB – Los Angeles
Dr. Petti and her staff were very responsive to phone calls and questions. I always received a call back whenever I was concerned about something. I would recommend Dr. Petti to my friends and family.
Thanks,
T.S. – Los Angeles
Everyone was great! Personalized attention was a plus and the office was very comfortable. I felt it was a great experience. Dr. Petti has a lot of pride in her work and I can tell that she is very passionate. When I met her, I knew then.
Thank You,
N.P. – Los Angeles
Dear Dr. Petti,
Thank you so much for the great Smartlipo Triplex™ treatment. This entire experience was amazing! I can't wait to come back.
Sincerely,
C.H. – Los Angeles
Thank you Dr. Petti – You are amazing! Your staff was very friendly, accommodating, professional and competent. Everyone made me feel very special and didn't rush their time with me.
Sincerely,
F.S. – Torrance
The ability to make someone like myself comfortable with surgery is a gift; Maggie and Lisa have that gift. All three of you ladies (Dr. Petti, Maggie and Lisa) made me feel like nothing was happening with our conversations involving myself and all of you with our personal and everyday talk. Each person in that room has their own personality, yet you all mix so well. Keep it up and Dr. Petti, don't get rid of your staff because each one of them was a treat to meet.
The staff and everyone made me feel like a VIP. They talked me through the procedure and kept me informed the whole time. They were extremely caring and thoughtful. The whole surgical staff as a whole functions as a great team. If there is any other plastic surgery that I would consider I would come back to Dr. Petti's office.
Mothers are beautiful people we run around doing all we can for your children, and always putting our children first. We do this day in and day out for years! In the end, our children go off to college and one day we look down and find this pouch hanging from our body's. For years we have ignored it and in fact we have grown to accept it. I thought I would be wearing it the rest of my days. I was one of those women that had always admired the beautiful panties and lingerie we all see in the magazines that arrived at my home and I thought that they were only for young women.That was until I met Dr. Petti. The thought of writing this letter still brings tears to my eyes because of what she was able to do for me. My husband and I found ourselves alone both our two children went off to college without a second thought. I wondered how the transition of going from a full house of children and their friends to an empty nest would be and all of a sudden that ugly pouch scarred me. I was not a person that had ever given any serious thought of going through such a procedure but, suddenly I begin to consider what if?
After researching what life might be like I decided to come in for a consult. I want all women to know it was not easy for me to make this visit. I took my husband with me and asked him to be there for moral support and to help me not talk myself out of it. In the end, when I now look down at my body I no longer see an ugly belly. My belly is flat yes flat like it has never been before. It is not the body of a 55 year old women. I am now wearing the beautiful lingerie the very same one's I use to admire in the magazines that were arriving ever so often. In fact, I now own almost every color you can buy. Oh, and by the way the fear I had about the empty nest that's is all gone now too. How funny now that I look back my husband and I are enjoying our time together. The women that I use to look at that would go by my table at a restaurant with the flat bellies well, that's now me going by. The result are better than I dreamed they be. I have no regrets and I have never been happier. To all the women that are thinking about doing this……. I offer one bit of advice stop thinking about it and do it! I only wish I could have made one minor change, I wish I would have done this 20 years sooner. For now I am enjoying the rest of my life with my husband and he too jokes around and says "thank you Dr. Petti
Dr. Petti was very thorough and friendly. The staff were wonderul, extremely friendly, very accomodating and attentive.
N.C., Orange County
Each and every person involved were attentive, well informed, professional yet 'down to earth'. [The staff] were excellent to me! All were friendly, caring and genuine. Every detail of my experience was precise and thorough. Dr. Petti took her time in all details and expectations.
C.N., Los Angeles
[Dr. Petti] took the time to explain everything very thoroughly. There was no 'hard' sell and I felt trust with Dr. Petti. She and her staff were very kind and friendly.
S.S., Orange County
I think Dr. Petti is fabulous, knowledgeable, and skilled. She is very professional & kind. Dr. Petti really exceeded my expectations as did the nurses and staff. I felt very comfortable because I knew I had selected the right place to have my surgery done. I'm thrilled with the results! Thank you, thank you Dr. Petti and staff!
E.S., Los Angeles
You and your staff treated me like a friend while still being very professional. Dr. Petti thank you so much for making me feel good about my appearance again. Menopause is so ugly and you helped me get through it much easier. Thank you for helping and understanding WOMEN!
P.R., Smartlipo Triplex™ Patient
Dear Dr. Petti and Staff,I can't begin to tell you what a wonderful experience I've had not just with the surgery in 2005, but once again this October. I'm very pleased with the outcome and so galt I decided to have the Smartlipo TriplexTriplexSmartlipotrade;trade;trade; and my neck done.
You are a wonderful, caring, and talented person and surgeon. And your staff exemplifies all those attributes too. You and your staff are diamonds in your profession.
M.H., Los Angeles Smartlipo Triplex™ Patient
Words cannot express how happy I am after having the Smartlipo Triplex™ Laser Body Sculpting. I am a very active & athletic individual, I watch what I eat, and exercise on a regular basis, but have been very frustrated with the stubborn bulging areas around my entire abdomen, back and hips. I have come to the conclusion that I need help with those unsightly pockets of fat that I cannot stand anymore! After doing extensive research and checking out websites, I wanted a qualified, board certified female plastic surgeon, to do the job understanding my situation, being a woman and all the changes our bodies go through as we mature. To me a woman's touch is important and Dr. Christine Petti of the Los Angeles area met all my expectations! I found out as well, Dr. Petti is the only plastic surgeon in her area who does the Smartlipo Triplex™ LaserBody Sculpting. I had her do my abdomen, hips, flanks and neck. Dr. Petti made some recommendations to me that I never realized, the consultation was educational and informative and my results were dramatic! I saw results immediately, with a quick recovery to follow. I fit beautifully in my clothes, my body and neck are truly tight and toned! Dr. Christine Petti helped me achieve all my goals and wishes! – I now finally have the body I have always dreamed of!!
Sandra, Orange County Smartlipo Triplex™ Patient
Special thanks to Susie, Roberta, surgical team, and follow-up care nurses and of course, Dr. Petti. A very happy thoughtful and caring staff.
M.M. Los Angeles Liposuction Patient
The office was fantastic – organized & flexible, followed-up with phone calls, friendly and sincere, and highly professional and caring. Many thanks for all! I was very nervous and hesitant about having Smartlipo TriplexTriplexSmartlipotrade;trade;trade; (or and kind of surgery), but Dr. Petti and the staff held my hand every step of the way – through all of the uncertainties – and I am incredibly grateful! If Smartlipo TriplexTriplexSmartlipotrade;trade;trade; is for you, Dr. Petti's office is the only place to go.
Lisa, Smartlipo Triplex™ Patient
Everyone I came in contact with was very friendly and made me feel comfortable. Loved that Dr. Petti took the time to call and did not make me feel like I was bothering her (it was a weekend night when I left her a message).
Los Angeles Smartlipo Triplex™ and Abdominoplasty Patient
The office was so friendly, so caring, so always ready to answer questions and readily available.
L.N.
Smartlipo Triplex vs. Liposuction
Unlike traditional liposuction techniques, Smartlipo Triplex is a minimally invasive procedure that relies on innovative laser technology to achieve superior body sculpting results. The many benefits this unique system offers make it a preferred treatment choice among patients who desire significant body contouring results without the need for a surgical procedure. Smartlipo Triplex offers the following advantages:
Melts away excess fat
Tightens skin by heating tissue
Versatile and customizable
More efficient than traditional liposuction
Built-in controls help optimize results
Equipped to handle fibrous areas
Results in less bruising and bleeding than traditional liposuction
Requires only small incisions
Potential option for patients who cannot undergo general anesthesia
Well-suited for corrective procedures (secondary liposuction)
Additionally, Smartlipo Triplex can deliver reliable results across a wide array of treatment sites that contain both large and small pockets of stubborn excess fat. During a consultation with Dr. Petti, she can discuss your needs and describe how Smartlipo Triplex may be able to help you achieve your goals.
What Are the Benefits of Smartlipo Triplex?
Tighter Skin
Smartlipo Triplex allows more complete melting of the fat using advanced MultiPlex (MPX) laser techniques, in which two wavelengths of laser energy are used for not only superior sculpting of the fat, but also, the biggest advancement in liposuction surgery-skin tightening. The MPX Smartlipo Triplex is unique in that it gives Dr. Petti the opportunity to focus on skin tightening following fat reduction, and this produces smoother, more natural and superior aesthetic results.
Minimal Recovery Time
Smartlipo Triplex can be done under local anesthesia, and therefore patients are ambulatory following the procedure, with no downtime. In fact, it would be more accurate to describe Smartlipo Triplex under local anesthesia, as being associated with "up" time! This has been very rewarding for the patients, Dr. Petti and her staff.
Minimally Invasive
The Smartlipo Triplex is a minimally-invasive laser surgical technique, performed by using a smaller-than-a-fine-point-pen fiber optic laser. Therefore, the entry points in the skin are very small and leave an inconspicuous scar. The laser wavelengths close down the blood vessels, so the result is associated with not only minimal surgical trauma, but also minimal bruising, swelling and resultant quick recovery. There is minimal discomfort, and Dr. Petti's patients often tell her that they did not need to take any pain medications the evening of surgery. The Smartlipo Triplex patients that have local anesthesia can drive the next day if they are off of pain medications and can return to their normal daily activities in one to two days after surgery, depending on each individual patient.
Targets Unwanted Pockets of Fat
Smartlipo Triplex can also be used to treat larger areas of fat accumulation or multiple areas of fatty deposits. However, in these cases the patient may need to have general anesthesia. It is normal in these patients for the recovery to be longer. Some patients may prefer to have several areas treated at one surgical setting. These patients are done in her private, ambulatory plastic surgery center under the guidance and supervision of board-certified and experienced anesthesiologists.
Who Are Ideal Candidates for Smartlipo Triplex?
Individuals who are good candidates for body sculpting with Smartlipo Triplex are generally in good health and have one or several areas of stubborn fat they would like to address. Often, candidates are already close to their goal weight with localized pockets of fat that have not responded to weight loss methods; however, Dr. Petti may utilize Smartlipo Triplex to accomplish larger volumes of fat reduction in some cases. A certain degree of skin laxity can also be corrected with Smartlipo Triplex, so patients with aging and/or stretched skin combined with excess fat may be ideal candidates for treatment.
Common treatment areas include:
Beneath the chin
Neck
Upper arms
Chest
Abdomen
Love handles
Back
Bra fat
Buttocks
Thighs
Hips
Knees
If you are considering Smartlipo Triplex to achieve slimmer, leaner body contours, we encourage you to contact our practice to schedule a consultation with Dr. Petti to find out if you are a good candidate.
A Patient Journey Through Smartlipo Triplex MPX
Patient Pre Operative Photographs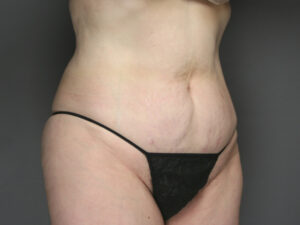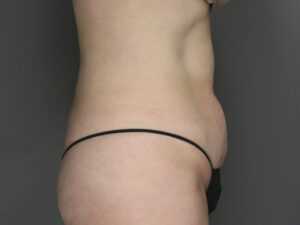 Pre Operative Markings done by Dr. Petti before the Smartlipo Triplex procedure.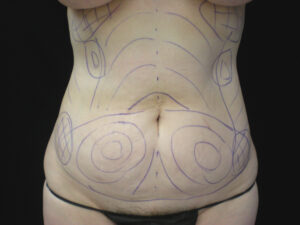 You will see the Thermal Camera which is a very advanced technique with the Smartlipo Triplex used for sensing the true temperature of the skin & tissue. Dr. Petti is very advanced and on the cutting edge of technology. She has incorporated lasers in her practice since 1994.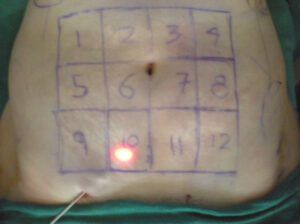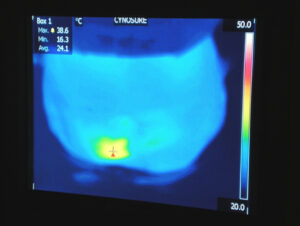 Patients Pre-Operative marking photo next to immediately following Smartlipo Triplex Procedure.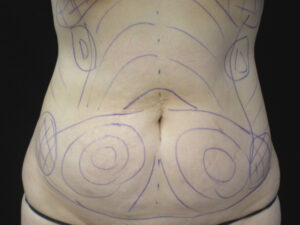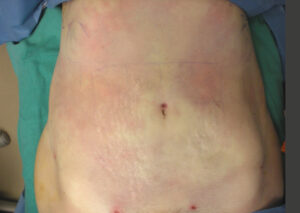 What Is Recovery After Smartlipo Triplex Like?
The details of your recovery after Smartlipo Triplex will depend on which areas you have treated and the amount of fat you have removed during the procedure. Compared to traditional liposuction, the recovery period after Smartlipo Triplex is dramatically reduced. Because there is less tissue trauma and bleeding with Smartlipo Triplex, you can typically expect minimal bruising, swelling, and/or discomfort that should dissipate within a couple of days. For some patients, recovery can take a bit longer and compression garments may be recommended to aid in proper healing. Before you undergo your procedure, Dr. Petti will describe the recovery, post-treatment care, and results you can expect so that you are fully prepared at every stage.
What Are the Most Common Smartlipo Triplex Side Effects?
Compared to traditional liposuction procedures, Smartlipo Triplex has considerably fewer side effects and is unlikely to cause serious complications. The most common side effects that occur after treatment with Smartlipo Triplex are related to the natural healing process and include discomfort, bruising, numbness, and swelling. For patients who undergo more aggressive treatment plans, these symptoms may be more persistent; however, they should resolve on a predictable timetable that Dr. Petti can discuss with you. During the healing process, some patients may also notice some lumpiness in the treatment area—while this may seem alarming, this side effect is merely the tissue recovering and the area should smooth out once the final results are visible. It is important to note that Dr. Petti possesses a high-degree of skill using the Smartlipo Triplex system; her technique and expertise help to minimize side effects and promote optimal results. If you are concerned about side effects, Dr. Petti can discuss these issues with you in detail and explain why Smartlipo Triplex can be a very safe and effective choice for achieving your body contouring goals.
What Kind of Smartlipo Triplex Results Can I Expect?
Dr. Petti's degree of experience and expertise with Smartlipo Triplex is evident in the exceptional results she is able to create for her patients. Typically, men and women who undergo body contouring with Smartlipo Triplex are very satisfied with the results they are able to achieve. Their new body contours and/or profiles are generally smoother and tighter, creating a more slender and toned appearance. In some cases, Dr. Petti may recommend multiple treatment sessions with Smartlipo Triplex for optimal fat reduction and skin tightening results. We invite you to explore Smartlipo Triplex before-and-after photos featuring some of Dr. Petti's patients to get an idea of the results that are possible with this impressive technology.
How Much is Smartlipo Triplex?
Body contouring treatments with Smartlipo Triplex are highly customized based on your needs and aesthetic goals, which means that the overall pricing for your procedure must be determined during a personal consultation with Dr. Petti. The cost for your procedure will be calculated based on a variety of important factors, including:
The number areas you wish to treat
The volume of fat you want to remove from your body
Which areas of the body you want to contour
The complexity of the procedure
Number of sessions recommended
Any anesthesiology fees
Following your consultation, you will receive a comprehensive cost quotation for the Smartlipo Triplex treatment plan Dr. Petti creates for you. With the help of our friendly office team, you will learn about the forms of payment we accept as well as plastic surgery financing options offered through third-party lenders. Qualified financing applicants can enjoy low and no-interest loans and flexible monthly payments, which may make paying for your treatment more affordable and convenient. When payment arrangements have been made, you can schedule your Smartlipo Triplex treatment and look forward to achieving the figure you desire.
Schedule Your Personal Smartlipo Triplex Consultation
Every patient's personal concerns and health history will be carefully considered by Dr. Petti and she will make a plan that is customized to meet their desired aesthetic outcome in a safe and nurturing surgical environment.
Dr. Petti enjoys body sculpting and will always have the best technology, but it will be technology that works. In her hands, Smartlipo Triplex works and has provided superior body sculpting outcomes in a safe environment.
Dr. Petti welcomes anyone interested in knowing more about their options with regard to body sculpting and Smartlipo Triplex to seek a complete and thorough consultation with her about their candidacy for these procedures. Simply contact us today.