KYBELLA ®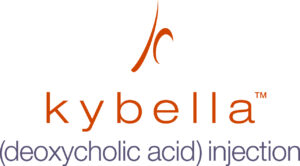 Before KYBELLA®, surgical liposuction techniques were the only options available for removing fat pockets from below the chin. Now, modern advancements in cosmetic injectables have lead to the development of KYBELLA® for the treatment of a "double chin" without the need for surgery. KYBELLA® complements the full range of non-surgical and minimally invasive enhancement options available at the Cosmetic and Laser Surgery practice of Christine Petti, MD, FACS.
What is KYBELLA®?
KYBELLA® is the only injectable solution FDA-approved for the reduction of excess fat beneath the chin. Composed of deoxycholic acid, a natural compound found in the body, KYBELLA® is injected into fat deposits that create the appearance of a "double chin" or unwanted neck fullness. Once injected, KYBELLA® can dissolve and initiate removal of the metabolized fat cells from the body.
How Does KYBELLA® Work?
Through a series of carefully placed micro-injections, KYBELLA® has the potential to permanently eliminate targeted submental fat. Once injected, the active natural ingredient in KYBELLA® breaks down and metabolizes fat cells through a process called lipolysis. Over time, the area becomes leaner, tighter, and smoother, and additional injections are typically not needed following the recommended number of treatments. For patients who are good candidates for KYBELLA®, treatment sessions are relatively simple and can deliver remarkable results.
What Are the Benefits of KYBELLA®?
Treatment with non-surgical KYBELLA® has several benefits that can make it a suitable option for those interested in reducing the appearance of a "double chin" caused by excess fat:
Treatment is non-surgical and minimally invasive
Very little downtime
Regular activities can often be resumed immediately
Sessions take about 30 minutes each
Enhances the facial profile and neck contour
Eliminates fat volume
Results appear quickly and often continue to improve for up to three to four months
Who is a Good Candidate for KYBELLA®?
Plastic surgeon Christine Petti, MD will perform a thorough examination during the initial consultation to evaluate your cosmetic concerns and determine the best course of treatment. Candidates for treatment with KYBELLA® generally have areas of fat beneath the chin and/or jawline, good skin elasticity, and supportive musculature. Because KYBELLA® can only treat fat volume, patients with loose, inelastic skin, and/or muscle laxity may be better served with a procedure like neck lift.
What Happens During Treatment with KYBELLA®?
Before treatment, the under-chin area is numbed with topical anesthetic, which reduces any potential discomfort during the procedure. Following a carefully planned strategy, Dr. Petti will administer the KYBELLA® injections throughout the treatment region. Once the injections are complete, ice will be applied to mitigate any potential swelling or redness that may occur.
What Can I Expect After Treatment with KYBELLA®?
Mild bruising and swelling may result after treatment, but should quickly diminish within a few days. After about four weeks, treatment may be repeated to further enhance results. For most patients, the full results of KYBELLA® should be visible within three to four months after the final session.
What Results can I Expect from KYBELLA® Treatment?
When KYBELLA® injections are performed by a highly trained and experienced injector, the results can be incredible, particularly for ideal candidates. For those who are well-suited for KYBELLA®, Dr. Petti carefully plans and customizes her approach to deliver optimal improvement and high-quality aesthetics. Unlike other injectable treatments that deliver immediate results, KYBELLA® typically takes three to four months before fat reduction is complete. Dr. Petti's patients often rave about the final results they achieve with KYBELLA®, noting how the reduction of fat from beneath the chin enhances their facial proportions and profile. To see these results for yourself, we invite you to view KYBELLA® before-and-after photos featuring Dr. Petti's patients.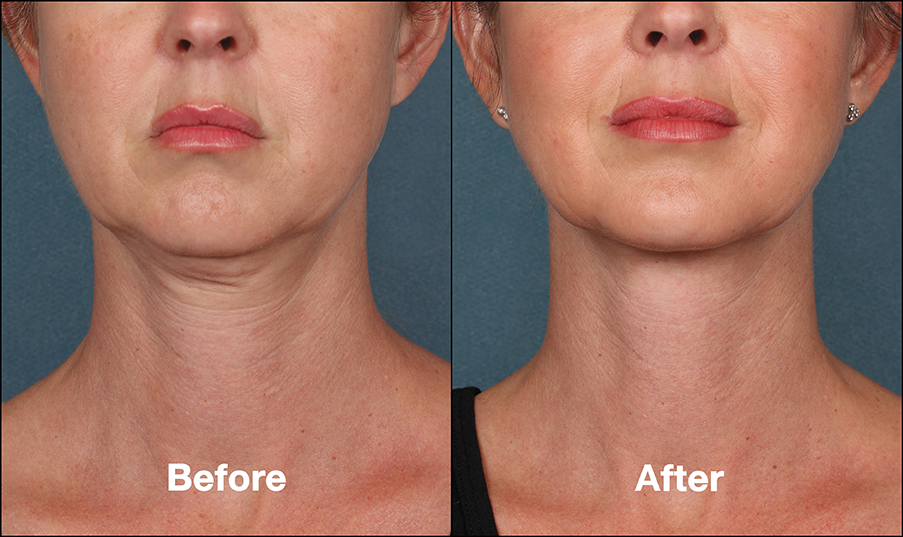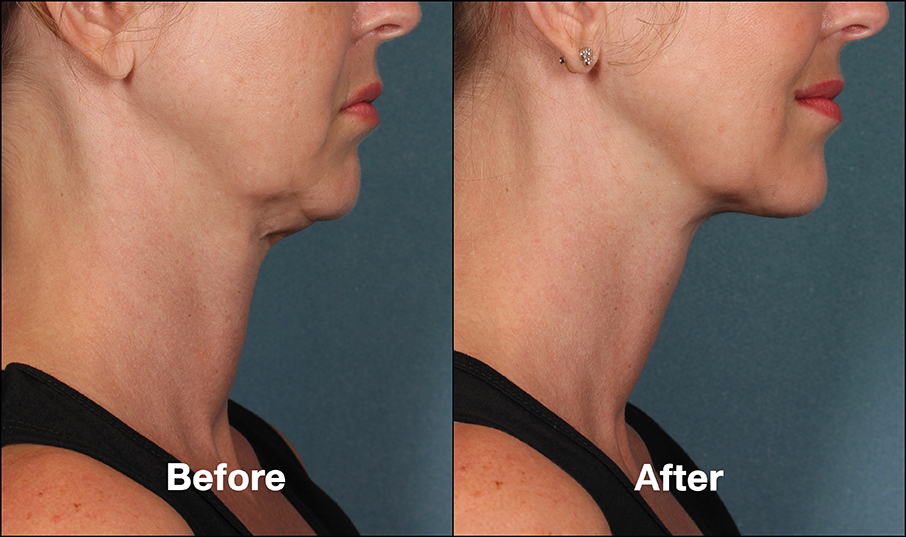 Melt away your double chin with Kybella
How Much Does KYBELLA® Cost?
Each KYBELLA® treatment plan is developed with the patient's needs and goals in mind, which can cause the overall price to fluctuate. The cost of your treatment will be based on:
The amount of KYBELLA® used during your treatment session
The number of treatment sessions Dr. Petti recommends/performs
The current market cost per syringe of KYBELLA®
During your consultation, you will be provided with a detailed price estimate for your custom KYBELLA® treatment plan. To make paying for your cosmetic enhancements more convenient, we accept major credit cards, as well as plastic surgery financing provided by CareCredit® and Prosper HealthCare Lending. CareCredit® and Prosper HealthCare Lending are third-party lenders who offer flexible payment plans and loans to qualified applicants. Loan approval is received quickly after submitting the application, which allows you to get started with your treatment right away!
Contact Us about KYBELLA®
For more information about KYBELLA®, please contact our office. Our friendly staff can answer any questions you have and help schedule your consultation with Dr. Petti.