Los Angeles Plastic Surgeon
A Letter to Patients from Dr. Christine Petti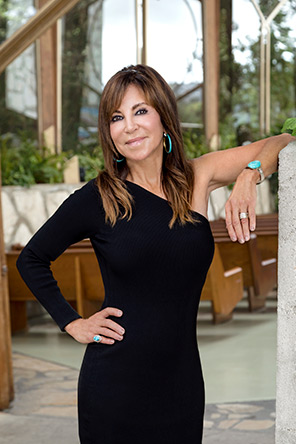 Click to View Curriculum Vitae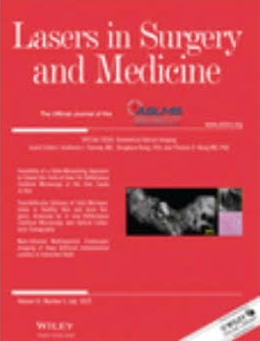 Dr. Petti's manuscript titled "Clinical Study to Assess the 1060 nm diode laser for the Treatment of Post-Liposuction Deformities" was recently published in the journal Lasers in Surgery and Medicine. Read here.

Dr. Petti authored a manuscript on laser cellulite treatment and laser-assisted lipoplasty of the thighs and buttocks, which was published in "Lasers in Surgery and Medicine". Read here.
I am honored you have chosen to learn about me and my philosophies as a plastic surgeon. I am devoted to excellence. I have worked to achieve a practice with only one thing in mind — helping you accomplish your cosmetic surgery dreams with minimal risk and maximum results. Using my skill as a surgeon who specializes in cosmetic procedures to assure you of a pleasing aesthetic result is only one part of my role as an exceptional plastic surgeon. I also commit myself to helping you look beautiful for years to come. That's why I'm dedicated to providing customized medical skin care treatments to help you continue your beauty infinitely.
I believe that beauty is twofold, combining aesthetic eye appeal with inner peace to create a feeling of complete well-being. My cosmetic surgery practice works in synergy with our innovative non-surgical aesthetic procedures to bring you the best of both sides of beauty. We work to achieve total enhancement in one innovative clinical setting.
My aesthetic instincts and my passion for excellence naturally led me to the specialty of plastic surgery. I am more than enthusiastic and feel very fortunate to be able to participate in this fabulous field as my profession. Each year, I am more convinced that what you believe, you can achieve.
During your consultation, you and I together will formulate a plan for your desired cosmetic enhancement.
Once your cosmetic image is achieved, your recovery process necessitates physical as well as emotional healing. My professional and caring staff will hold your hand every step of the way.
Last but not least, my greatest reward is the smile on your face when your beauty dream has been achieved.
I look forward to meeting you,
Christine A. Petti, M.D., F.A.C.S.
Career Overview
Dr. Christine Petti is a board-certified plastic surgeon who is highly trained and experienced in all aspects of aesthetic and reconstructive surgery. She proudly provides the full range of state-of-the-art surgical and non-surgical aesthetic services to her patients, and is considered a trendsetter in the field. In the 1990's Dr. Petti established one of the first state-licensed and certified on-site ambulatory plastic surgery facilities and medical day spas in California. She also served as the Medical Director for both the plastic surgery center and med spa. Dr. Petti specializes in aesthetic plastic surgery, laser surgery, and the most contemporary non-invasive, aesthetic surgical treatments.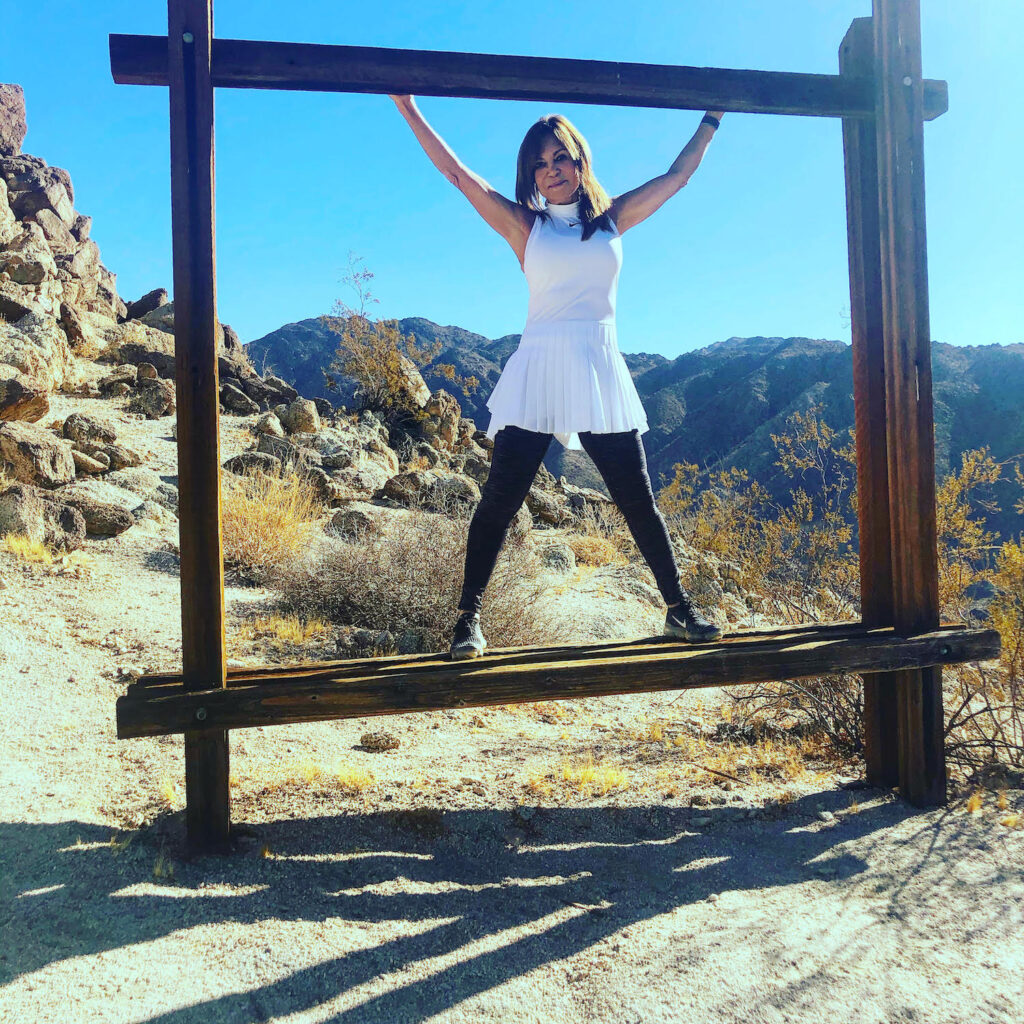 Origins & Renowned Approach
Dr. Petti has had a fascination with beauty ever since she was a child watching her mother working as a cosmetologist in their home "beauty shop" near Pittsburgh, Pennsylvania. In their beauty shop, Dr. Petti learned that looking good can be essential to helping a person feel good. She appreciates that each person's attractiveness is unique and she feels fortunate to be able to maintain and enhance the beauty in others. The visible effects of aging can take a toll on one's appearance and psyche, and Dr. Petti lives by and frequently shares the aphorism "stay forever young!" with her patients—she truly believes each individual's youthful vitality "deserves to be preserved." Dr. Petti is inspired by both beauty and the science of beauty, and this passion has propelled her to become among the best in her field.
Throughout her career and still today, Dr. Petti continues to feel inspired, humbled, and very privileged to be a member of the plastic and aesthetic surgery community. She values the lives, safety, and aesthetic outcomes of all of her patients, as demonstrated by her commitment to upholding the highest standards of excellence in all areas of her practice.
Dr. Petti customizes all of her surgical and non-surgical treatments. She herself performs all of the treatments for her patients and is known for her confident, caring, authentic, and endearing bedside manner. In addition to being artistically talented, she has a keen aesthetic eye—which helps her plan and create the beautiful, natural-looking results she is known for. She prides herself on being able to think outside the box and solve difficult aesthetic surgery dilemmas. Because of these demonstrated skills, she is often referred complex cases that are reoperative in nature and require extreme skill, experience, and technological fortitude.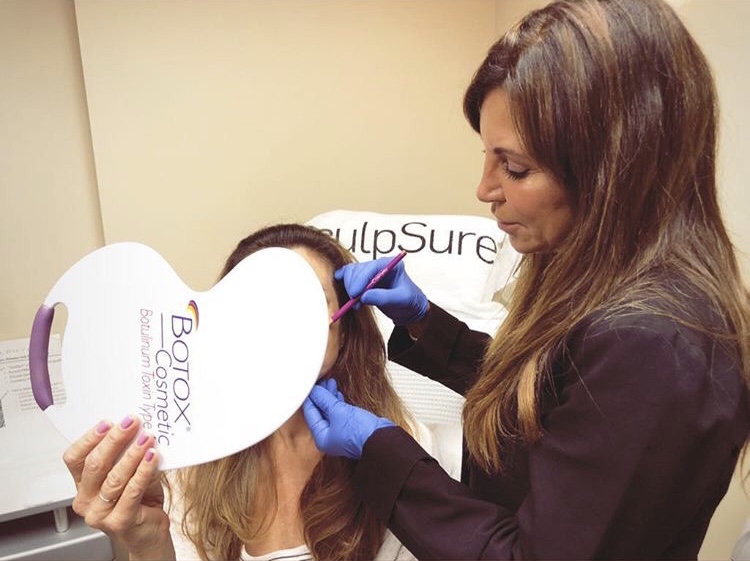 Education
Dr. Petti completed her undergraduate education at Saint Mary's College of Notre Dame—majoring in biology, minoring in chemistry, and graduating summa cum laude. Next, Dr. Petti was accepted into the Pharmacology PhD program at Georgetown University Graduate School of Arts and Sciences and received both a National Institute of Health (NIH) grant and stipend to financially support her education. After two years of study at Georgetown, Dr. Petti felt confident that she should and could pursue a career in medicine and decided to attend medical school at the Medical College of Pennsylvania, Drexel School of Medicine. She received her Doctor of Medicine degree in 1981 and chose to remain at the Medical College of Pennsylvania, Drexel School of Medicine for a five-year general surgery residency, which she completed in 1986 with the honor of "Best Surgical Resident". Inspired by an independent plastic surgery rotation at the University of Pennsylvania Perelman School of Medicine and a specialized breast oncology rotation at the University of California, San Diego, Dr. Petti directed her career toward the field of plastic and reconstructive surgery. She completed her plastic surgery residency at the prestigious University of Chicago Pritzker School of Medicine in 1988, training under world-renowned Professor, Chief of the Section of Plastic Surgery, Chief of the Department of Surgery, and Dean of the School of Medicine Thomas J. Krizek, MD, FACS.


Expertise in Plastic Surgery
The talents of Dr. Petti are profound and vast in scope. She has mastered all aspects of aesthetic surgery of the face, neck, and body. She started her solo practice in Los Angeles, California from "scratch" as she trained back East and had no ties to the West Coast. Her surgical skill and love for her patients resulted in a busy career of plastic, reconstructive, and aesthetic surgery. She is well-recognized for her ability to inconspicuously and naturally rejuvenate the face, eyelids, neck, breasts, and body.
A natural appearance is key to Dr. Petti's results. In addition to her innovative research efforts, she developed a novel laser technique for facial/neck rejuvenation that removes years of aging from the patient's appearance, while maintaining their distinctive, personal look. Dr. Petti works to produce results with eyelid, face, neck, and nasal contouring that are natural and subtle, yet achieve definitive improvement.
Dr. Petti has extensive skills in reconstruction of the face and body. With the goal of restoring natural appearance and symmetry in mind, she has mastered surgical reconstruction after Mohs micrographic surgery for skin cancer. Her experience early on with facial skin cancer nurtured her skills in aesthetic surgery of the face, neck, eyelid, nose, and ears.
Expertise in Laser Surgery
Dr. Petti has a special interest and vast experience in aesthetic laser surgery and body sculpting. In fact, she was one of the first plastic surgeons in the nation to incorporate laser technology into her practice in the early 1990's. Early on, Dr. Petti trained with international laser expert Richard Fitzpatrick, MD and set out to expand her knowledge and skills in laser resurfacing, laser aesthetic surgery, and laser liposuction.
Presently, Dr. Petti is considered an expert in the field and has served as a Key Opinion Leader and Consultant for Cynosure®, A Hologic Company and Cartessa Aesthetics, LLC. She has collaborated on and published clinical research projects on laser liposuction, laser treatment of cellulite, and noninvasive laser treatment of lipodystrophy and skin laxity.
Dr. Petti's practice is an official training and research center in laser and radiofrequency aesthetic techniques. Her practice provides training in laser procedures including Smartlipo®, Cellulaze®, Precision Tx® laser treatment of the neck, SmartSkin® fractional CO2 laser skin resurfacing, SculpSure® WarmSculpting™ light-based nonsurgical fat reduction, and Vivace™ fractional RF microneedling, as well as CoolPeel™ laser skin resurfacing and advanced CO2 laser peel treatments performed with the SmartXide® Tetra CO2 laser platform. Many of these companies use Dr. Petti's before-and-after patient photos in their educational media kits. Dr. Petti was also one of six clinical investigators in the FDA study of Cellulaze®, the revolutionary, minimally-invasive laser treatment for the reduction of cellulite. The team's research contributed to the FDA clearance of Cellulaze®. Dr. Petti currently trains plastic surgeons around the world in this laser-assisted cellulite treatment, as well as laser-assisted lipoplasty, Smartlipo™.
Dr. Petti's national and international presentations and publications on laser-assisted liposuction with Smartlipo® TriPlex®, laser cellulite treatment using Cellulaze®, and nonsurgical laser fat reduction with the SculpSure® laser are frequently cited in the scientific literature. She has lectured on these topics for the American Society for Laser Medicine and Surgery, The Aesthetic Show, and other professional groups of her peers. Dr. Petti has published multiple manuscripts in the Journal of Plastic and Reconstructive Surgery, the Aesthetic Surgery Journal, the Journal of Lasers in Surgery and Medicine, the American Society of Reconstructive Microsurgeons, and the Journal of Hand Surgery. (Click here to view Dr. Petti's complete CV)
Certifications & Memberships
Dr. Petti was certified by The American Board of Surgery (1988 – 2008) and maintains ongoing certification with the American Board of Plastic Surgery (1990). She has been a Fellow of The American College of Surgeons (FACS) since 1992. Dr. Petti is committed to maintaining her position at the top of her field through continuing education. She also takes an annual comprehensive examination in plastic, reconstructive, and cosmetic surgery to ensure her knowledge is as current as possible.
Dr. Petti is a member in good standing of the American Society for Aesthetic Plastic Surgery (ASAPS), the American Society of Plastic Surgeons (ASPS), the International Society of Aesthetic Surgeons, and the American Society for Laser Medicine and Surgery.
Medical & Scientific Community Involvement
Dr. Petti is a highly sought-after speaker and frequently gives presentations at professional society meetings and combined scientific and beauty industry meetings, including The Aesthetic Academy, The Aesthetic Show, The Los Angeles Multi-Specialty Cosmetic Academy, and The Medical Spa Meeting by American MedSpa. Dr. Petti is also an honorary speaker for Cynosure® Lasers, Cynosure University, and Cartessa Aesthetics, providing expertise on Cellulaze® laser cellulite treatment, Smartlipo TriPlex® laser liposuction, SculpSure® WarmSculpting™ fat reduction, PrecisionTX® laser face and neck skin tightening, and laser neck lift. Dr. Petti has also shared her unique, customized approaches to breast augmentation and reconstruction (using Allergan® Natrelle® highly-cohesive "gummy bear" breast implants) at The Aesthetic Show and Academy.
Dr. Petti is a member of the medical staff of both Torrance Memorial Medical Center and Providence Little Company of Mary Hospital. She is also an expert witness for The Medical Board of California, and a member of the Advisory Board for Cancer Support Community of The South Bay. In her early career, she was a Clinical Instructor in Plastic Surgery at The University of Southern California, teaching plastic surgery residents during their clinical training. She is currently involved with numerous charity organizations and enjoys teaching college, premedical students, and plastic surgery residents from the United States and abroad. Dr. Petti is also active in community educational seminars, guest-speaking events, and she provides clinical internship opportunities.
Dr. Petti welcomes many opportunities to share her surgical skills and knowledge with students interested in medicine and surgery. She invites high school students, college students, and medical students to experience the demanding and fascinating field of plastic surgery by shadowing her both at her practice and in the operating room.
Patient & Community Connections
Patient education is of utmost importance to Dr. Petti. Being an only child, and cherishing her family and friends, Dr. Petti loves communicating to her patients via social media. She is active on Facebook (facebook.com/drchristinepetti), Instagram (@drchristinepetti) and has her own YouTube channel (youtube.com/user/MDPetti). You can follow her on all of these platforms as she gives an inside look at her personalized surgical and non-surgical procedures, new and established aesthetic treatments and products, skin care insights, beauty tips, avenues for self-care, and effective ways to improve both physical and mental well-being.
Dr. Petti is renowned in her community of the South Bay of Los Angeles and receives referrals from across the United States and abroad. She has been voted as both "The Best of the South Bay" and "Best of the Beach" Cosmetic Surgeon annually since 2014. Dr. Petti gives back to her community, offering donations of beauty treatments to many local organizations that represent local schools, non-profit organizations, and private corporations—many with an interest in the causes of women and children.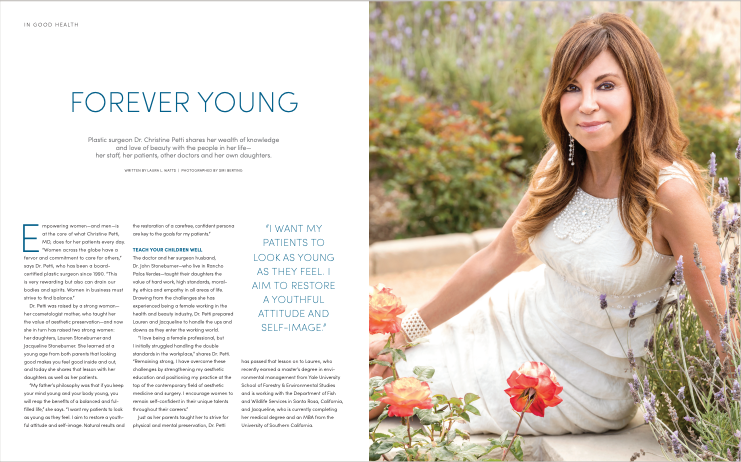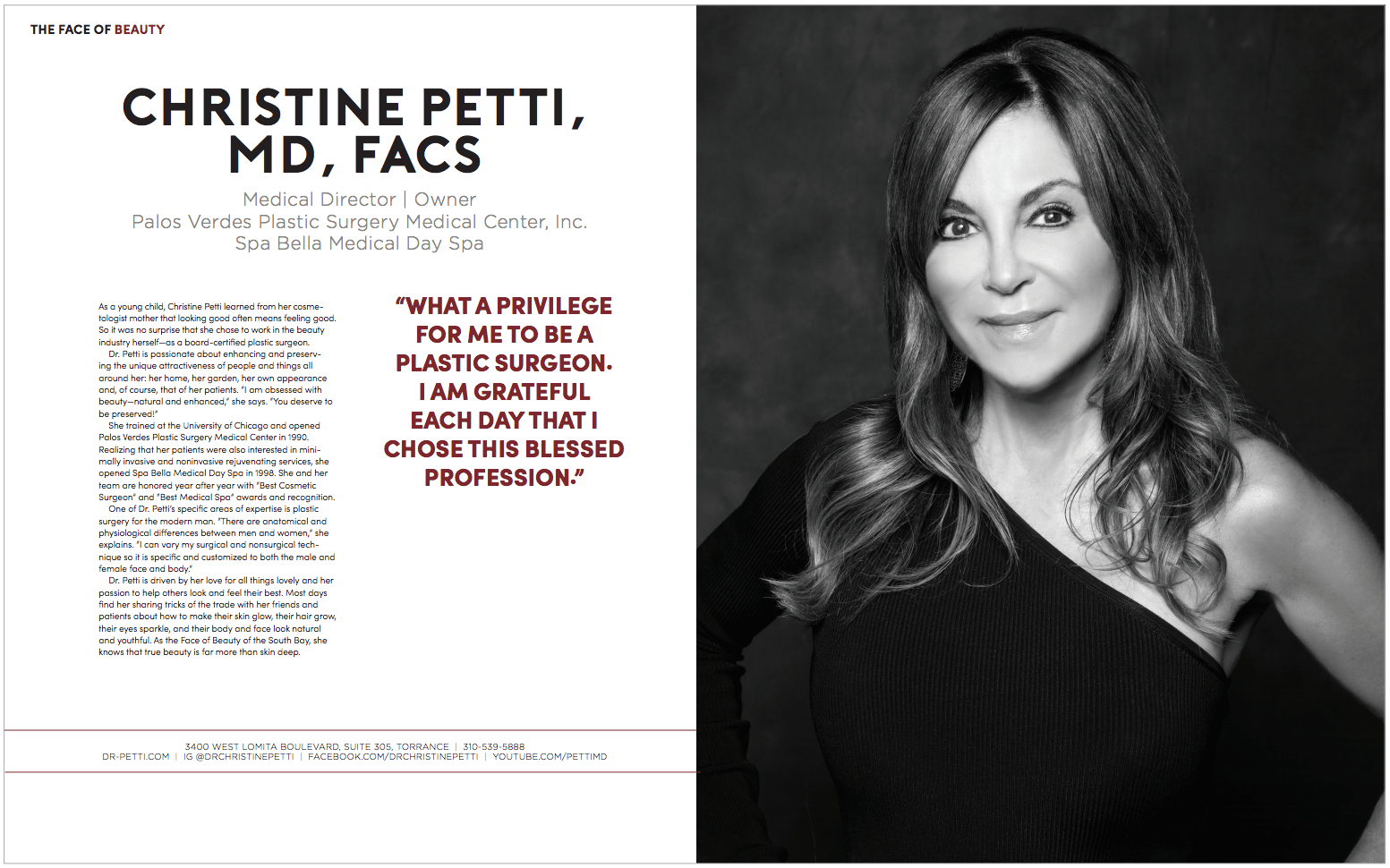 Awards
Newsweek named Dr. Petti one of America's Best Plastic Surgeons, and she's been recognized on the Castle Connolly Top Doctors® list several times. She has also been awarded multiple recognitions as South Bay's Best Cosmetic Surgeon and Best Plastic Surgeon in the Daily Breeze. US News and World Report also named Dr. Petti as one of the Top Doctors in the country. Dr. Petti's medical spa, Spa Bella, has been voted "Best Medical Day Spa" in South Bay by the Easy Reader, and she herself voted as "Best of the Beach Cosmetic Surgeon." Additionally, the Daily Breeze of Los Angeles has recognized Dr. Petti's practice as "Best Medical Day Spa" in the South Bay multiple times since 2014.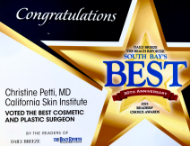 In the Media
Dr. Petti is frequently invited as a featured guest and has worked in the television field on such shows as the CBS series The Doctors, ABC's 20/20, NBC's Inside Edition, and Aesthetic TV of The Aesthetic Show. She has also worked with major television networks, including The Discovery Channel and The Plastic Surgery Channel, as a plastic surgery expert. She is often quoted in The Los Angeles Times and Daily Breeze of Los Angeles, and continues to be a resource for many Internet medical journalists who write on topics concerning aesthetic plastic surgery.
Dr. Petti's Special Doctor-Patient Relationships
Dr. Petti has a natural ability to intently and authentically listen to her patients—she closely analyzes their overall medical condition, performs a thorough medical examination, and then discusses the options available to treat their condition or desires (both non-surgical and surgical). She can take a situation and break it down to its component parts and analyze those components, allowing her to customize and creatively design a unique treatment plan for each and every patient. Remember these things when you meet Dr. Petti: she is one of a kind, loves plastic surgery, and will give you her all and more. Dr. Petti looks forward to welcoming you and will make your encounter both memorable and valuable. She and our entire team are excited to meet you.
Personal Life
In 1987, Dr. Petti married John Stoneburner, a triple board-certified cardiothoracic and vascular surgeon. They have two daughters, Lauren and Jacqueline. Lauren and Jacqueline both attended Chadwick School in Palos Verdes, California for 13 years. The girls then both went on to higher education. Lauren attended the University of Southern California, double majoring in Environmental Studies and Human Evolutionary Biology. She has a master's degree in Environmental Management from Yale University Department of Forestry and Environmental Studies. She works at the San Francisco Estuary Institute in Berkeley, California helping to preserve and protect our environment. Jacqueline attended college at the University of Notre Dame, double majoring in Science/Business and Spanish. She then entered Keck School of Medicine at the University of Southern California. She is now in the Marshall School of Business at the University of Southern California and will soon achieve both an M.D. and M.B.A. Jaqueline is planning to pursue a residency program in plastic and reconstructive surgery.
Dr. Petti loves her family and cherishes spending any time she can with them. She and her husband are active joggers, hikers, tennis players, skiers, and kayakers. The family loves animals, especially Siberian huskies and their newest edition, Tigger, their orange tabby cat.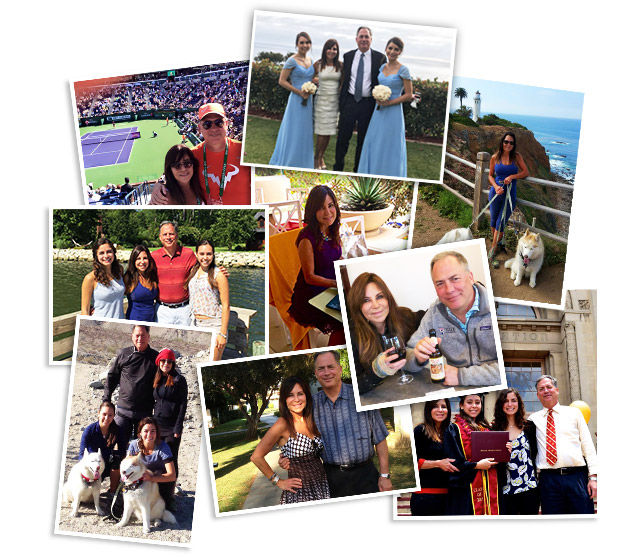 What is a Plastic Surgeon?
A plastic surgeon is a physician extensively trained in both cosmetic and reconstructive surgery procedures. Typically, a plastic surgeon completes at least six years of specialty surgical training, with three years focused solely on plastic surgery. A plastic surgeon may focus on reconstructing areas of the face or body affected by an accident/injury, surgical procedure, or congenital defect. He or she may also use plastic surgery techniques to help patients achieve aesthetic improvements in the appearance of their breasts, body, face, and skin.
Why Choose a Female Plastic Surgeon?
Dr. Petti often emphasizes the benefits of having a female plastic surgeon perform cosmetic and reconstructive procedures for women. As a woman, Dr. Petti has intimate personal insight into the aesthetic concerns and goals females have. She has developed and refined many unique surgical techniques that help her achieve superior results with breast augmentation, breast lift, and breast reduction procedures, as well as facial, neck, eyelid, and nasal cosmetic surgery procedures. Additionally, Dr. Petti is always at the leading edge of innovations in anti-aging and body contouring, and she uses these advancements to help women achieve the specific figure enhancements and youthful rejuvenation they desire. High-quality plastic surgery and non-surgical cosmetic treatments can empower women, and no one understands this fact more than Dr. Petti.
Why is Board Certification Important for Plastic Surgeons?
Board certification is designed to ensure that plastic surgeons have completed the required amount of specialty training and possess the knowledge, skill, ethics, and character necessary to uphold the high standards the profession demands. The American Board of Plastic Surgery (ABPS) oversees a strenuous testing process that consists of both written and oral exams, the passage of which determine whether or not a candidate will become certified. Once a plastic surgeon attains board certification, he or she must retake exams every ten years to maintain certification.
Selecting a board-certified plastic surgeon means you are choosing a surgeon who has distinguished themselves among the most highly trained and skilled professionals in their field. The rigorous requirements for board certification help ensure that patients receive plastic surgery treatment and medical care performed ethically and with excellence.
If you are considering plastic surgery and want to meet with one of the foremost female plastic surgeons in Los Angeles to discuss your goals, we encourage you to contact our practice to schedule a consultation with Dr. Petti.