Breast Lift
Aging, loss of weight, and pregnancy can often take a heavy toll on a woman's body, and it can be no more apparent than in the appearance of the breasts. Sag and droop in the breasts can be reversed and the bustline restored to a "perky", beautiful contour with a breast lift. Plastic surgeon Dr. Christine Petti makes it a top priority to create natural-looking results with minimal scarring. And with state-of-the-art computer imaging capabilities, Dr. Petti can show you the likely outcome of a breast lift before you even have the procedure. Dr. Petti will be right at your side to answer questions through every step of the process, and working together, you and Dr. Petti can give your breasts a "lift" and create the tight, youthful-looking bustline you deserve!
Dr. Petti's Approach to Breast Lift Surgery
What are the Benefits of a Breast Lift?
Though some women show more signs of breast sagginess than others, it's important to know that virtually all women will experience it at some point in their lives. As we age, the skin starts to become lax, and this is often exacerbated by recent pregnancy, significant weight loss, or even genetic disposition. A breast lift is designed to remove extra skin and tighten the skin of the breast area, lifting the breasts to a firmer position. Dr. Christine Petti has performed a large number of breast lift surgeries and prides herself on providing results that look natural and beautiful.
Contact Dr. Christine Petti at her practice for more information.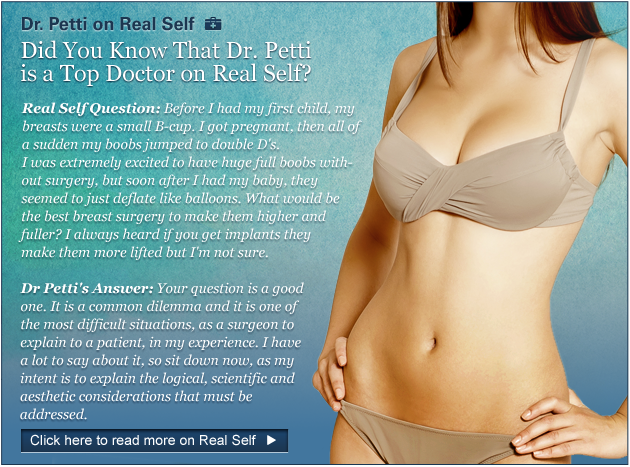 What are the Benefits of Breast Lift with Implants?
In addition to a traditional breast lift, Dr. Petti can place saline or silicone implants inside the breasts to provide you with not only a "perkier" bustline, but also a larger one that's more proportionate to your body frame. At your initial consultation, Dr. Petti can discuss all the aspects of breast augmentation with you, including sizes and types of implants, and whether your individual goals would best be met with a traditional breast lift or a lift in combination with breast implants. With digital imaging, Dr. Petti can also show you on a computer the likely outcome of both procedures to help you make your decision.
Learn more about a breast lift with implants.
What Happens During Breast Lift Surgery?
Dr. Christine Petti will tailor the breast lift procedure to your own specific needs, allowing for maximum aesthetic benefit and the most natural-looking result. Breast lift surgery is typically performed with an incision made around the dark-pigmented area around the nipple (areola), following down to the crease of the breast. Dr. Petti will remove the excess skin, and pull the remaining skin taut, lifting the breasts and nipples to a more desirable position. Breast lift procedures are typically performed under general anesthesia at our on-site, certified outpatient surgery facility. Depending on the extent of the procedure, breast lift usually takes about two hours or less to complete.
What is Breast Lift Recovery Like?
You can expect a bit of swelling and bruising for the first few weeks following breast lift surgery, which will fade as the breasts heal. Any residual scarring from the procedure will be mild and should fade significantly with time. Your normal daily schedule can likely resume after about a week; however, Dr. Petti advises you refrain from activities that are too strenuous for several weeks after surgery.
How Much Does a Breast Lift Cost?
Since each breast lift procedure is highly customized to suit the unique needs and cosmetic goals of the patient, the cost can vary considerably. The largest factor that can increase the cost of a breast lift is the addition of breast implants. If breast implants are placed along with the lift, the total price of the procedure will include additional fees for the cost of the breast implants and breast augmentation procedure. Other factors that impact price can include:
The surgical strategy Dr. Petti uses to accomplish the lift
Nipple reduction
Complexity of the case
Anesthesiology fees
Post-surgical medications and garments
At the end of your consultation Dr. Petti can provide you with an accurate overall price quotation that itemizes each fee. We accept a variety of payment options, including major credit cards, and we work together with financing companies like CareCredit to offer qualified applicants budget-friendly loans.
Will a Breast Lift Leave Scars?
Dr. Petti's surgical skill and experience performing breast lift procedures can help minimize the appearance of scars; however, most breast lift operations do leave some visible scars on the breasts. The resulting scar tissue depends on the incisions that are made during your surgery. For the majority of patients, an incision is made around the areola and vertically from the bottom of the areola to the lower fold of the breast. In some cases, an incision is made along the inframammary fold as well. During the healing process, scars are more visible, but over time they naturally fade and flatten, becoming far less noticeable. Once your scar tissue has matured,if you are bothered by the appearance of your residual scarring, specialized scar reduction treatments can be performed using CO2 lasers or The Vivace™ radio frequency microneedling device. Most women who undergo breast lift surgery believe their scars are a small downside for the dramatic improvements they have achieved in the appearance of their breasts.
Results of Breast Lift Surgery
Breast lift surgery performed by Dr. Petti can result in dramatic improvements in the position, shape, and symmetry of the breasts. Her expertise in all types of cosmetic breast surgery techniques, combined with her keen artistic eye, help Dr. Petti achieve the beautiful, natural-looking outcomes she is renowned for. If you want to see examples of Dr. Petti's work, we invite you to view breast lift before-and-after photos of our patients in our digital photo gallery. This collection of images contains breast lift results that include breast implants, as well as those that do not. Scheduling a consultation with Dr. Petti is the best way to find out if breast lift surgery is right for you. She can also offer you a sneak peek at what your results might look like using her state-of-the-art 3D digital imaging system.
Additional Frequently Asked Questions about Breast Lift Surgery
Women who are unhappy with their droopy or deflated breasts and come to Dr. Petti's practice to achieve a perkier, more youthful bustline often have many questions about breast lift surgery. To help you learn more about the procedure, Dr. Petti has provided answers to additional questions she receives about breast lift surgery:
Do I need breast implants as well as a breast lift?
For women who have lost a considerable amount of breast volume, a breast lift with implants can restore breast fullness very nicely. This type of procedure is called a breast augmentation mastopexy (BAM) and many of Dr. Petti's patients opt for this version of breast lift surgery. During your consultation, Dr. Petti can discuss your goals and help determine if breast implants can help you achieve the look you desire. She is incredibly knowledgeable about all types of breast implants and can walk you through all of your options, explaining the benefits and drawbacks of each choice.
Can I breastfeed after a breast lift?
The vast majority of Dr. Petti's patients retain the ability to breastfeed in the future if desired;  however, she does recommend having the procedure done once you are finished having children if possible. As is the case with many cosmetic breast procedures, Dr. Petti can opt to use techniques that diminish the risk of damage to the milk ducts. During a breast lift with implants procedure, breast implants are always placed behind the chest muscle, which avoids any interference with the milk ducts. If you are worried about breastfeeding, be sure to mention it during your consultation so that Dr. Petti can fully address your concern and formulate a surgical plan that is best for your needs.
The whole staff was extremely personable and genuinely caring. Thank you for "fixing" something I had been so self conscious and unhappy about for so long. It was a pleasure meeting you, Dr. Petti, and your kind staff.
BB – Los Angeles
To restore your breasts to their youthful, beautiful appearance, consider a breast lift. Dr. Christine Petti can put the bounce back in your bustline and renew your self-esteem in the process. Contact our plastic surgery practice today for a consultation.