Breast Lift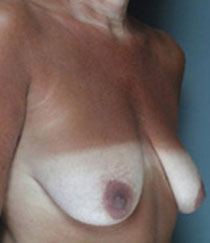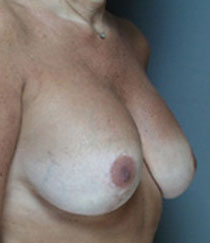 Before
After
View Gallery
Aging, loss of weight, and pregnancy can often take a heavy toll on a woman's body, and it can be no more apparent than in the appearance of the breasts. Sag and droop in the breasts can be reversed and the bustline restored to a "perky", beautiful contour with a breast lift. Plastic surgeon Dr. Christine Petti makes it a top priority to create natural-looking results with minimal scarring. And with state-of-the-art computer imaging capabilities, Dr. Petti can show you the likely outcome of a breast lift before you even have the procedure. Dr. Petti will be right at your side to answer questions through every step of the process, and working together, you and Dr. Petti can give your breasts a "lift" and create the tight, youthful-looking bustline you deserve!
Dr. Petti's Approach to Breast Lift Surgery
Breast Lift Overview
Though some women show more signs of breast sagginess than others, it's important to know that virtually all women will experience it at some point in their lives. As we age, the skin starts to become lax, and this is often exacerbated by recent pregnancy, significant weight loss, or even genetic disposition. A breast lift is designed to remove extra skin and tighten the skin of the breast area, lifting the breasts to a firmer position. Dr. Christine Petti has performed a large number of breast lift surgeries and prides herself on providing results that look natural and beautiful.
Contact Dr. Christine Petti at Palos Verdes Plastic Surgery Medical Center for more information.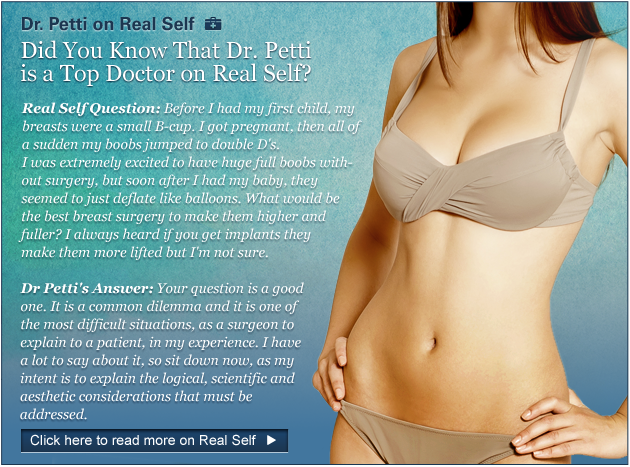 Breast Lift with Implants
In addition to a traditional breast lift, Dr. Petti can place saline or silicone implants inside the breasts to provide you with not only a "perkier" bustline, but also a larger one that's more proportionate to your body frame. At your initial consultation, Dr. Petti can discuss all the aspects of breast augmentation with you, including sizes and types of implants, and whether your individual goals would best be met with a traditional breast lift or a lift in combination with breast implants. With digital imaging, Dr. Petti can also show you on a computer the likely outcome of both procedures to help you make your decision.
The Procedure
Dr. Christine Petti will tailor the breast lift procedure to your own specific needs, allowing for maximum aesthetic benefit and the most natural-looking result. Breast lift surgery is typically performed with an incision made around the dark-pigmented area around the nipple (areola), following down to the crease of the breast. Dr. Petti will remove the excess skin, and pull the remaining skin taut, lifting the breasts and nipples to a more desirable position. Breast lift procedures are typically performed under general anesthesia at our on-site, certified outpatient surgery facility. Depending on the extent of the procedure, breast lift usually takes about two hours or less to complete.
The Recovery
You can expect a bit of swelling and bruising for the first few weeks following breast lift surgery, which will fade as the breasts heal. Any residual scarring from the procedure will be mild and should fade significantly with time. Your normal daily schedule can likely resume after about a week; however, Dr. Petti advises you refrain from activities that are too strenuous for several weeks after surgery.
The whole staff was extremely personable and genuinely caring. Thank you for "fixing" something I had been so self conscious and unhappy about for so long. It was a pleasure meeting you, Dr. Petti, and your kind staff.
BB – Los Angeles
Contact Dr. Petti for Your Breast Lift Consultation
To restore your breasts to their youthful, beautiful appearance, consider a breast lift. Dr. Christine Petti can put the bounce back in your bustline and renew your self-esteem in the process. Contact our plastic surgery practice today for a consultation.