Breast Augmentation
There is no one way to perform a breast augmentation; the operation must be varied to fit every patient and from one breast to the other in the same patient.
Christine Petti, MD
Women who are unhappy with the size and shape of their breasts can give a boost to the bust line and improve their self-confidence with breast implants. Breast augmentation from Dr. Christine Petti can give your breasts fuller volume and a more contoured, sensual appearance. She approaches every patient uniquely since individual characteristics such as breast size, skin, tissue, folds, nipples/areolas, possible stretch marks, and state of droopiness of the breast can significantly differ among patients and even among breasts in the same patient. Dr. Petti takes careful measurements of all aspects of the breasts and records them for each patient in preparation of the individual surgical plan. Every breast enhancement surgery that Dr. Petti plans is a customized operation designed exclusively for each patient. Whatever your reasons for desiring breast augmentation surgery, Dr. Petti has a wealth of experience in an array of breast enhancement procedures and will work with you to achieve your goals with results that look and feel natural and beautiful.
Dr. Petti's Approach to Breast Augmentation with Implants
What is Breast Augmentation?
Breast enlargement, or augmentation, is a procedure which adds volume to the breasts with the placement of implants. Breast augmentation also serves to make the bust line more proportionate to your body frame. Women who have breast enhancement are often those who are:
Not happy with the size of their breasts
Afflicted with asymmetrical breasts
In need of correcting a reduction in breast volume after pregnancy or weight loss
If you are considering breast augmentation, Dr. Christine Petti can give you a visual image of what your breasts can look like before you even have the procedure. With state-of-the-art computer imaging at our practice, you'll be able to see the likely outcome of the procedure and get an idea of how breast enlargement can significantly improve the appearance of your breasts.
Please contact Dr. Petti's breast augmentation practice in the Los Angeles and Torrance area to schedule a consultation.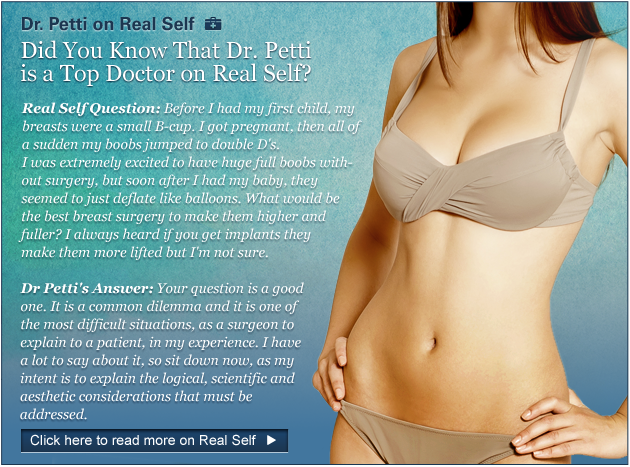 Types of Breast Implants
At your initial breast enlargement consultation, Dr. Christine Petti will discuss the many various types of implants that can be used to meet your goals. Breast implants are composed of either saline or silicone gel, and come in a variety of shapes and sizes. During your private consultation with Dr. Petti, she will explain all aspects of the implants to you and describe the advantages and disadvantages in accordance with your own unique need.
Learn More About Breast Implants
The Breast Augmentation Procedure
The breast augmentation procedure is typically performed under general anesthesia. An incision is made either around the areola (the dark-skinned area surrounding the nipple), or in the crease of the breast, making any residual scarring very discreet and virtually invisible. The breast pocket or space for the implant whether under the muscle (sub-pectoral) or on top of the muscle/under the breast (sub-mammary) must be created carefully and precisely. This is because the breast pocket will determine the breast shape, central cleavage, lateral (outer) breast projection, and anterior (front) breast projection. Dr. Petti takes a meticulous non-hurried approach when dissecting the implant pocket to ensure a natural looking symmetrical result for each patient. The implants are then placed beneath the chest muscle or directly behind the breast tissue, and the incisions are then closed. Breast enlargement procedures typically take about one to two hours to complete.
Dr. Christine Petti can combine breast implant procedures with other options, including liposuction, tummy tuck, or facial plastic surgery for a more complete aesthetic makeover.
Breast Augmentation Recovery
You can expect some degree of discomfort for a few days following breast surgery. Any pain can be managed with medication. Some side effects of the procedure include swelling, bruising, and a sensation of numbness in the nipples; however, these effects should dissipate in the first few weeks of recovery. You should avoid strenuous activities and stimulation to the breasts for about three to four weeks after surgery. Normal daily routines can typically resume within one week. Patients should be advised that too much activity following surgery can jeopardize the results. Dr. Petti and her experienced staff will be very diligent about following you after surgery to be certain post-operative instructions are followed.
To give your breasts the youthful, perky, sensual contours you've been dreaming of, breast augmentation with implants may be what's right for you. Dr. Christine Petti emphasizes a customized approach to achieve natural-looking results in all of her breast procedures, so nobody will have to know that you've "had work done."
For more information on breast augmentation with implants from Dr. Petti, please contact Palos Verdes Plastic Surgery Medical Center.
Breast Augmentation FAQs
Women considering breast augmentation often have a lot of questions about the procedure, even before they decide to visit a plastic surgeon for a consultation. To provide you with the most helpful and relevant information, we have gathered many of Dr. Christine Petti's answers to common questions about breast augmentation and breast implants. If you would like more information from Dr. Petti regarding your specific concerns, we encourage you to contact our practice to schedule a one-on-one consultation.
How do I choose the right shape/size implant?
Based on an examination of your breasts and a discussion of the personal goals you would like to achieve with breast augmentation, Dr. Petti will guide you through the breast implant selection process. There are many shapes, sizes, and textures to choose from, and they can be filled with either saline or silicone materials. Using advanced computer imaging, Dr. Petti can provide you with a visual representation of several new looks to help you make a final decision on which implants you ultimately desire.
Which implant placement provides the most natural appearance?
Since every patient is different, there is no singular approach to accomplishing breast augmentation. Breast implants can either be placed behind the chest muscle (subpectoral), or behind the breast tissue (submammary). Where the implant is placed, along with the type, size, and shape of the implant, will have a significant impact on the ultimate outcome of the breasts and the longevity of the results. Using information gleaned during your appointments with Dr. Petti, she will formulate a customized surgical plan that can help you achieve the most natural-looking results.
Am I a candidate for breast augmentation?
The best way to find out if you are a good candidate for breast augmentation is to schedule a breast augmentation consultation with Dr. Petti. During this appointment, she will examine your breasts and review your medical history, current health status, and lifestyle. Depending on her findings, she will make the determination about your fitness for surgery and whether breast augmentation is the appropriate procedure for creating the results you desire. In some instances, women may be better suited for a different procedure, such as breast augmentation mastopexy (BAM), which combines breast lift surgery with the placement of implants.
Can I still breastfeed after breast augmentation?
Since breast implants are always placed behind the milk ducts, there should be no interference with breastfeeding. It is important to note that not all women can breastfeed and, if you have not had children prior to your breast augmentation and find you cannot breastfeed later, it is most likely due to naturally occurring obstacles rather than the breast augmentation procedure. If you are planning to have children after breast augmentation it is important to mention this to Dr. Petti so that she can be sure to use an approach that will best protect your ability to breastfeed.
How much does breast augmentation cost?
The exact cost of breast augmentation varies from patient to patient. The price of your breast augmentation will depend on several factors, such as the type and size of the breast implants, the surgical approach used, difficulty of the procedure, surgeon's fee, anesthesia, and any post-surgical medications and garments. At the end of your consultation, Dr. Petti will provide an inclusive price quotation for you to review. If you are interested in exploring financing options to help you pay for your breast augmentation, we offer loan options through CareCredit®, Prosper Healthcare Lending™, LendingUSA®, and United Medical Credit®.
How old is too old for breast augmentation?
There is no upper age limit for breast augmentation. Candidates need to be in good overall health, have the ability to heal properly, and have good skin and muscle quality for supporting implants. Ultimately, a consultation with Dr. Petti can provide the answer about your candidacy for breast augmentation. For some women, their appointment with Dr. Petti reveals that they may be better served by a breast lift or breast lift with implants. We encourage any woman considering breast augmentation to schedule a consultation with Dr. Petti to get the answers she is looking for.
Do implants interfere with mammograms?
Regular mammograms are essential for protecting your health. Under the right conditions, accurate mammograms can be performed for women with breast implants. Before your mammogram, it is important for you to let your radiology technician and/or radiologist know that you have breast implants. To account for your implants, more images can be captured from different angles to ensure all of the breast tissue can be analyzed. In some instances, your radiologist may recommend an MRI to provide the most comprehensive imaging of your breasts.
For more information about breast augmentation, breast implants, or the other breast procedures we offer, please contact our practice to connect with a member of our team.