Breast Lift with Implants
For women who desire to add lift, shape, firmness, and volume to their breasts, Christine Petti, MD can perform a breast lift combined with the addition of breast implants. This procedure, which is also called a breast augmentation mastopexy (BAM), can be ideal for women whose breasts have changed as a result of pregnancy, aging, and/or weight loss. While the breast lift portion of the procedure can remove excess skin, reposition the nipples, and elevate the breasts, breast implants enhance the size and shape of the breasts. The ultimate goal of a breast lift with implants is to fully rejuvenate the appearance of the breasts to achieve a more youthful, shapely, and proportionate bustline.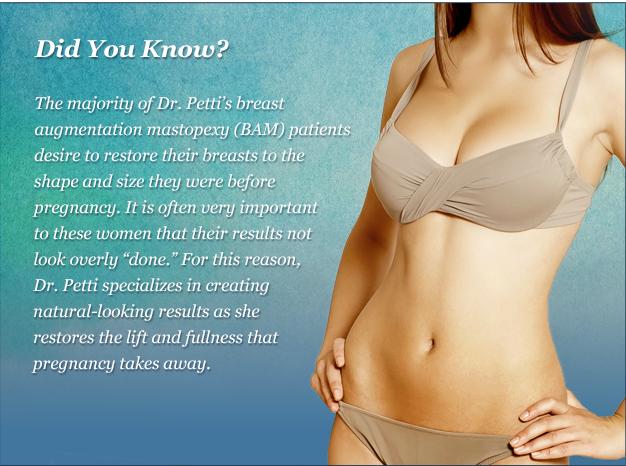 Breast Lift with Implants Overview
If you are concerned about the changing size, shape, and firmness of your breasts, you are not alone. Many women become unsatisfied with the appearance of their breasts as they age. Fluctuations in volume over time often cause breast skin to stretch and lose elasticity, creating a droopy appearance. Furthermore, when breast and fat tissue volume diminishes and does not return, perky breasts can become deflated and lose their youthful fullness and firmness. A breast lift with implants performed by Dr. Petti can successfully address all of these cosmetic concerns. For every breast lift patent, she creates a unique surgical plan that is tailored to suit each woman's needs and goals.
During your consultation, Dr. Petti completes a comprehensive physical examination, reviews your medical history, and assesses the condition of your breasts. She will also ask you to communicate your cosmetic concerns and what kind of results you expect to achieve with surgery. Based on this information and her observations, she will discuss which breast lift technique and type of implants may be ideal for creating the appearance you desire. Using advanced digital imaging, Dr. Petti can show you a preview of likely outcomes achieved with differently-sized and shaped implants to help you make the final decisions about your procedure.
The Procedure
Breast lift with implants is generally performed under general anesthesia as an outpatient procedure. Dr. Petti typically begins by completing the breast augmentation portion of the procedure first. Once the implant is placed beneath the pectoral muscle (which is the placement she generally recommends for breast lift patients), she is able to start the lift. During this part of the procedure she removes excess skin, reshapes the breast, and lifts the breast tissue around the new breast mound to achieve maximum aesthetic improvement. The process is then repeated with the other breast to create symmetrical, natural-looking results.
Recovery after Breast Lift with Implants
After your surgery, you can expect swelling, bruising, and some soreness, which should fade as your body heals. Typically, patients recover for about a week before returning to work and resuming normal activities. Exercise and strenuous activity is to be avoided for at least a few weeks following surgery. Incisions made during the procedure may appear red at first, but should fade in color and prominence over time.
For more information about the breast lift with implants procedure and whether this type of surgery is right for you, we encourage you to contact our practice to schedule a consultation with Dr. Petti.