Breast Implant Revision
Dr. Christine Petti, a Los Angeles plastic surgeon who specializes in cosmetic breast surgery, has found that breast augmentation is a very rewarding procedure for both patient and surgeon. As with any operation, however, results can be disappointing, and not meet the expectations of both patient and surgeon alike. The results of breast augmentation can change over time. Dr. Christine Petti's opinion has been in demand over the course of her career, as she is valued as a plastic surgeon who listens, analyzes and develops a plan to assist these special patients who seek an opinion regarding revisional breast surgery. She evaluates breast implant patients for problems such as implant hardening, implant displacement and breast asymmetry that occur as a result of the short and long term consequences of breast augmentation. Dr. Christine Petti can help you with a procedure specifically designed to revise the results from an earlier surgery and provide you with a beautiful, natural-looking outcome that's more in keeping with your original goals. With Dr. Petti's experience and skill performing a variety of aesthetic breast surgery procedures, you can feel confident that breast implant revision surgery under her care can give you remarkable results that will meet your expectations of having an aesthetic result that will remain soft and pleasingly natural over time.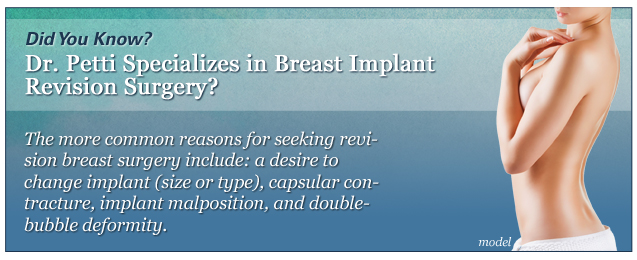 Revision Breast Implant Surgery
Women often have breast implants in order to accentuate their natural breasts, seeking more appealing contours and a more youthful, sensual appearance. Hundreds of thousands of women seek breast implant surgery after childbearing, which leaves them with empty, droopy breasts, at a time in their life when they are peaking in their sexuality and feminine feelings. Patients also have implants placed during breast reconstruction surgery to rebuild the breasts with natural-looking results. However, some patients are ultimately dissatisfied with results from their original surgery. Many women seek revision breast surgery for various reasons that may include:
General dissatisfaction with the appearance of the breasts after implantation
Implants that are not the desired size
The desire to switch from saline breast implants to silicone breast implants
A rippling appearance to the implant
Capsular contracture – an uncomfortable, "hardened" feeling in the breast caused by scar tissue forming around the implant
Unnatural positioning of the implant
Implant deflation
Asymmetry of the breasts not corrected in the original procedure
Although many breast augmentation procedures are extremely successful, the above-mentioned problems sometimes do occur and it is important to know that in most circumstances, they can be corrected. Dr. Christine Petti can help evaluate your unique situation, explore the details of your original surgery and develop an operative plan with the goal of helping you overcome your dissatisfaction with your previous breast surgery and give you the natural results that will meet your expectations and goals. To learn more about how Dr. Petti approaches breast revision surgery, please read her blog post, titled "Women Find New Hope After Unsatisfactory Breast Augmentation."
The Procedure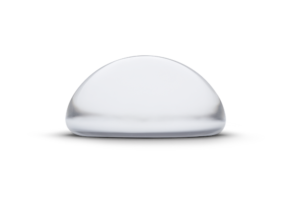 There are a number of different ways that a breast revision surgery can be performed, depending on your needs and goals. In most cases, the original implants will be removed, the "pocket" or space where the implants are located (under the breast or under the muscle), most often needs to be modified. The implant pocket should be re-created to give a result that looks natural and soft with the new breast implants. Various surgical maneuvers that deal with the scar tissue must be performed and Dr. Petti takes pride and is very skilled in this aspect of the surgery. She often will create an internal suture repair that simulates an internal underwire bra to support the breasts so they do not drift outward or sink low. With the internal underwire suture technique, she strives to create a breast that has cleavage and is full, but natural and supported. It's a wonder bra without the bra, but all the wonder. Dr. Petti will take extreme care to make sure the procedure conforms to your ultimate goals and that the results look natural, symmetrical, and pleasing.
Revision breast surgery can be performed on an outpatient basis under general anesthesia.
The Recovery
Depending on the type and extent of revision breast surgery you undergo, details of recovery will vary with each patient. Patients having implant removal can expect some degree of postoperative swelling and bruising. Dr. Petti tries to minimize this by placing all of her patients on Arnica Montana/ Bromelaid, a homeopathic remedy used to treat swelling, soreness and bruising, before and after the surgery. Additionally and most importantly in her opinion, is her goal to perform every operative procedure with as little surgical trauma as possible, so the tissues do not bruise and the recovery is not prolonged. Discomfort can be controlled with medication. A special surgical bra and bandeau is worn for a few weeks to support the breasts, keep the implants in their natural position and prevent bruising /swelling, so recovery is as ideal and quick as possible.
Strenuous activities and those that can cause undue strain on the breasts should be avoided for at least four to six weeks after breast revision surgery. Most patients are typically able to return to normal daily routines a few days after the procedure.
Breast Implant Revision FAQs
Am I a good candidate for breast implant revision surgery?
Any woman who is not satisfied with the appearance of her breasts after breast augmentation surgery may be a good candidate for implant revision surgery. A few of the most common reasons women choose to undergo implant revision surgery include capsular contracture (a hardening of the breasts), implants that have descended or "bottomed out" (causing a deflated appearance of the upper chest), or simply a desire to increase or decrease the size of the initial implant. The best way to determine if you are a good candidate for breast implant revision is to schedule a consultation with an experienced, board-certified plastic surgeon like Dr. Petti.
When will I see the results of my procedure?
While patients will be able to notice changes immediately, swelling from the surgery will be present for about four to six weeks after the procedure. Approximately eight weeks after breast implant revision, the healing process should be mostly complete allowing patients to fully enjoy the rejuvenated appearance of their breasts. The final outcome may not be evident until three months after surgery, as the implants may take more time to settle completely.
Are there any risks associated with breast implant revision?
As with any major surgery, swelling, bruising, tenderness, and some scarring can be expected. Potential risks associated with breast implant revision can vary depending on the details of your surgery. Dr. Petti will thoroughly communicate what you can expect before, during, and after your procedure, which includes a comprehensive account of any risks or complications you should be aware of. It is recommended that patients considering breast augmentation or revision surgery understand all aspects of the procedure before making a decision.
The expertise and experience level of the surgeon can certainly reduce the chance of complications during and after surgery. We encourage you to review Dr. Petti's credentials, before-and-after photos featuring her breast implant revision patients, and patient-generated online ratings and reviews to help you learn more about her outstanding reputation for success.
How much does breast implant revision cost?
Each breast implant revision surgery is customized to address the unique concerns and needs of the patient. No two revision procedures are the same and consequently the price of breast implant revision can vary. Factors that can influence the total cost may include the type of implant being placed, the planned surgical technique, implant placement, and the complexity of correcting the preexisting concerns. Dr. Petti's expertise and the geographic location of our practice may also influence the final price, which may be apparent when comparing the pricing offered by other plastic surgeons around the United States. At the end of your consultation with Dr. Petti, she will quote you a price based upon the specifics of your customized treatment plan. Our office also offers many financing options for patients who could benefit from low or no interest payment plans.
Contact Dr. Petti for Your Consultation
Dr. Christine Petti will be happy to meet with you in a one-on-one consultation to discuss all aspects of revision breast surgery. She will go over all the risks and benefits, answer your questions, and help you determine how the procedure can help you with your needs. Bring the operative records of your original breast surgery and your implant information, so she can develop the proper technical preparation for your unique surgical plan. Together, you and Dr. Petti will discuss and develop a treatment plan with the goal of helping you attain the beautiful breasts you have been hoping for. Please contact Dr. Christine Petti to schedule a consultation.