Plastic Surgery for Men
More and more men are discovering how cosmetic enhancement and plastic surgery treatments can help them address a range of issues they may be having with their appearance. The fact is, we all deal with things about the way we look that make us feel self-conscious, and sometimes, no matter how much we exercise, diet, and take care of ourselves, we can't seem to achieve the results we want. Male plastic surgery and cosmetic enhancement options for men can help you attain your goals with treatments designed to reduce areas of excess fat, recontour the body, rejuvenate the skin, and diminish signs of aging for a more youthful, fit, and refreshed appearance. Board-certified plastic surgeon Christine Petti, MD offers advanced treatment options in a confidential setting.
Please contact Dr. Petti for more information on aesthetic enhancement and plastic surgery treatments for men.
Results Gallery
Facial Procedures
Body Procedures
Benefits of Cosmetic Enhancement for Men
Men are continually realizing the many benefits that plastic surgery and cosmetic enhancement treatments can offer them by improving areas of their bodies that may be giving them feelings of self-consciousness. There is only so much that we can do to keep looking fit and youthful, and sometimes, a little help can go a long way in getting rid of stubborn fat pockets and rejuvenating the skin for a firmer and refreshed appearance. Some of the benefits of cosmetic enhancement for men include:
Reduction of stubborn, excess fat that has proven resistant to diet and exercise
Recontouring areas of the body for a firmer, more toned appearance
Rejuvenation of the skin
Reduction of wrinkles, fine lines, and other signs of aging
Dr. Petti can provide you with effective treatment options in a confidential, discreet setting. She focuses on delivering results that look natural, significantly improving your appearance without looking like you've "had work done."
Treatment Options
A variety of cosmetic enhancement treatment options, both surgical and non-surgical, are available for men. Dr. Petti will be happy to meet with you for a confidential consultation to help you determine which options may be best for your needs. Treatment options include:
Liposuction
Liposuction is one of the most commonly performed plastic surgery procedures. This treatment is designed to reduce excess pockets of fat that have not responded to even the strictest diet and exercise routines. Dr. Petti can perform liposuction to provide improved contour to the abdomen, chest, flanks (love handles), back, neck, arms, legs, and virtually any body area.
Gynecomastia Treatment and Male Breast Reduction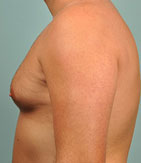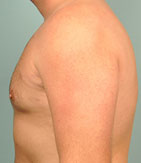 Before
After
Gynecomastia is a condition in which excess fat and/or tissue build up in the breasts. This condition is often the source of extreme self-consciousness in many men, and can even cause severe depression. Male breast reduction with liposuction or other options can effectively address gynecomastia and give the chest a flatter appearance.
Abdominal Etching with Smartlipo Triplex™
Dr. Christine Petti makes effective body contouring procedures a special focus of her practice, offering options that can help you sculpt certain areas so that they appear toned and fit. Smartlipo Triplex™ is an advanced body sculpting technique that can give the abdominal region a more firm and athletic appearance.
Eyelid Surgery
Eyelid surgery, medically known as blepharoplasty, is designed to lift and tighten the skin around the eyes. This treatment can remove undereye bags and eliminate extra skin in the eyelid regions, resulting in a smoother, more youthful and refreshed look.
Facelift
If you are experiencing significant wrinkling and signs of aging in the face, a facelift can take years off your appearance. This popular procedure tightens the facial skin and significantly reduces the appearance of wrinkles and fine lines with results that can last for years.
Laser Skin Resurfacing
Laser skin resurfacing is a minimally-invasive skin rejuvenation procedure that can address a number of skin imperfections and conditions. Dr. Christine Petti utilizes the innovative Smartskin® fractional laser technique to improve areas of the skin affected by wrinkles, uneven pigmentation, age spots, mild scarring, sun damage, and other conditions. With Smartskin®, you can achieve significant skin rejuvenation with minimal downtime required after the procedure.
Laser Hair Removal
A smooth, polished appearance to the skin is very fashionable for men these days.
Undesired hair in virtually any body area can be permanently removed with laser hair removal. We use state-of-the-art laser technology to provide you with hair-free skin that you'll likely never have to shave again!
BOTOX® Cosmetic
The most popular non-surgical enhancement treatment available, BOTOX® Cosmetic is one of the quickest and most effective ways you can rejuvenate your facial appearance. BOTOX® injections are designed to smooth out wrinkles and creases in the face, helping you to look more youthful and refreshed. Results can last up to four months and be maintained with follow-up treatments. Plus, BOTOX® Cosmetic treatments can be performed in less than 15 minutes with no downtime necessary.
Injectable Dermal Fillers
Dr. Christine Petti offers a number of injectable dermal facial fillers that can effectively address a number of concerns you may have. Sculptra® Aesthetic can help you improve signs of hollowness in the cheeks or sagginess in other facial areas, while fillers such as JUVÉDERM® can add volume to the lips and smooth out deep wrinkles, fine lines, and creases between the nose and mouth.
I certainly would recommend Dr. Petti to other men. I think they will feel comfortable here and be gratified with the many different things she can do to help them.Ray
Schedule a Consultation for Male Plastic Surgery and Cosmetic Enhancement
Men who are considering plastic surgery or non-invasive cosmetic enhancement to rejuvenate their skin and recontour their bodies have a number of options to help them attain their goals. Please contact Dr. Christine Petti to schedule a consultation. We will be happy to answer your questions and talk with you about your options.