Tummy Tuck
Everyone Can Have a Sexy Waistline!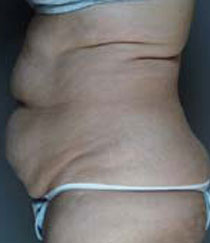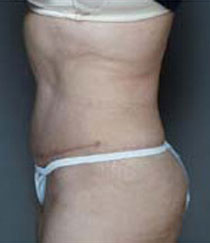 Before
After
View Gallery
With abdominoplasty, or tummy tuck surgery, patients can regain the waistline of his or her youth. Pregnancy and weight gain can affect the abdomen's ability to retain its strength and shape. Dr. Petti's advanced tummy tuck procedure easily tones and tightens loose skin and weak muscles. Her abdominoplasty expertise has garnered her much respect in her field; she was even chosen to perform this procedure on national television.
While we perform many full tummy tucks, a lower or mini-tummy tuck might be all you need to look your best. When combined with liposuction practice, this procedure can provide truly amazing results. For more information about tummy tuck (abdominoplasty) procedures, contact Los Angeles plastic surgeon Christine Petti, Medical Director of Palos Verdes Plastic Surgery Medical Center.
Video – About Tummy Tuck Surgery
Dr. Petti describes the difference between a mini vs full tummy tuck procedure.
Mini Tummy Tuck (Lower Abdominoplasty)
A mini-tummy tuck, or "lower abdominoplasty," can sometimes benefit patients who may not need a full abdominoplasty to achieve their goals. Dr. Petti will examine you during your initial consultation and help you determine if a lower abdominoplasty is an option. Your goals and expectations, your history of weight fluctuation, whether you have had a previous abdominoplasty, and other issues will factor into which type of tummy tuck is best for your needs. Dr. Petti will thoroughly examine the anatomy of the abdominal wall, the amount of fat and presence of abdominal wall muscle laxity, skin laxity in the upper and lower abdomen, and other abdominal areas in order to recommend the best treatment.
Patients with stretch marks and laxity in the skin of the upper and lower abdomen may benefit more from a full abdominoplasty. However, some patients who have overhanging skin in the lower part of the abdomen, primarily below the navel, may only need a mini-tummy tuck (lower abdominoplasty) to achieve great results. The procedure usually involves a smaller incision to remove the extra skin and smooth out the remainder, plus liposuction to eliminate excess fat deposits. This procedure can give patients with more moderate signs of extra skin and fat in the lower abdomen a firmer and flatter appearance in this area.
Interested in More Information?
For more information about tummy tuck surgery options, please contact our office to schedule your private consultation with Dr. Christine Petti.