Tummy Tuck (Abdominoplasty)
Everyone Can Have a Sexy Waistline!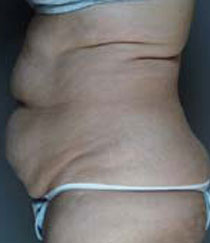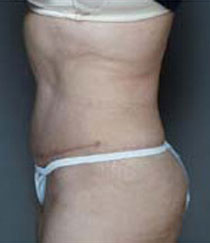 Before
After
View Gallery
Pregnancy, aging, hormones, and significant weight fluctuation can dramatically affect the appearance of your abdomen. Often these changes are hard to reverse, as excess skin and stubborn fat deposits that develop around the midsection are very resistant to increased exercise and healthy dieting. Furthermore, stretched or torn abdominal muscles can make it nearly impossible to restore tone and tightness with core-focused workouts. Thankfully, a procedure called a tummy tuck (or abdominoplasty) can provide a way to achieve a tighter, slimmer, more youthful midsection.
What is a Tummy Tuck?
Tummy tuck is a surgical procedure designed to slenderize the upper and lower abdomen by removing excess fat and skin, and tightening underlying musculature. Using advanced surgical techniques, plastic surgeon Christine Petti, MD, can improve abdominal contours and reveal a beautifully resculpted waistline. Her approach to tummy tuck can smooth loose skin, eliminate fat pockets, and repair weak muscles, all with one procedure. Each tummy tuck is specifically customized to address the unique needs and cosmetic goals of the patient for optimal results.
Dr. Petti performs both mini-tummy tucks, which target the lower region of the abdomen, and full tummy tucks to improve the entire midsection. In each of these procedures, she often incorporates liposuction to create smoother, more refined contours for truly amazing results. Dr. Petti's body contouring and abdominoplasty expertise has garnered her much respect in her field; she was even chosen to perform this procedure on national television.
For more information about the tummy tuck (abdominoplasty) procedures we offer at our practice, we encourage you to continue reading the informative sections provided below, or contact our office to schedule a consultation with Dr. Petti.
Tummy Tuck Surgery Video
Dr. Petti describes the difference between a mini vs. full tummy tuck procedure.
Candidates for Tummy Tuck Surgery
Patients who are candidates for tummy tuck surgery must be in good overall health and have realistic expectations about the results that can be achieved with the procedure. Tummy tuck surgery requires general anesthesia, which makes it important for patients to be cleared of any health conditions that could cause complications. Additionally, patients must be healthy enough to heal properly and fully after the procedure.
Individuals considering a tummy tuck are typically bothered by:
Loose skin or skin flaps around their abdomen
Stubborn areas of abdominal fat and love handles
Loss of their natural waist
Abdominal stretch marks
Lack of abdominal structure and strength due to damaged muscles
A mini-tummy tuck, or "lower abdominoplasty," can sometimes benefit patients who may not need a full abdominoplasty to achieve their goals. This is typically true for individuals who have overhanging skin in the lower part of the abdomen, primarily below the navel. However, patients with stretch marks and laxity in the skin of the upper and lower abdomen may benefit more from a full abdominoplasty.
The Tummy Tuck Consultation
As with any cosmetic procedure at our practice, every tummy tuck begins with a one-on-one consultation with Dr. Petti. During your consultation, she will ask you about the areas of your figure that concern you, discuss your medical history, and inquire about the factors that contributed to your physical changes. She will then examine your midsection to determine if a full or lower abdominoplasty would be well-suited to helping you achieve your goals. In order to recommend the best approach, Dr. Petti will closely evaluate:
The anatomy of the abdominal wall
The locations and quantities of fat
The condition of the abdominal muscles
Any excess skin and skin laxity around the midsection
Once complete, she will explain a customized treatment plan designed to address your needs and meet your expectations. Depending on the condition of your abdomen, she could possibly recommend non-surgical treatment with SculpSure™ to reduce pockets of localized fat, a tummy tuck procedure on its own, or combining Smartlipo Triplex™ with a tummy tuck to further enhance results. Some women also choose to combine tummy tuck with breast augmentation or breast lift for more comprehensive rejuvenation of their figure.
The Mini-Tummy Tuck Procedure
A mini-tummy tuck targets excess fat and skin located in the lower region of the abdomen. The procedure usually involves a smaller incision that lies far below the belly button to remove extra skin and smooth out the remainder. Liposuction techniques are also used to eliminate excess fat deposits and sculpt the abdominal contours for optimal results. This procedure can give patients who have more moderate degrees of extra skin and fat in the lower abdomen a firmer, flatter look.
The Full Tummy Tuck Procedure
A full tummy tuck is a more extensive procedure than the mini-tummy tuck. During tummy tuck surgery, both the upper and lower portions of the abdomen are targeted for comprehensive improvement of the entire midsection. A longer incision that can easily be concealed beneath most undergarments or bathing suits allows Dr. Petti to remove excess skin and fat, as well as tighten or repair lax abdominal muscles for a more slender, toned appearance. Liposuction may be used to sculpt the remaining fat and refine the contours of the reshaped abdomen. Finally, the skin is smoothed along the abdomen for a flatter, tighter-looking tummy.
Recovery after Tummy Tuck Surgery
The length of your recovery after tummy tuck will depend upon the unique details of your procedure and rate of healing. Some bruising, swelling, and soreness are common within the first few days and fade quickly with time. Any discomfort can be managed with medication, if necessary. For patients who undergo a full tummy tuck, it typically takes about two weeks of rest before resuming work and normal daily activities. Mini-tummy tucks generally result in a faster recovery, lasting closer to one week.
Tummy Tuck Surgery Results
After a full recovery, men and women who have undergone tummy tuck procedures with Dr. Petti are usually thrilled with their results. Their new waist is trim and tone, giving them a healthy, youthful-looking figure. To see tummy tuck before-and-after photos featuring Dr. Petti's patients, we invite you to visit our photo gallery. These images can give you a realistic look at the results that may be possible for you.
For more information about tummy tuck surgery options, please contact our office to schedule your private consultation with Dr. Christine Petti.