Rhinoplasty
Achieve a nose shape and profile you'll love with the help of Los Angeles plastic surgeon Christine Petti, MD!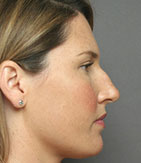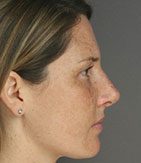 Before
After
View Gallery
It is difficult to be pleased with a nose that is in disharmony with the rest of one's face. Whether you are not satisfied with your natural nasal shape or your nose has been altered by an injury, rhinoplasty (or nasal contouring) can recontour and refine your nose to enhance your overall appearance, facial balance, and even nasal breathing. The important thing is to choose a skilled plastic surgeon with experience in rhinoplasty who can create results that look beautiful and natural.
Most people that come to Dr. Petti's office for a rhinoplasty usually want a nose that looks smaller; however, smaller is not always better. Ideally, what you really want is a nose that looks better and suits your appearance. The way to achieve these goals is to sculpt the nose in such a way as to correct or revise specific characteristics. Dr. Petti can remove humps, narrow the bridge of the nose, bring the nostrils in if they're too wide, and create a nose that fits with one's face and ethnicity. Every rhinoplasty involves a customized surgical plan based on the patient's needs and goals, which are defined during the consultation.
To learn more about rhinoplasty, explore the informative sections provided below or contact our office to schedule a one-on-one consultation with Dr. Petti.
To learn more about rhinoplasty, explore the informative sections provided below or contact our office to schedule a one-on-one consultation with Dr. Petti.
What is Rhinoplasty?
Rhinoplasty is a facial plastic surgery procedure that can adjust several aspects of the nose to enhance its appearance and achieve more balanced proportions. Correction of structural issues, such as a deviated septum, can also be performed during rhinoplasty to improve nasal breathing.
What are the Benefits of Rhinoplasty?
Your nose is a prominent facial feature that can enhance or detract from your beauty. With surgical adjustments to the cartilage, skin, and tissue that comprise the nose, custom rhinoplasty can achieve a variety of cosmetic and functional goals:
Refine the tip of the nose
Narrow the bridge of the nose
Adjust the size or shape of the nostrils
Smooth out a bump along the bridge of the nose
Reduce the prominence of a high bridge
Straighten a crooked bridge
Repair damage caused by an injury
Straighten a deviated septum for better breathing
Revise the angle of the nasal tip
Build up a low nasal bridge
Altering the size or shape of the nose, even a very small amount, can make a striking difference in the way you look. Any of the changes that Dr. Petti makes to your nose will take into account your facial proportions, nasal symmetry, profile, and other facial features for aesthetically pleasing results.
Asian & Ethnic Rhinoplasty
Dr. Petti is experienced in performing successful rhinoplasty surgery for patients of all ethnicities. Regardless of nose shape or structure, every one of Dr. Petti's rhinoplasty surgical plans is individualized to best serve the needs and goals of the patient. Not all plastic surgeons have the necessary skill and expertise to serve the rhinoplasty needs of all patients; however, Dr. Petti is highly trained in a broad range of nasal reshaping methods, which includes techniques designed to accomplish specific aesthetic changes requested by patients of various ethnicities. Dr. Petti's goal is always to deliver natural-looking results that help bring the facial features into harmony, while still retaining the essence of each patient's cultural identity.
To learn more about how Dr. Petti would approach your unique rhinoplasty goals, we encourage you to contact our practice to schedule a consultation.
Is There a Non-Surgical Rhinoplasty Option Available?
In some cases, Dr. Petti may be able to use non-surgical methods to achieve subtle, natural-looking changes to certain aspects of the nose. With injections of a hyaluronic acid-based dermal filler product, Dr. Petti can correct small asymmetries, as well as smooth the appearance of bumps and dips along the nasal bridge. Not everyone is well-suited for non-surgical "liquid" rhinoplasty, but those who are good candidates are often pleased to know that this more economical option can achieve their cosmetic goals. Although the results achieved with non-surgical rhinoplasty can be optimally balanced and natural-looking, dermal filler injections must be repeated to maintain your desired look. The specific dermal filler used and the rate at which your body breaks down the product determines how long results will last—some HA-based fillers can last up to 18 months or more before re-injection become necessary.
Who is a Candidate for Rhinoplasty?
The first step of your rhinoplasty consultation will be determining if you are a good candidate for the procedure. Dr. Petti will listen attentively to your concerns, examine your nose, review your medical history, and assess the current condition of your health before deciding if you are a candidate. You must be in good overall health, have realistic expectations about the outcome of the procedure, and be prepared to follow through with all post-operative care instructions.
Once candidacy is established, Dr. Petti will develop a unique surgical plan designed to beautifully reshape your nose and address any functional issues, if necessary. With advanced computer imaging technology, Dr. Petti can provide you with a sneak preview of how the proposed changes may look. When you and Dr. Petti have solidified the details of your procedure, you will be able to proceed with scheduling the surgery.
What Happens During the Rhinoplasty Procedure?
Typically, rhinoplasty is performed on an outpatient basis with general anesthesia. Dr. Petti may opt to use either an "open" or "closed" approach to your rhinoplasty, depending on the type and extent of the reshaping she plans to perform. During the procedure, she will utilize a variety of nose reshaping techniques and her keen sense of artistry to achieve the objectives outlined in your surgical plan. Rhinoplasty may take up to two hours, depending on the complexity of your procedure.
What is Recovery After Rhinoplasty Like?
Immediately following rhinoplasty, you can expect some swelling and bruising. Any potential discomfort can be managed with analgesic medication. It is important to keep your head elevated as you recover to help control swelling and promote proper healing. You are encouraged to follow all post-operative care instructions, and Dr. Petti will monitor your progress during subsequent appointments. Most patients are able to return to work within five days after their rhinoplasty treatment, while some prefer to wait up to ten days before resuming normal daily activities. Swelling will diminish over time; however, it may be up to six months before inflammation subsides completely.
What Rhinoplasty Results Can I Expect?
When the swelling is gone, the final results of your rhinoplasty procedure will be revealed. Dr. Petti is renowned for the natural-looking outcomes she is able to create for her patients, and many remark on how well their reshaped nose harmonizes with their other features. We invite you to view rhinoplasty before-and-after photos featuring Dr. Petti's patients to see the type of results that are possible with her help. In the photo gallery, you will be able to view how Dr. Petti's artistry and surgical skill help her make changes to the nose that enhance the look of the entire face.
How to Choose the Right Rhinoplasty Surgeon
Not all surgeons who perform rhinoplasty surgery have the skill, experience, and proper credentials to deliver the results you may be expecting. For this reason, it is important to make sure you choose a board-certified plastic surgeon who has training in facial plastic surgery. Rhinoplasty is considered to be one of the most complex plastic surgery procedures, so you want a surgeon who has a long-history of success in rhinoplasty. During a consultation, we recommend asking to see before-and-after-photos of the surgeon's rhinoplasty patients to evaluate his or her work. We also suggest asking if the plastic surgeon is an active member in prominent associations, such as the American Society for Aesthetic Plastic Surgery (ASAPS) and the American Society of Plastic Surgeons (ASPS), which require their members to maintain the highest credentials and standards of ethics, undergo continuous training, and achieve excellence in patient care.
If you are considering rhinoplasty and are unsure who to choose as your surgeon, we welcome you to schedule a consultation with Dr. Christine Petti. You'll find that her credentials are impeccable and place her among the top plastic surgeons in the nation. Most importantly, she will listen attentively to your concerns and can design a customized rhinoplasty plan to meet your unique needs and goals.
How Much Does Rhinoplasty Cost?
Like any other plastic surgery procedure Dr. Petti performs, rhinoplasty surgery is highly customized to suit each individual. Therefore, the price of rhinoplasty varies from patient to patient depending on the unique details of their surgical plan. If you want to find out how much rhinoplasty would cost to achieve your goals, we encourage you to schedule a consultation with Dr. Petti. At the end of your appointment, she can outline the full price for your surgery, and a knowledgeable member of her team can help you determine if your medical insurance may cover a portion of your procedure. You can also explore the plastic surgery financing options we offer through several third-party lenders that can make your rhinoplasty more affordable.
For more information about nose reshaping and other facial plastic surgery procedures, please contact our practice to make an appointment with Dr. Petti.