Nasal Contouring-Rhinoplasty
For a Shape You'll Love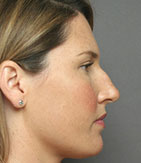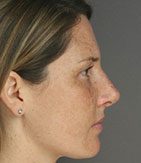 Before
After
View Gallery
It is difficult to be pleased with a nose that is in disharmony with the rest of one's face. Fortunately, rhinoplasty, or nasal contouring, can reshape and refine your nose to enhance your overall appearance and facial balance. The important thing is that the results look beautiful and natural.
Everyone that comes to Los Angeles plastic surgeon Christine Petti, MD's office for a rhinoplasty usually wants a nose that looks smaller but that is not always the best thing for them. What you want is a nose that looks better and a nose that looks natural. And the way to achieve those is basically to sculpt the nose in such a way as to remove humps, to narrow the bridge of the nose, to bring the nostrils in if they're too wide, and to overall give a result that looks very natural, that fits with the patient's face, and also fits with their ethnicity.
Your nose is a prominent feature that can enhance or detract from your beauty. Changing the size or shape of the nose even a very small amount can make a striking difference. With Mirror Computer Imaging, we give you a sneak preview of possible changes.
Contact Us for More Information
For more information about rhinoplasty, we invite you to contact our practice today to schedule a private consultation with Dr. Petti.