Laser Hair Removal
Get Ready for Smooth, Hair-Free Skin!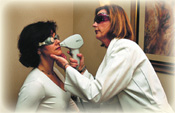 If you are like most other people, you probably spend hours of your life shaving, waxing, tweezing, and applying chemicals to remove excess or unwanted facial and body hair. And, like most people, you've probably come to realize that it will always grow back. Wouldn't you like a chance to permanently eliminate your undesired hair?
Laser hair removal can give you that chance. Our clients' demands for a more permanent hair removal solution have prompted the art of beauty and the science of medicine to combine, resulting in the newest technique called lasertrolysis, better known as laser hair removal.
We have chosen state-of-the-art laser systems for laser hair removal. We can treat men and women of all skin tones safely and effectively – even patients with a suntan!
Our laser specialist will gently direct a low energy beam of laser to the area with unwanted hair. The pigment in your hair follicle absorbs the energy, which collapses your hair root, causing your hair to fall out. Since hair grows in three cycles (growth, resting, and dormant), five treatments are usually required to achieve the hair-free skin that you desire.
Women! You can enjoy the freedom from waxing, shaving and tweezing, whether your undesired hair is on your face, underarms, bikini area or legs.

Men! Did you know that body hair is out of fashion? Take a look in GQ or Vogue. Well-defined muscles should be polished. Laser hair removal is what you've been waiting for. It's the quick and effective means to eliminate chest, back and upper arm hair. Our center treats more male plastic surgery patients every day!
Contact our practice to learn more.