Is KYBELLA™ a Safe Way to Get Rid of a Double Chin?
Recently the Food and Drug Administration (FDA) approved KYBELLA™ as a non-surgical treatment designed to remove submental fat, which is more commonly referred to as a "double chin." Many doctors have already begun to offer KYBELLA™ as a quick and easy way to get rid of the dreaded double chin. However, I am still a bit skeptical of this "miracle drug." With only a limited amount of control over which fat cells are destroyed, proper contouring in the area of concern seems somewhat questionable. At my practice, I feel much more confident in procedures where I can customize treatment by carefully and skillfully sculpting the treatment area to create the desired result. In my opinion, minimally invasive laser treatments such as PRECISIONTx™ are a much more reliable way to eliminate the appearance of a double chin, since I am able to strategically destroy fat cells, tighten skin and most importantly, contour the lower cheeks, jawline and neck. A double chin is not merely a bag of fat that requires a chemical meltdown. The lower face and neck are highlights of divine facial beauty and require much more precision and an aesthetic eye to treat, which is precisely what PRECISIONTx™ offers under my performance.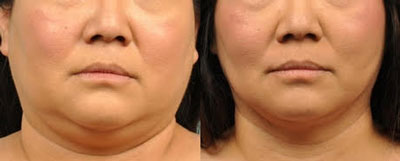 39-year old female one-year had Precision Tx-Smartlipo of neck and lower face (230 cc fat aspirate)
The jury is still out on KYBELLA™ – perhaps it is the answer we have all been waiting for – but I am not jumping on the bandwagon. However, if you are considering the treatment, I strongly caution you to do your research, as many physicians who are providing the injections are not trained plastic surgeons, and may not have an aesthetic eye. In the hands of an inexperienced doctor, this formula can potentially cause serious damage, such as facial paralysis or difficulty swallowing.
If you are seeking a way to rejuvenate your face and neck, please contact my office to schedule a consultation with me. In your consultation, I will be happy to discuss a variety of options with you and find the treatment that will best meet your needs.