Dr. Petti Featured Again in Southbay Magazine Profile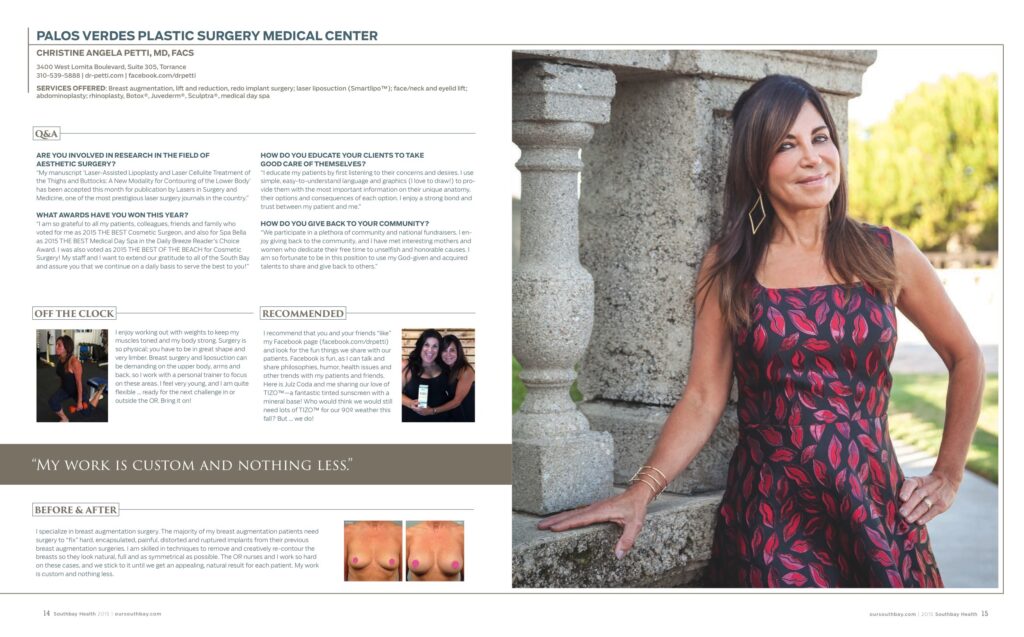 For the second year in a row, Dr. Christine A. Petti is honored to be a prominently featured cosmetic surgeon in Southbay Magazine's "Our South Bay – Health II 2015" issue. Dr. Petti's interview with the magazine highlights her as one of the area's leaders in plastic surgery procedures, non-invasive techniques, and most notably, breast augmentation and breast implant revision surgery.
As always, Dr. Petti emphasizes the importance of customizing every aspect of her patients' cosmetic journey from consultation to recovery as a major key to achieving outstanding results. Communication and education are key components in creating desirable outcomes for her patients. Dr. Petti explains that, "I educate my patients by first listening to their concerns and desires. I use simple, easy-to-understand language and graphics (I love to draw!) to provide them with the most important information on their unique anatomy, their options, and consequences of each option." The strong bond and trust that she fosters with her patients blended with her proven surgical and artistic skill can provide a winning combination for success.
Learn more about the awards Dr. Petti received this year and her upcoming publications in prominent medical journals by reading the full article in Southbay Magazine.