Dr. Petti Named "Best Cosmetic Surgeon" by Daily Breeze of Los Angeles Readers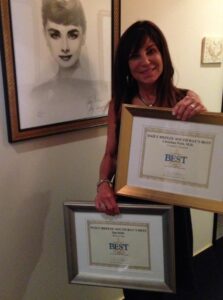 We are proud to announce that Dr. Christine Petti has been named the "Best Cosmetic Surgeon" by readers of The Daily Breeze of Los Angeles! The Daily Breeze's Readers Choice Awards are held annually, and winners for "best" restaurants, businesses, and more are decided based on readers' votes submitted online and by mail. After receiving an overwhelming number of responses, the publication says 2014 has been their biggest year to date! Dr. Petti is proud to have received such an honor, and she says she will remain dedicated to providing excellent patient care. She always strives to go above and beyond her patients' expectations, and she hopes to receive this recognition again for years to come!
Offering cosmetic plastic surgery, dermal fillers, laser fat reduction, and laser cellulite treatment, Dr. Petti provides customized treatment plans for each of her patients. To discover why patients love Dr. Petti, we encourage you to schedule a consultation and see how she can help you achieve your aesthetic goals!