Dr. Petti Presenting at The Medical Spa Show 2020 in Las Vegas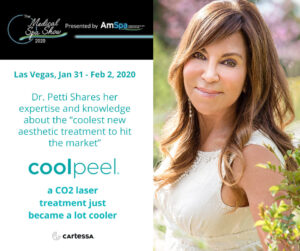 The Medical Spa Show is the industry's leading trade show and conference for non-surgical medical aesthetics, and Los Angeles plastic surgeon Christine Petti, MD is thrilled to be included as one of the key presenters for Cartessa Aesthetics. Dr. Petti's presentation will be focused on "Advancements in CO2 Laser Technology and Treatment Applications" and she looks forward to sharing her vast experience and knowledge with attendees. Her presentation is scheduled to take place during the "Clinical Practice & Techniques: Rejuvenating Technologies" breakout track in the 9-9:25AM slot on Saturday February 1st. 
At Spa Bella, Dr. Petti performs a variety of skin rejuvenating procedures with aesthetic CO2 lasers, most notably with the CoolPeel™ by Cartessa. CoolPeel™ is performed using the Tetra CO2 laser, an advanced laser system that can provide highly-customized treatments for resolving a wide array of skin concerns. Best of all, there is little to no downtime or discomfort associated with the procedure and patients can achieve gorgeous, youthful-looking skin more quickly and easily than ever before. 
For more information about the benefits of CO2 laser treatments at Spa Bella or Dr. Petti's upcoming presentation, please contact our practice!