Featured Breast Augmentation Patient: Amira's Story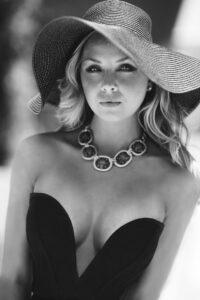 For years, Amira felt very self-conscious about the way her breasts looked, so shortly after she moved to Los Angeles from her small hometown in Texas, she began researching online to find a plastic surgeon. She says she was looking for a plastic surgeon who was like an artist – someone who could translate her vision into something real. Amira says she felt Dr. Christine Petti was a perfect fit! Amira explains that she felt comfortable with Dr. Petti the moment she met her, noting, "As soon as Dr. Petti walked in the room, her excitement was radiant; she was so confident in her plan for me, and she was one of the warmest people I had ever been around. I instantly trusted her. Even her nurses were so warm and calming."
To achieve the natural look Amira desired for her breast augmentation, Dr. Petti recommended "gummy bear" implants, designed with the natural shape of an ideal breast. Amira says after doing her own research, she knew Dr. Petti's suggestion was the best option for her. To customize the procedure and allow Amira to envision her potential results prior to surgery, Dr. Petti utilized a program called TouchMD. Creating personalized images with this innovative computer system helped Amira get a better idea of what she could expect, and she was able to access, review, and share the images at any time from her home computer.
TO HEAR HER TESTIMONIAL, CLICK THE ABOVE VIDEO!
Amira expressed her gratitude for Dr. Petti, stating, "I have never felt more beautiful or more confident in my whole entire life! Dr. Petti is an angel to me, and I will forever be grateful." Dr. Petti says Amira is very special to her as well, noting, "I took her under my wings, as though she were one of mine." Dr. Petti says she respects Amira's willingness to be open about her personal and private decisions and outcome, and is very honored that Amira decided to take the time to educate other women on the breast augmentation process by sharing her personal experience. "She is a lovely person – beautiful inside and out, and also level-headed and grounded with a very loving and supportive family. I knew I wanted to take her on as a patient from the moments we first shared during our consultation." Although Amira is far from her family, Dr. Petti has welcomed her to Los Angeles, and has expressed her willingness to be there for Amira if she ever needs anything.