Economical Facial Rejuvenation With Los Angeles Plastic Surgeon Dr. Christine Petti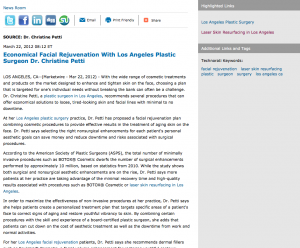 Los Angeles, CA — With the wide range of cosmetic treatments and products on the market designed to enhance and tighten skin on the face, choosing a plan that is targeted for one's individual needs without breaking the bank can often be a challenge. Dr. Christine Petti, a plastic surgeon in Los Angeles, recommends several procedures that can offer economical solutions to loose, tired-looking skin and facial lines with minimal to no downtime.
At her Los Angeles plastic surgery practice, Dr. Petti has proposed a facial rejuvenation plan combining cosmetic procedures to provide effective results in the treatment of aging skin on the face. Dr. Petti says selecting the right nonsurgical enhancements for each patient's personal aesthetic goals can save money and reduce downtime and risks associated with surgical procedures.
According to the American Society of Plastic Surgeons (ASPS), the total number of minimally invasive procedures such as BOTOX® Cosmetic dwarfs the number of surgical enhancements performed by approximately 10 million, based on statistics from 2010. While the study shows both surgical and nonsurgical aesthetic enhancements are on the rise, Dr. Petti says more patients at her practice are taking advantage of the minimal recovery time and high-quality results associated with procedures such as BOTOX® Cosmetic or laser skin resurfacing in Los Angeles.
In order to maximize the effectiveness of non-invasive procedures at her practice, Dr. Petti says she helps patients create a personalized treatment plan that targets specific areas of a patient's face to correct signs of aging and restore youthful vibrancy to skin. By combining certain procedures with the skill and experience of a board-certified plastic surgeon, she adds that patients can cut down on the cost of aesthetic treatment as well as the downtime from work and normal activities.
For her Los Angeles facial rejuvenation patients, Dr. Petti says she recommends dermal fillers such as Sculptra® Cosmetic, a facial volume enhancement for restoring youthful contour; Juvederm®, an injectable gel for smoothing skin and facial lines; and Restylane®, a filler designed to add fullness to lips. She says patients can also opt for laser skin resurfacing procedures like Laser Genesis, Smartskin® Laser Skin Rejuvenation, and Portrait® Plasma Skin Resurfacing, all targeted to treat damaged skin and reveal a fresh, younger-looking complexion.
Regardless of whether patients are looking for a combination of non-invasive facial enhancements or a more dramatic change in their appearance from surgery, Dr. Petti says she urges all potential patients to consult with a qualified and dedicated plastic surgeon before undergoing any procedure. She also says through the hands of a skilled and passionate surgeon, patients can experience the benefits of confidence and youth that can be available from cosmetic procedures.
About Christine A. Petti, MD, FACS
Dr. Christine Petti earned her medical degree from the Medical College of Pennsylvania following a research fellowship in the Department of Pharmacology at Georgetown University. She also completed her General Surgery residency at the Medical College of Pennsylvania, earning the distinction of "Best Surgical Resident." Dr. Petti then completed her residency in Plastic Surgery at the University of Chicago's Pritzker School of Medicine, where she was Chief Resident in plastic surgery in 1988. She is board-certified by the American Board of Plastic Surgery, a Fellow of the American College of Surgeons, and a member of the American Society of Plastic Surgeons, American Society for Aesthetic Plastic Surgery, and several other professional organizations. Dr. Petti is an Expert Examiner for the Medical Board of California. She has engaged in, and is published on research in liposuction and the laser treatment of body cellulite using Cellulaze, and dedicates time to continuing medical education to stay at the forefront of her profession. Dr. Petti also makes regular appearance on CBS's television show "The Doctors."
Located at 3400 W. Lomita Blvd., Suite 307 in Torrance, CA, Dr. Petti's practice can be reached at (310) 961-2530. She can also be contacted online via the website dr-petti.com or facebook.com/drpetti.
Contact:
Rosemont Media
Aaron Hurst
[email protected]
(858) 200-0044
www.rosemontmedia.com
###