Los Angeles Plastic Surgeon Dr. Christine Petti Makes Third Television Appearance on The Doctors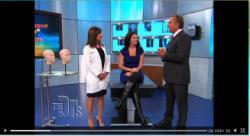 Dr. Christine Petti, a Los Angeles based board-certified plastic surgeon, has just made her third appearance on the Emmy award winning television program, "The Doctors" The episode, "Solve Your Biggest Double Dilemmas", aired Thursday, December 2nd, 2010, and featured Dr. Petti as she unveiled and discussed the combination of procedures she performed for a patient at her Los Angeles plastic surgery practice.
Los Angeles, CA (Vocus/PRWEB) December 03, 2010
Los Angeles plastic surgeon Dr. Christine Petti made her third appearance on the popular television program "The Doctors," which aired Thursday, December 2, 2010 at 11 am on KCAL, to discuss the benefits of plastic surgery and unveil the results of a recent patient's procedures. Dr. Christine Petti has offered her expertise as a plastic surgeon on "The Doctors" twice before, and has made her third appearance on the Emmy Award-winning daytime talk show to discuss vital and valid current medical topics from sound and expert medical resources.
During the featured show, "Solve Your Biggest Double Dilemmas," Dr. Petti was asked to evaluate and correct a "double chin." Tricia, the patient chosen by Dr. Petti, is a 30 year old model, actress, and bride-to-be. She has had a double chin all her life, despite the fact that she has been in perfect physical condition. She thought about having it corrected all her adult life, but with her wedding coming up, she now had a timely motivating factor.
Dr. Petti says she performed a combination of procedures, which included the placement of a silicone implant along the chin and jaw line to create a very natural augmentation of her weak chin and mandible. Dr. Petti also performed SmartLipo ™ of the neck to remove a congenital pocket of fat under her chin, which was always there, despite the patient's ideal body weight. She also performed SmartSkin ™ fractional CO2 laser resurfacing on the skin of the neck for further tightening and contouring of the neck skin. Dr. Petti says one of the remarkable things about the procedures is that they were minimally invasive: the silicone chin and jowl implant was placed through an incision hidden in the lower lip of the mouth, and the SmartLipo ™ was done with small incisions behind the ear. Dr. Petti says Tricia had tears of joy when she saw her result on the show, and was ready to hold her head high and her chin up for her October wedding on her family's Texas ranch.
In her last appearance in 2009, Dr. Petti was featured on "The Doctors-The Biggest Makeover Show Ever" as she revealed the aesthetic enhancement she performed on Debra, who flew in from Washington state for a facial makeover, which included a combination of surgical procedures: rhinoplasty, SmartLipo ™ of the neck, and SmartSkin ™ of the face and neck, along with non-surgical enhancement using BOTOX ® Cosmetic and Juvederm ® facial dermal filler in the postoperative recovery phase. The year before in 2008, Dr. Petti performed SmartLipo ™ of the abdomen on a young mother, who was challenged by fat in her tummy that was resistant to diet and exercise. She was awake for the surgery and it was one of the first demonstrations of SmartLipo ™ to the public in the entire country.
Dr. Petti views her feature during the "Solve Your Biggest Double Dilemmas" episode as yet another example of the dramatic results her minimally-invasive aesthetic enhancement procedures can provide. In addition to her most recent appearance on "The Doctors," Dr. Petti has also been featured on television shows such as Inside Edition, Lifetime Television, Discovery Health and The Plastic Surgery Channel. She has participated in a number of feature interviews on blogs including bizymoms.com and the Hollywood Life blog, which garner a significant amount of the spotlight throughout the Los Angeles area and across the nation.
Whether Dr. Petti is focusing on plastic surgery procedures, or less-invasive procedures such as dermal fillers and laser skin resurfacing in Los Angeles she performs at her Spa Bella Medical Spa, she says she is very excited about the makeover results, and enjoyed unveiling another transformation achieved through the combination of procedures available through both her plastic surgery practice and her medical day spa in Los Angeles.
About Dr. Petti
Dr. Petti is a board-certified plastic surgeon, specializing in procedures ranging from facial cosmetic procedures to breast augmentation and laser-assisted liposuction known as SmartLipo in Los Angeles. She has a private, on-site plastic surgery center where she performs her cosmetic surgery procedures. Dr. Petti is the Director of her private medical day spa, Spa Bella, where the most contemporary non-surgical cosmetic enhancement procedures, ranging from Laser Genesis, to Limelight, Titan®, laser hair removal, SmartSkin ™ fractional laser skin resurfacing, dermal fillers, using BOTOX ® Cosmetic, and Sculptra ™ are offered daily to all of her patients.
Dr. Christine Petti earned her medical degree from The Medical College of Pennsylvania, and completed her general surgery residency there as well. She completed her plastic surgery residency at The University of Chicago's Pritzker School of Medicine, in addition to achieving the position of Chief Resident in plastic surgery. Dr. Petti is an active member of The American Society of Plastic Surgeons, and The American Society for Aesthetic Plastic Surgery.
Aesthetic Accents Cosmetic and Laser Surgery Center and Spa Bella Medical Day Spa are located at 3400 W. Lomita Blvd. Suite 305, in Torrance, CA 90505; they can be reached at (310) 539-5888 and online at either her practice website http://www.dr-petti.com or the Aesthetic Accents Cosmetic & Laser Surgery Center Facebook page.