Rosario's Story – Natrelle® 410 Breast Implants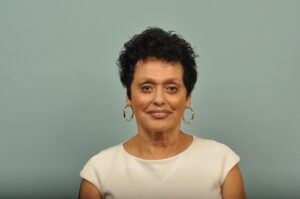 In our previous blog, Dr. Petti explained some of the benefits of Natrelle® 410 cohesive gel breast implants. In this post, Dr. Petti's patient, Rosario, shares her personal experience with her breast augmentation revision procedure that utilized Natrelle® 410 anatomical gel implants. This is her story:
After having a breast augmentation with unsatisfactory results approximately ten years ago, Rosario said she felt ashamed and embarrassed about her body. Rosario stated that ever since her first augmentation surgery, her breasts were hard and painful. Over time, they became distorted from scar tissue formation (capsular contracture) resulting in severe distortion of the breasts. Rosario didn't think she could ever be beautiful, because she felt her body had been too badly disfigured and distorted as a result of the scar tissue. However, after breast augmentation revision surgery with Dr. Christine Petti, Rosario says seeing her results for the first time felt like looking at another person. She says this procedure has changed her life and has given her an abundance of self-esteem she never knew she had.
When Rosario first met with Dr. Petti, she says she was very nervous, because she knew her case involved a lot of complications. However, she notes that Dr. Petti and her staff welcomed her, made her feel comfortable, and assured her that everything was going to be alright. Rosario discussed her options with Dr. Petti, and decided that the Natrelle® 410 anatomical gel implants were the best choice for her breast implant revision surgery. She explains that her breasts used to appear to look like "two round balls," and she selected the Natrelle® style 410 implant because of its natural shape and feel. Rosario says her self-esteem began to improve significantly in a matter of hours after surgery. She says, "I look very natural, and to be a woman of 66… it's fabulous!"
Rosario is happy to share her story with others, because she wants anyone who may be in a similar situation to see that they can improve their self-esteem, as well. She feels that an experience like this can come at any age, and says, "Dreams do come true, and they're there for the taking!"
To schedule a consultation with Dr. Petti, or to learn more about breast implant revision surgery or the Natrelle® 410 anatomical gel implant, please contact us today.