Dr. Petti Named Among Newsweek's America's Best Plastic Surgeons and Best Cosmetic Surgeon by the Daily Breeze of the South Bay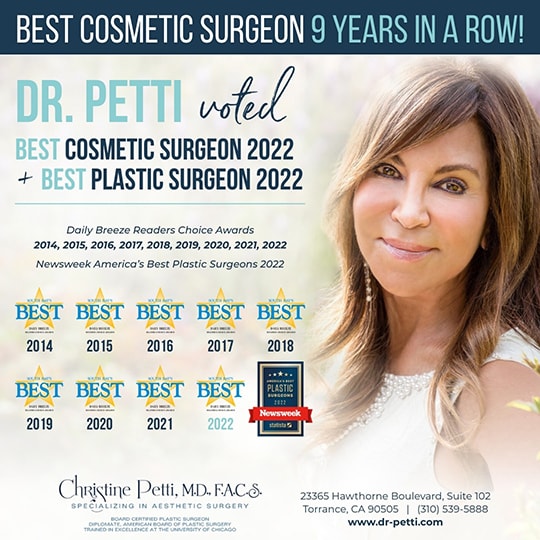 Our board-certified plastic surgeon Christine Petti, MD, has recently been recognized with major honors in two well-known publications for her continued excellence in the plastic surgery field. Dr. Petti has served as a cosmetic plastic surgeon since the 1990s when she was one of the first to establish a state-licensed and certified on-site ambulatory plastic surgery facility and medical day spa in the state of California. Since then, she has provided countless aesthetic services using the most advanced surgical, non-surgical, and laser techniques to our South Bay of Los Angeles communities. Continue reading to learn more about the awards Dr. Petti received from Newsweek and the Daily Breeze of Los Angeles:
Newsweek America's BEST Plastic Surgeons 2022
Dr. Petti has been recognized by Newsweek as among "America's Best Plastic Surgeons 2022." Newsweek's list, the first of its kind, is compiled through market research across the globe and customer data provided by Statista, Inc. Those surveyed were medical skin care professionals who were asked to provide their recommendations for the best plastic surgeons in the field. Dr. Petti's recognition was specifically based on her work with facelifts.
Daily Breeze 2022  BEST Plastic Surgeon and BEST Cosmetic Surgeon
Dr. Petti has received awards from the Daily Breeze's Readers' Choice poll 2022. The annual poll has awarded Dr. Petti with recognition as South Bay's Best Cosmetic Surgeon for the ninth consecutive time (2014 through 2022) and Best Plastic Surgeon for the second time (2021 and 2022).
Dr. Petti appreciates and cherishes the fact that she has been recognized in the Daily Breeze and Newsweek as a plastic surgeon who is among the best in her field. Her passion and commitment to providing the best possible care will remain part of her overall mission to help patients achieve their goals with stunning and natural results.
For more information about Dr. Petti and the services available at our practice, please contact us today!