Dr. Petti to Speak at The Medical Spa Show 2022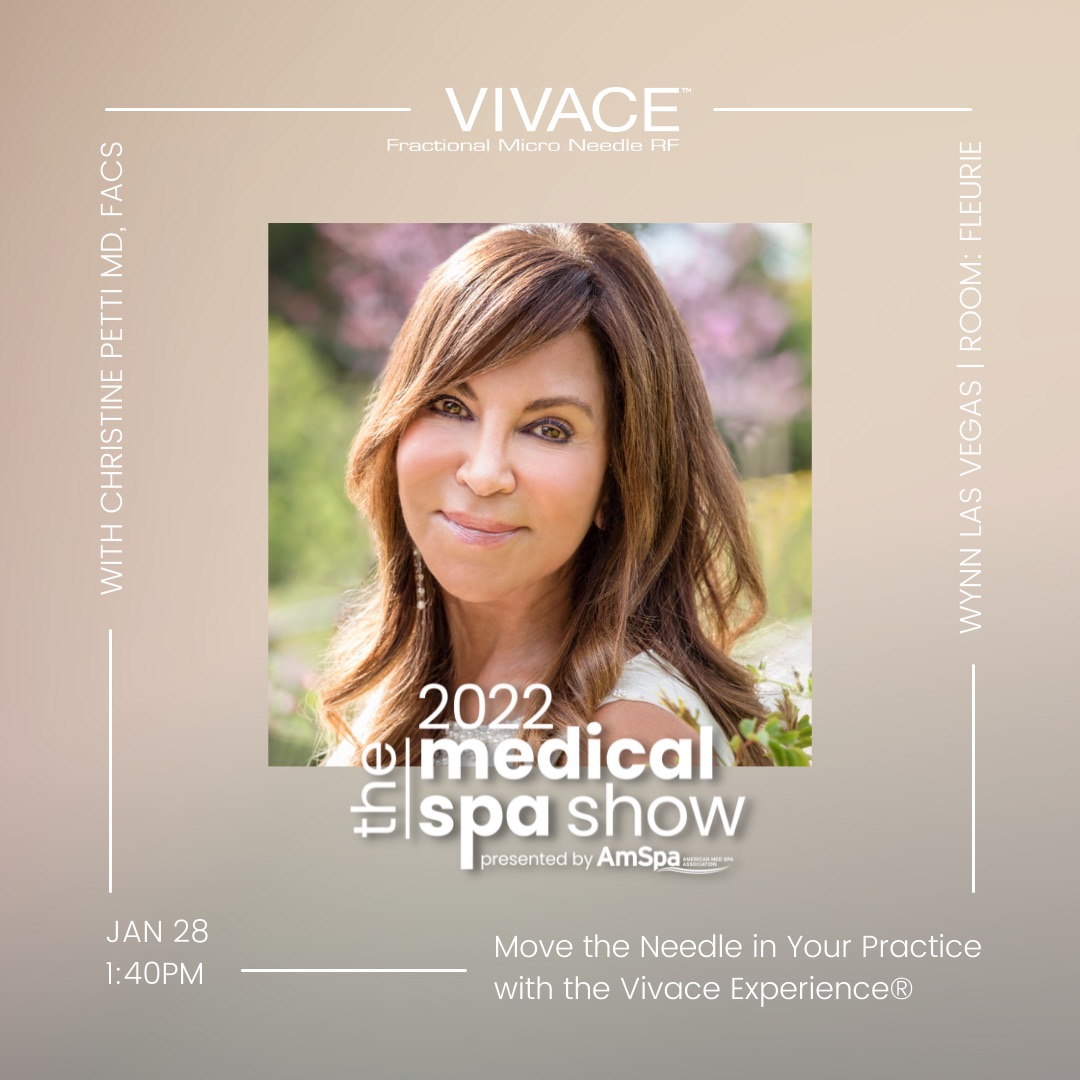 Our own cosmetic plastic surgeon, Dr. Christine Petti, is set to speak at The Medical Spa Show 2022 on Friday, January 28. Her talks will focus on the benefits of the Vivace Experience®, as well as combining RF microneedling and CO2 laser treatments for prejuvenation and rejuvenation. The Medical Spa Show is made possible by the American Med Spa Association, and those interested in the show can watch online at medicalspashow.com. Patients and other healthcare professionals can catch Dr. Petti's talks about non-surgical rejuvenation at the following times: 
Move the Needle in Your Practice with the Vivace Experience® – 1:40 to 2:05 p.m. PST
The Art and Ease of Combination RF Microneedling and CO2 Laser Treatments for Prejuvenation and Rejuvenation – 4:45 to 5:25 p.m. PST
Serving as the premier conference and tradeshow for non-surgical medical aesthetics, The Medical Spa Show collects experts in the field to share their knowledge and experiences for the advancement of the industry. At The Medical Spa Show, viewers, visitors, and doctors can experience the many avenues of clinical, business, legal, and marketing education; find the next great treatment, technology, or service partner in the show's exhibit hall; and have the opportunity to expand networks by meeting hundreds of professionals in attendance. 
Dr. Petti's research and clinical work with Smartlipo™, Cellulaze™, and SculpSure® has been published in journals focused on plastic surgery and laser treatments around the world. Dr. Petti has appeared on ABC 20/20, NBC Inside Edition, The Doctors, the Plastic Surgery Channel, Aesthetic TV, and Cynosure University, where she was able to share her knowledge and expertise on non-surgical and surgical cosmetic restorations. 
To learn more about Dr. Petti and the cosmetic enhancement options she offers, contact our practice today!