Dr. Petti Presenting at The Aesthetic Show 2021 in Las Vegas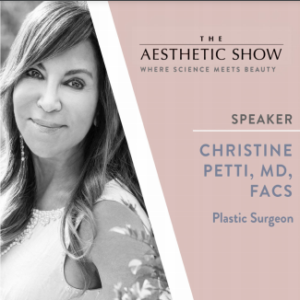 Dr. Christine Petti, board-certified plastic surgeon, will be presenting at The Aesthetic Show 2021! The event will be held from July 8th to 11th, 2021 at The Wynn Resort in Las Vegas, Nevada.
Dr. Petti will be sharing her experience and expertise in energy-based laser surgical and non-surgical body contouring during her presentation, "Yes, You Can – Offer a Comprehensive Body Contouring Portfolio in Your Practice!" Her presentation will take place during the "General Education – Non-Surgical Body Shaping" session on July 10th from 8:00am to 9:30am in the Cristal 2 room. She will also be speaking about Lumisque Skincare's exciting new carboxytherapy gel products and treatments—CO2Lift and CO2LiftV—during a session titled "Topical Carboxy to Maximize Every Face, Body, Vagina Treatment" held on July 9th from 12:40pm to 1:00pm on the Exhibit Hall Stage.
Tickets are still available if you would like to attend The Aesthetic Show 2021! Dr. Petti hopes to see you there.