Dr. Petti Awarded Best Cosmetic Surgeon & Plastic Surgeon 2021 by Daily Breeze Readers' Choice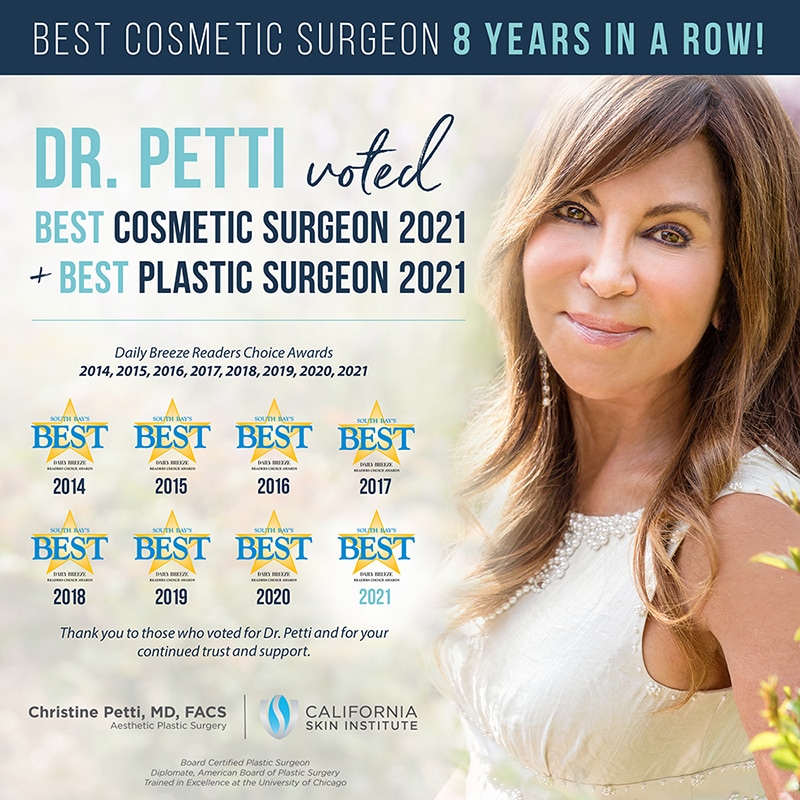 Once again, Dr. Christine Petti has been honored among the cream of the crop in the annual Daily Breeze Readers' Choice poll! For 2021, Dr. Petti has been named both South Bay's Best Cosmetic Surgeon AND Best Plastic Surgeon. This year marks Dr. Petti's 8th consecutive win for South Bay's Best Cosmetic Surgeon (2014-2021) and her first win in the newly-formed category of South Bay's Best Plastic Surgeon!
In winning these awards, Dr. Petti reflects on her gratitude for the incredible support and encouragement she receives from friends, family, patients, colleagues, and those in the South Bay community. For Dr. Petti, each vote is a victory and a testament to the hard work she continues to provide to patients and the field as a whole. Her team also shares in the honor, as without them these achievements would not be possible.
For anyone interested in plastic surgery and non-surgical cosmetic enhancement, we welcome you to contact our office to schedule a consultation with Dr. Petti. She performs the full spectrum of aesthetic surgery procedures, as well as a broad range of non-surgical treatments performed with state-of-the-art aesthetic technology and products. Her goal with every surgery and innovative treatment is to deliver modern, aesthetically beautiful, natural, and balanced outcomes for her cherished patients.
To view the official Daily Breeze announcement of the 2021 winners, please click here.