One-Day Only Live Beauty Seminar with Dr. Petti: Register Now!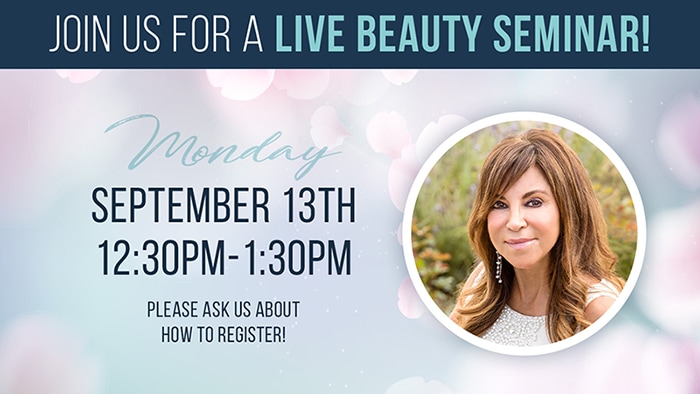 Have you ever considered aesthetic treatments to help you fulfill your cosmetic goals, but were perhaps unsure which technique was right for you? Now's your chance to learn more about the wide scope of customized cosmetic rejuvenation services at your disposal! Dr. Christine Petti, a board-certified plastic surgeon, understands that selecting the best treatment among the many aesthetic technologies available can be overwhelming. Join Dr. Petti for our live beauty gala on Monday, September 13, 2021 as she highlights some of her favorite surgical and non-surgical treatments to refresh the face, sculpt the body, rejuvenate signs of aging, and more!
When: Monday, September 13, 2021
Time: 12:30 pm – 1:30 pm PST
Where: Online!
Get answers to all your questions about aesthetic treatments live from Dr. Petti, who has been named "Best Cosmetic Surgeon" by the Daily Breeze Readers' Choice Awards for eight years running! Plus, our Aesthetics Manager, Nikka Dorado, will be presenting the "ABCs of Skincare Routine for the Holidays," as well as introduce dermatologist-recommended skincare products for the body that can maximize the longevity of your treatment results. These products are custom-designed to repair damaged skin and maximize your post-procedure results. Our one-day only live beauty gala will kick off our VIP Sales Week, which takes place from September 13, 2021 to September 17, 2021. Stick around for our VIP Sales Event after the seminar to get exclusive deals on our most popular aesthetic treatments. Click the link below to register your attendance and reserve your spot today!