October is Breast Cancer Awareness Month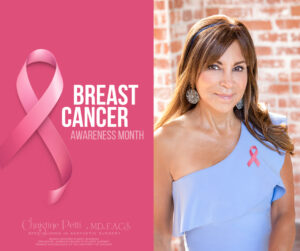 As a female plastic surgeon who performs a wide range of breast surgeries, breast health is a central concern for Dr. Petti and her patients. According to the National Breast Cancer Foundation (NBCF), breast cancer is the second leading cause of cancer death among women and each year more than 250,000 women are diagnosed. Breast Cancer Awareness Month (BCAM) started in October of 1985 with the goal of not just increasing awareness about the disease, but also supporting breast cancer research and prevention, encouraging screening, expanding treatment options, and finding a cure. Over the last 33 years, Breast Cancer Awareness Month has gained incredible momentum and become widely supported around the world.
For more than 20 years Dr. Petti has proudly worn a pink ribbon on her lab coat as a symbol of her unwavering support for all those whose lives have been and will be touched by breast cancer. Dr. Petti utilizes her position as a plastic surgeon to educate patients in a one-on-one setting about the importance of regular self-exams, mammograms, and (for some women) MRIs to detect breast cancer early, when it is most treatable. Dr. Petti has also held well-attended events in support of Breast Cancer Awareness Month during which she discussed detection and prevention topics, gave out great prizes, celebrated survivors, and offered fun beauty specials for her attendees. As a champion for women in all areas of her life, Dr. Petti is proud to lend her support, resources, and voice to the ongoing fight against breast cancer. Currently, Dr. Petti is an active member of the Advisory Board for Cancer Support Community of The South Bay.
Dr. Petti hopes you will take some time this month to get screened if you are overdue, and remind your female friends and family members to do the same. If you have questions about breast cancer or would like to find out more about ways you can support Breast Cancer Awareness Month, we encourage you to contact our practice for more information.