Dr. Petti to Present at 2018 ISAPS Conference in South Beach, Miami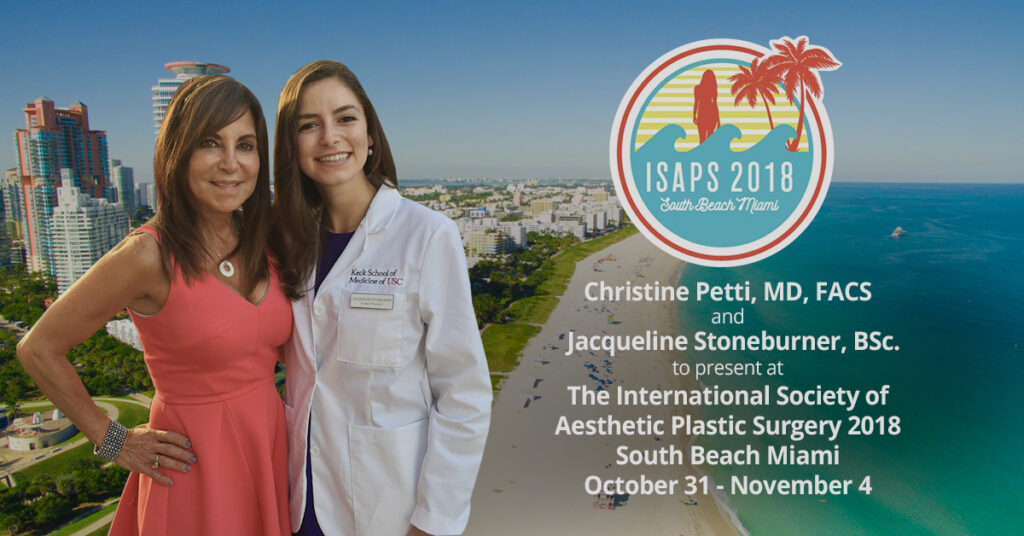 The 2018 Biennial Global Congress of the International Society of Aesthetic Plastic Surgery (ISAPS) is taking place in South Beach, Miami from October 31st to November 4th. This is the 24th Congress held by the ISAPS, and Christine Petti, MD will be presenting her clinical research on the noninvasive SculpSure 1060 nm diode laser for fat reduction at this world-class gathering of international aesthetic talent.
Dr. Petti is also proud to announce that she and her daughter, Jacqueline C. Stoneburner, BSc, currently a third-year medical student at The University of Southern California Keck School of Medicine, will each be presenting their individual research at the ISAPS Miami meeting.
Dr. Petti and Jacqueline both have authored their research, "Clinical Study to Assess the SculpSure® Laser for Treatment of Contour Irregularities Post-Liposuction." Their clinical findings show that the "SculpSure® 1060 nm diode laser system is safe and highly effective in the treatment of contour irregularities post liposuction."
Jacqueline C. Stoneburner, BSc, will be presenting her abstract on hair restoration titled, "Contemporary Management of Alopecia: A Systematic Review and Meta-Analysis for Surgeons," as part of research conducted under the guidance of the USC Division of Plastic and Reconstructive Surgery.
Earlier this year, Dr. Petti and Ms. Stoneburner had the opportunity to have their abstract presented at The American Society for Laser Medicine and Surgery's (ASLMS) Annual Conference on Energy-Based Medicine & Science 2018 in Dallas, Texas. Their presentation and findings on the efficacy of non-invasive SculpSure for correcting liposuction results were well-received by the scientific conference attendees.
As a clinical investigator, researcher, and highly trained practitioner of aesthetic laser technology, Dr. Petti incorporates a wide array of state-of-the-art aesthetic laser systems into her plastic surgery practice. The technology she selects provides minimally invasive and non-invasive options for helping her patients achieve a wide array of cosmetic goals. The light-based systems she uses for the purposes of skin rejuvenation, body contouring, fat reduction, skin tightening, and cellulite are designed to deliver measurable results that require little or no downtime for her patients. In addition to the SculpSure® laser , Dr. Petti also offers the Smartlipo TriPlex™ laser liposuction, Smartskin™ fractional laser for skin resurfacing, PrecisionTx™ for laser neck lift and skin tightening, and Cellulaze™ created by Cynosure®-Hologic Lasers.
If you would like to learn more about Dr. Petti's presentation at the 2018 Biennial Global Congress of ISAPS or the many laser-based aesthetic treatments she performs, we welcome you to contact our practice.