Los Angeles Plastic Surgeon Christine Petti, MD & Spa Bella Are "South Bay's Best 2018"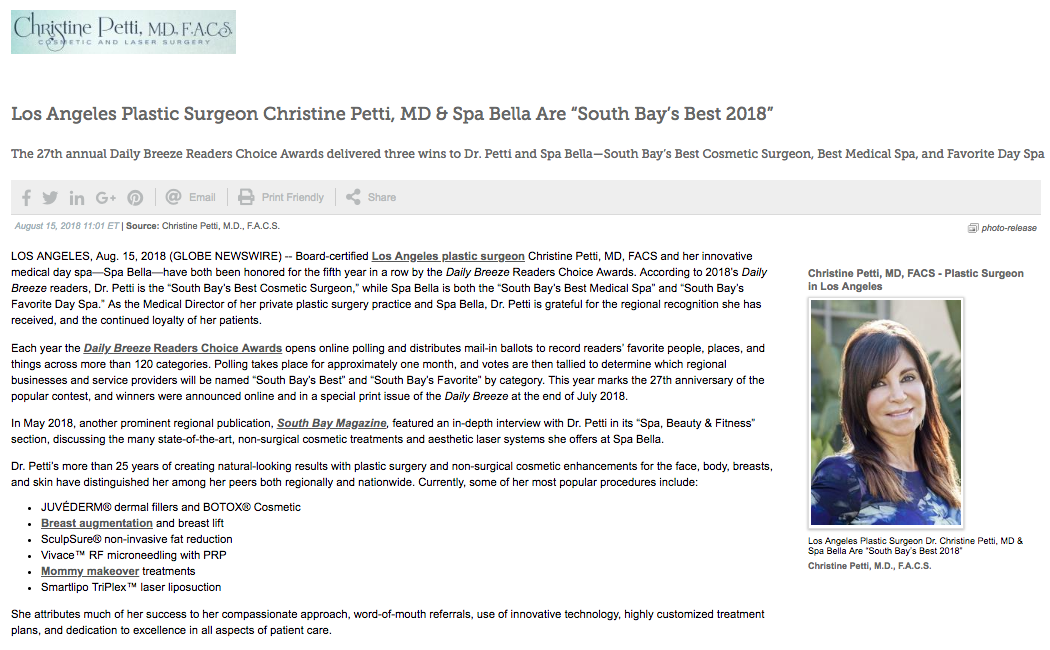 The 27th annual Daily Breeze Readers Choice Awards delivered three wins to Dr. Petti and Spa Bella—South Bay's Best Cosmetic Surgeon, Best Medical Spa, and Favorite Day Spa.
Los Angeles, CA – Board-certified Los Angeles plastic surgeon Christine Petti, MD, FACS and her innovative medical day spa—Spa Bella—have both been honored for the fifth year in a row by the Daily Breeze Readers Choice Awards. According to 2018's Daily Breeze readers, Dr. Petti is the "South Bay's Best Cosmetic Surgeon," while Spa Bella is both the "South Bay's Best Medical Spa" and "South Bay's Favorite Day Spa." As the Medical Director of her private plastic surgery practice and Spa Bella, Dr. Petti is grateful for the regional recognition she has received, and the continued loyalty of her patients.
Each year the Daily Breeze Readers Choice Awards opens online polling and distributes mail-in ballots to record readers' favorite people, places, and things across more than 120 categories. Polling takes place for approximately one month, and votes are then tallied to determine which regional businesses and service providers will be named "South Bay's Best" and "South Bay's Favorite" by category. This year marks the 27th anniversary of the popular contest, and winners were announced online and in a special print issue of the Daily Breeze at the end of July 2018.
In May 2018, another prominent regional publication, South Bay Magazine, featured an in-depth interview with Dr. Petti in its "Spa, Beauty & Fitness" section, discussing the many state-of-the-art, non-surgical cosmetic treatments and aesthetic laser systems she offers at Spa Bella.
Dr. Petti's more than 25 years of creating natural-looking results with plastic surgery and non-surgical cosmetic enhancements for the face, body, breasts, and skin have distinguished her among her peers both regionally and nationwide. Currently, some of her most popular procedures include:
JUVÉDERM® dermal fillers and BOTOX® Cosmetic
Breast augmentation and breast lift
SculpSure® non-invasive fat reduction
Vivace™ RF microneedling with PRP
Mommy makeover treatments
Smartlipo TriPlex™ laser liposuction
She attributes much of her success to her compassionate approach, word-of-mouth referrals, use of innovative technology, highly customized treatment plans, and dedication to excellence in all aspects of patient care.
About Christine Petti, MD, FACS
Dr. Christine Petti is a plastic surgeon, certified by the American Board of Plastic Surgery and an active member of the American Society of Aesthetic Plastic Surgery (ASAPS) and the American Society for Plastic Surgeons (ASPS). A graduate of Saint Mary's College of Notre Dame and Georgetown University, Dr. Petti earned her medical degree from The Medical College of Pennsylvania. Dr. Petti completed her plastic surgery residency at The University of Chicago, Pritzker School of Medicine. She is a Fellow of the American College of Surgeons and a medical expert for The Medical Board of California. She has published numerous scientific manuscripts on laser body contouring, laser liposuction and laser cellulite treatment. Dr. Petti is the Medical Director of Palos Verdes Plastic Surgery Medical Center and Spa Bella, Medical Day Spa, located in the South Bay area of Los Angeles, California. She has been featured on "The Doctors", "20/20", "Inside Edition", "Discovery Health", and "Aesthetic TV" discussing her aesthetic expertise in facial, breast, and body contouring procedures. Dr. Petti is available for interview upon request.
For more information about Dr. Petti and her practice, please visit dr-petti.com and facebook.com/drpetti.
Contact
Christine Petti, MD, FACS
3400 W. Lomita Blvd., Ste. 305
Torrance, CA 90505
(310) 539-5888
Rosemont Media
(858) 200-0044
www.rosemontmedia.com