Los Angeles Plastic Surgeon Voted "Best of the Beach" in 2017 Easy Reader News Poll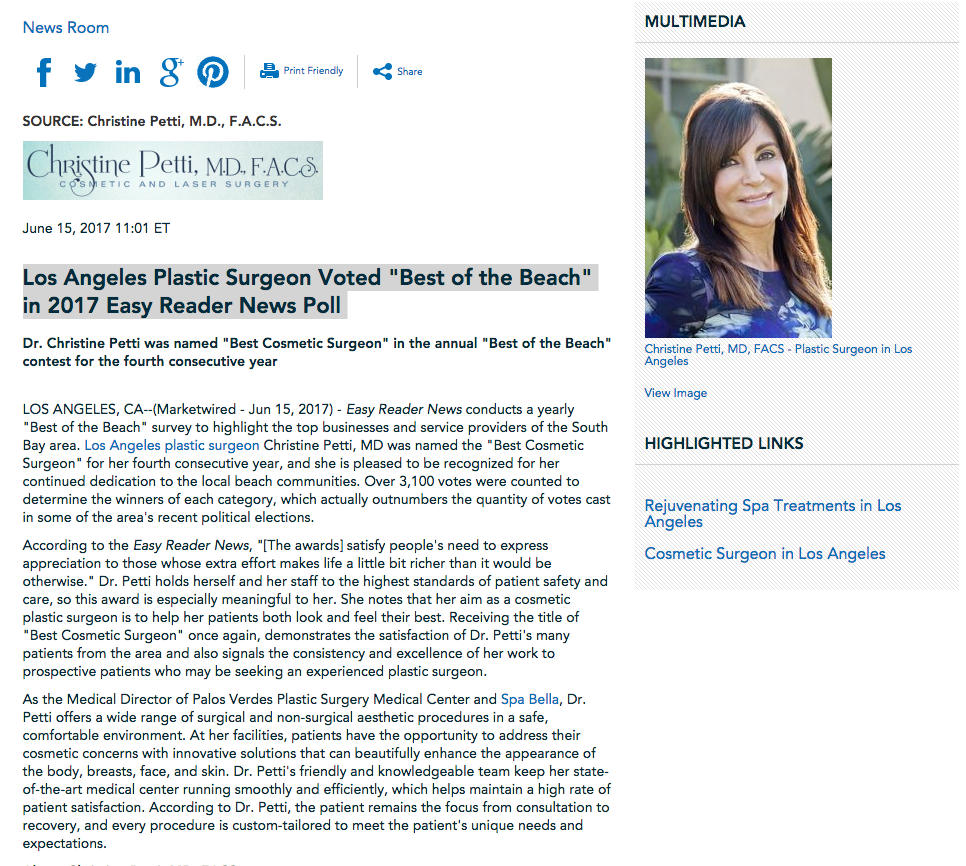 Dr. Christine Petti was named "Best Cosmetic Surgeon" in the annual "Best of the Beach" contest for the fourth consecutive year.
Los Angeles, CA – Easy Reader News conducts a yearly "Best of the Beach" survey to highlight the top businesses and service providers of the South Bay area. Los Angeles plastic surgeon Christine Petti, MD was named the "Best Cosmetic Surgeon" for her fourth consecutive year, and she is pleased to be recognized for her continued dedication to the local beach communities. Over 3,100 votes were counted to determine the winners of each category, which actually outnumbers the quantity of votes cast in some of the area's recent political elections.
According to the Easy Readers News, "[The awards] satisfy people's need to express appreciation to those whose extra effort makes life a little bit richer than it would be otherwise." Dr. Petti holds herself and her staff to the highest standards of patient safety and care, so this award is especially meaningful to her. She notes that her aim as a cosmetic plastic surgeon is to help her patients both look and feel their best. Receiving the title of "Best Cosmetic Surgeon" once again, demonstrates the satisfaction of Dr. Petti's many patients from the area and also signals the consistency and excellence of her work to prospective patients who may be seeking an experienced plastic surgeon.
As the Medical Director of Palos Verdes Plastic Surgery Medical Center and Spa Bella, Dr. Petti offers a wide range of surgical and non-surgical aesthetic procedures in a safe, comfortable environment. At her facilities, patients have the opportunity to address their cosmetic concerns with innovative solutions that can beautifully enhance the appearance of the body, breasts, face, and skin. Dr. Petti's friendly and knowledgeable team keep her state-of-the-art medical center running smoothly and efficiently, which helps maintain a high rate of patient satisfaction. According to Dr. Petti, the patient remains the focus from consultation to recovery, and every procedure is custom-tailored to meet the patient's unique needs and expectations.
About Christine Petti, MD, FACS
Dr. Christine Petti is a plastic surgeon, certified by the American Board of Plastic Surgery and an active member of the American Society of Aesthetic Plastic Surgery (ASAPS) and the American Society for Plastic Surgeons (ASPS). A graduate of Saint Mary's College of Notre Dame and Georgetown University, Dr. Petti earned her medical degree from The Medical College of Pennsylvania. Dr. Petti completed her plastic surgery residency at The University of Chicago, Pritzker School of Medicine. She is a Fellow of the American College of Surgeons and a medical expert for The Medical Board of California. She has published numerous scientific manuscripts on laser body contouring, laser liposuction and laser cellulite treatment. Dr. Petti is the Medical Director of Palos Verdes Plastic Surgery Medical Center and Spa Bella, Medical Day Spa, located in the South Bay area of Los Angeles, California. She has been featured on "The Doctors", "20/20", "Inside Edition", "Discovery Health", and "Aesthetic TV" discussing her aesthetic expertise in facial, breast, and body contouring procedures. Dr. Petti is available for interview upon request.
For more information about Dr. Petti and her practice, please visit dr-petti.com and facebook.com/drpetti.
Contact:
Christine Petti, MD, FACS
3400 W. Lomita Blvd., Ste. 305
Torrance, CA 90505
(310) 539-5888
Rosemont Media
(858) 200-0044
www.rosemontmedia.com