Los Angeles Plastic Surgeon Discusses Causes and Results of Botched Cosmetic Procedures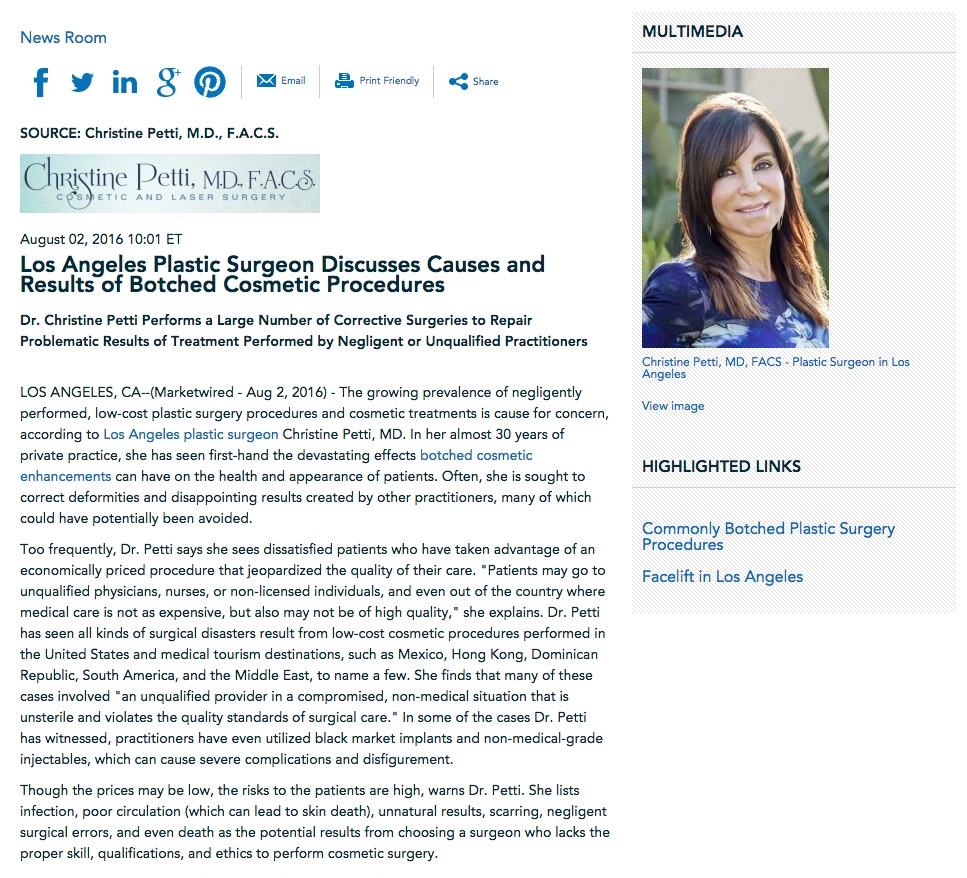 Dr. Christine Petti performs a large number of corrective surgeries to repair problematic results of treatment performed by negligent or unqualified practitioners.
Los Angeles, CA – The growing prevalence of negligently performed, low-cost plastic surgery procedures and cosmetic treatments is cause for concern, according to Los Angeles plastic surgeon Christine Petti, MD. In her almost 30 years of private practice, she has seen first-hand the devastating effects botched cosmetic enhancements can have on the health and appearance of patients. Often, she is sought to correct deformities and disappointing results created by other practitioners, many of which could have potentially been avoided.
Too frequently, Dr. Petti says she sees dissatisfied patients who have taken advantage of an economically priced procedure that jeopardized the quality of their care. "Patients may go to unqualified physicians, nurses, or non-licensed individuals, and even out of the country where medical care is not as expensive, but also may not be of high quality," she explains. Dr. Petti has seen all kinds of surgical disasters result from low-cost cosmetic procedures performed in the United States and medical tourism destinations, such as Mexico, Hong Kong, Dominican Republic, South America, and the Middle East, to name a few. She finds that many of these cases involved "an unqualified provider in a compromised, non-medical situation that is unsterile and violates the quality standards of surgical care." In some of the cases Dr. Petti has witnessed, practitioners have even utilized black market implants and non-medical-grade injectables, which can cause severe complications and disfigurement.
Though the prices may be low, the risks to the patients are high, warns Dr. Petti. She lists infection, poor circulation (which can lead to skin death), unnatural results, scarring, negligent surgical errors, and even death as the potential results from choosing a surgeon who lacks the proper skill, qualifications, and ethics to perform cosmetic surgery.
At her practice, Dr. Petti performs a significant number of corrective surgeries to repair the disappointing results of botched facelifts, neck lifts, breast augmentations, liposuction and other procedures. In some cases, complex reconstructive techniques and multiple surgeries are required to rehabilitate the form, function, and/or feel of the affected areas. For those who have been the victim of botched plastic surgery, Dr. Petti suggests scheduling a consultation with a board certified plastic surgeon who has extensive experience in corrective and revision surgeries to fully evaluate any physical and aesthetic concerns. A skilled surgeon may have the ability to develop an effective treatment plan to repair damage and restore a more natural appearance.
About Christine Petti, MD, FACS
Dr. Christine Petti is a plastic surgeon, certified by the American Board of Plastic Surgery and an active member of the American Society of Aesthetic Plastic Surgery (ASAPS) and the American Society for Plastic Surgeons (ASPS). A graduate of Saint Mary's College of Notre Dame and Georgetown University, Dr. Petti earned her medical degree from The Medical College of Pennsylvania. Dr. Petti completed her plastic surgery residency at The University of Chicago, Pritzker School of Medicine. She is a Fellow of the American College of Surgeons and a medical expert for The Medical Board of California. She has published numerous scientific manuscripts on laser body contouring, laser liposuction and laser cellulite treatment. Dr. Petti is the Medical Director of Palos Verdes Plastic Surgery Medical Center and Spa Bella, Medical Day Spa, located in the South Bay area of Los Angeles, California. She has been featured as an expert on the Discovery Health Channel and a variety of popular television programs, including "The Doctors," "20/20," and "Inside Edition." Dr. Petti is available for interview upon request.
For more information about Dr. Petti and her practice, please visit dr-petti.com and facebook.com/drpetti.
Contact:
Christine Petti, MD, FACS
Cosmetic and Laser Surgery
3400 W. Lomita Blvd., Ste. 305
Torrance, CA 90505
(310) 539-5888
Rosemont Media
(858) 200-0044
www.rosemontmedia.com