Los Angeles Plastic Surgeon Presents "Evening of Beauty" Open House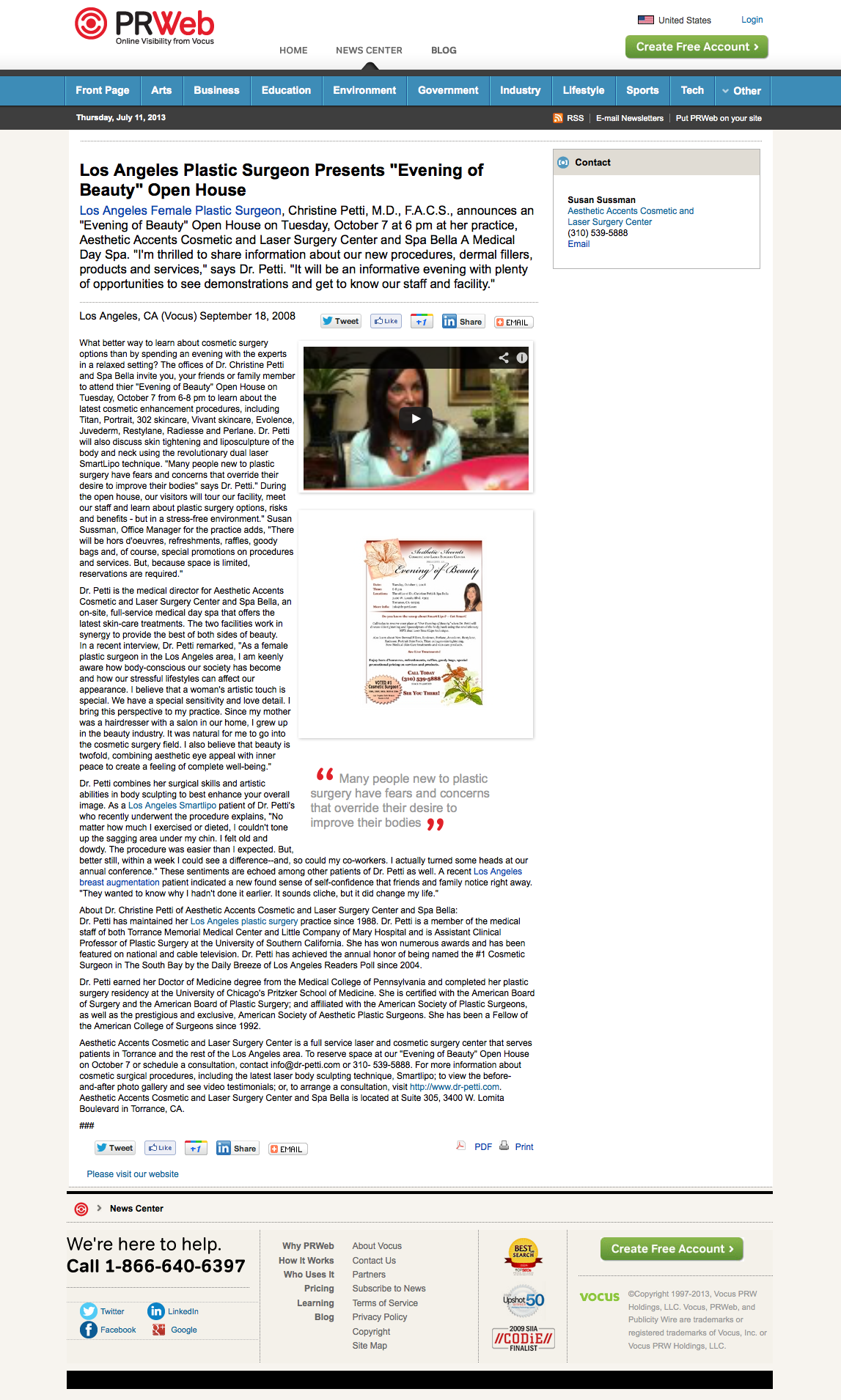 Los Angeles Female Plastic Surgeon, Christine Petti, M.D., F.A.C.S., announces an "Evening of Beauty" Open House on Tuesday, October 7 at 6 pm at her practice, Aesthetic Accents Cosmetic and Laser Surgery Center and Spa Bella A Medical Day Spa. "I'm thrilled to share information about our new procedures, dermal fillers, products and services," says Dr. Petti. "It will be an informative evening with plenty of opportunities to see demonstrations and get to know our staff and facility."
What better way to learn about cosmetic surgery options than by spending an evening with the experts in a relaxed setting? The offices of Dr. Christine Petti and Spa Bella invite you, your friends or family member to attend thier "Evening of Beauty" Open House on Tuesday, October 7 from 6-8 pm to learn about the latest cosmetic enhancement procedures, including Titan, Portrait, 302 skincare, Vivant skincare, Evolence, Juvederm, Restylane, Radiesse and Perlane. Dr. Petti will also discuss skin tightening and liposculpture of the body and neck using the revolutionary dual laser SmartLipo technique. "Many people new to plastic surgery have fears and concerns that override their desire to improve their bodies" says Dr. Petti." During the open house, our visitors will tour our facility, meet our staff and learn about plastic surgery options, risks and benefits – but in a stress-free environment." Susan Sussman, Office Manager for the practice adds, "There will be hors d'oeuvres, refreshments, raffles, goody bags and, of course, special promotions on procedures and services. But, because space is limited, reservations are required."
Dr. Petti is the medical director for Aesthetic Accents Cosmetic and Laser Surgery Center and Spa Bella, an on-site, full-service medical day spa that offers the latest skin-care treatments. The two facilities work in synergy to provide the best of both sides of beauty.
In a recent interview, Dr. Petti remarked, "As a female plastic surgeon in the Los Angeles area, I am keenly aware how body-conscious our society has become and how our stressful lifestyles can affect our appearance. I believe that a woman's artistic touch is special. We have a special sensitivity and love detail. I bring this perspective to my practice. Since my mother was a hairdresser with a salon in our home, I grew up in the beauty industry. It was natural for me to go into the cosmetic surgery field. I also believe that beauty is twofold, combining aesthetic eye appeal with inner peace to create a feeling of complete well-being."
Dr. Petti combines her surgical skills and artistic abilities in body sculpting to best enhance your overall image. As a Los Angeles Smartlipo patient of Dr. Petti's who recently underwent the procedure explains, "No matter how much I exercised or dieted, I couldn't tone up the sagging area under my chin. I felt old and dowdy. The procedure was easier than I expected. But, better still, within a week I could see a difference–and, so could my co-workers. I actually turned some heads at our annual conference." These sentiments are echoed among other patients of Dr. Petti as well. A recent Los Angeles breast augmentation patient indicated a new found sense of self-confidence that friends and family notice right away. "They wanted to know why I hadn't done it earlier. It sounds cliche, but it did change my life."
About Dr. Christine Petti of Aesthetic Accents Cosmetic and Laser Surgery Center and Spa Bella:
Dr. Petti has maintained her Los Angeles plastic surgery practice since 1988. Dr. Petti is a member of the medical staff of both Torrance Memorial Medical Center and Little Company of Mary Hospital and is Assistant Clinical Professor of Plastic Surgery at the University of Southern California. She has won numerous awards and has been featured on national and cable television. Dr. Petti has achieved the annual honor of being named the #1 Cosmetic Surgeon in The South Bay by the Daily Breeze of Los Angeles Readers Poll since 2004.
Dr. Petti earned her Doctor of Medicine degree from the Medical College of Pennsylvania and completed her plastic surgery residency at the University of Chicago's Pritzker School of Medicine. She is certified with the American Board of Surgery and the American Board of Plastic Surgery; and affiliated with the American Society of Plastic Surgeons, as well as the prestigious and exclusive, American Society of Aesthetic Plastic Surgeons. She has been a Fellow of the American College of Surgeons since 1992.
Aesthetic Accents Cosmetic and Laser Surgery Center is a full service laser and cosmetic surgery center that serves patients in Torrance and the rest of the Los Angeles area. To reserve space at our "Evening of Beauty" Open House on October 7 or schedule a consultation, contact [email protected] or 310- 539-5888. For more information about cosmetic surgical procedures, including the latest laser body sculpting technique, Smartlipo; to view the before-and-after photo gallery and see video testimonials; or, to arrange a consultation, visit http://www.dr-petti.com. Aesthetic Accents Cosmetic and Laser Surgery Center and Spa Bella is located at Suite 305, 3400 W. Lomita Boulevard in Torrance, CA.