Leading the Way in Cosmetic Surgery Los Angeles Surgeon and Beauty Expert, Dr. Christine Petti Offers Minimally Invasive SmartLipo™ – The Smart Way to Lose Fat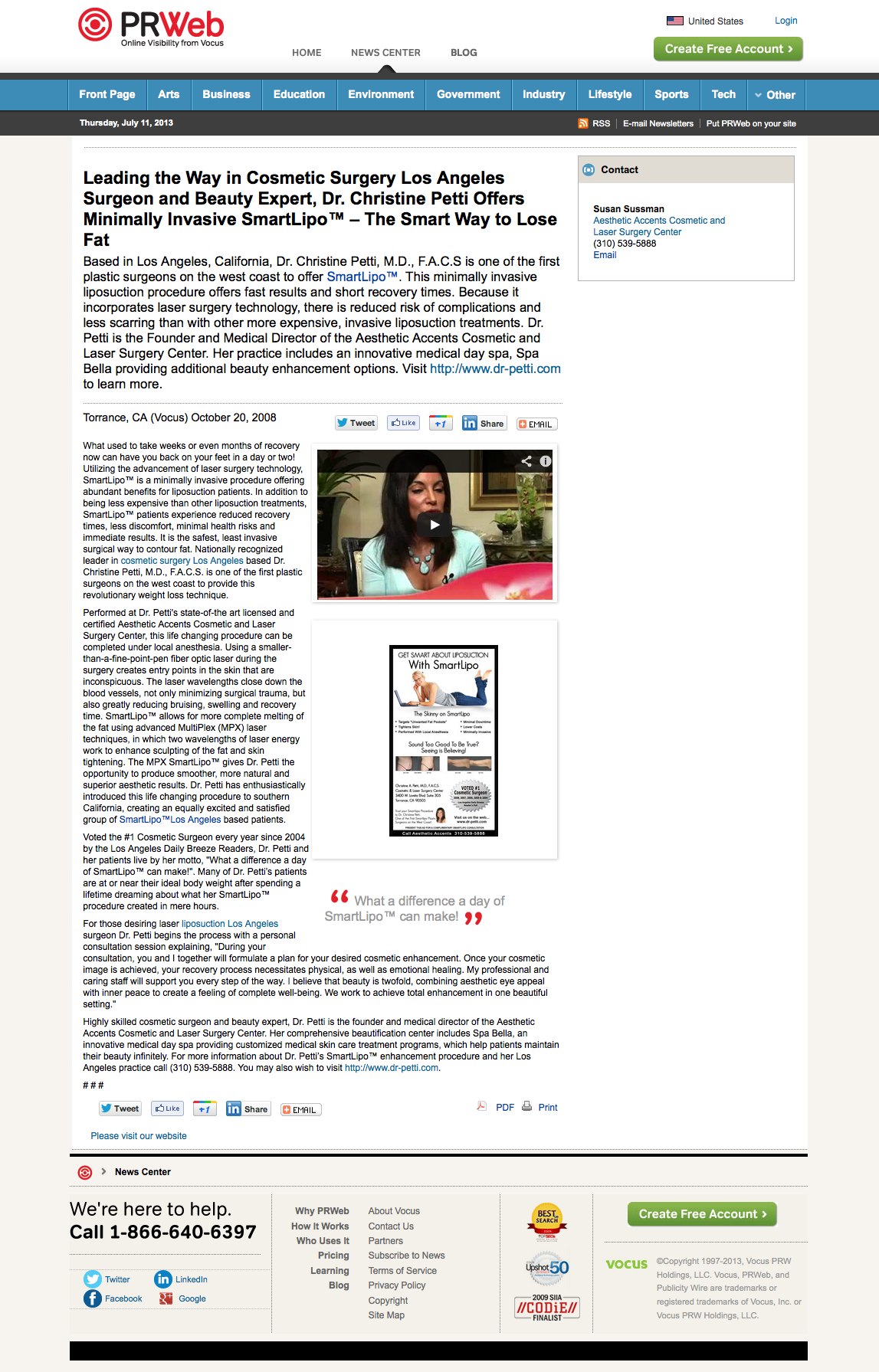 Based in Los Angeles, California, Dr. Christine Petti, M.D., F.A.C.S is one of the first plastic surgeons on the west coast to offer SmartLipo™. This minimally invasive liposuction procedure offers fast results and short recovery times. Because it incorporates laser surgery technology, there is reduced risk of complications and less scarring than with other more expensive, invasive liposuction treatments. Dr. Petti is the Founder and Medical Director of the Aesthetic Accents Cosmetic and Laser Surgery Center. Her practice includes an innovative medical day spa, Spa Bella providing additional beauty enhancement options. Visit http://www.dr-petti.com to learn more.
What used to take weeks or even months of recovery now can have you back on your feet in a day or two! Utilizing the advancement of laser surgery technology, SmartLipo™ is a minimally invasive procedure offering abundant benefits for liposuction patients. In addition to being less expensive than other liposuction treatments, SmartLipo™ patients experience reduced recovery times, less discomfort, minimal health risks and immediate results. It is the safest, least invasive surgical way to contour fat. Nationally recognized leader in cosmetic surgery Los Angeles based Dr. Christine Petti, M.D., F.A.C.S. is one of the first plastic surgeons on the west coast to provide this revolutionary weight loss technique.
Performed at Dr. Petti's state-of-the art licensed and certified Aesthetic Accents Cosmetic and Laser Surgery Center, this life changing procedure can be completed under local anesthesia. Using a smaller-than-a-fine-point-pen fiber optic laser during the surgery creates entry points in the skin that are inconspicuous. The laser wavelengths close down the blood vessels, not only minimizing surgical trauma, but also greatly reducing bruising, swelling and recovery time. SmartLipo™ allows for more complete melting of the fat using advanced MultiPlex (MPX) laser techniques, in which two wavelengths of laser energy work to enhance sculpting of the fat and skin tightening. The MPX SmartLipo™ gives Dr. Petti the opportunity to produce smoother, more natural and superior aesthetic results. Dr. Petti has enthusiastically introduced this life changing procedure to southern California, creating an equally excited and satisfied group of SmartLipo™Los Angeles based patients.
Voted the #1 Cosmetic Surgeon every year since 2004 by the Los Angeles Daily Breeze Readers, Dr. Petti and her patients live by her motto, "What a difference a day of SmartLipo™ can make!". Many of Dr. Petti's patients are at or near their ideal body weight after spending a lifetime dreaming about what her SmartLipo™ procedure created in mere hours.
For those desiring laser liposuction Los Angeles surgeon Dr. Petti begins the process with a personal consultation session explaining, "During your consultation, you and I together will formulate a plan for your desired cosmetic enhancement. Once your cosmetic image is achieved, your recovery process necessitates physical, as well as emotional healing. My professional and caring staff will support you every step of the way. I believe that beauty is twofold, combining aesthetic eye appeal with inner peace to create a feeling of complete well-being. We work to achieve total enhancement in one beautiful setting."
Highly skilled cosmetic surgeon and beauty expert, Dr. Petti is the founder and medical director of the Aesthetic Accents Cosmetic and Laser Surgery Center. Her comprehensive beautification center includes Spa Bella, an innovative medical day spa providing customized medical skin care treatment programs, which help patients maintain their beauty infinitely. For more information about Dr. Petti's SmartLipo™ enhancement procedure and her Los Angeles practice call (310) 539-5888. You may also wish to visit http://www.dr-petti.com.