Los Angeles Plastic Surgeon Talks SculpSure™ – A New Non-Surgical Fat Reduction Technique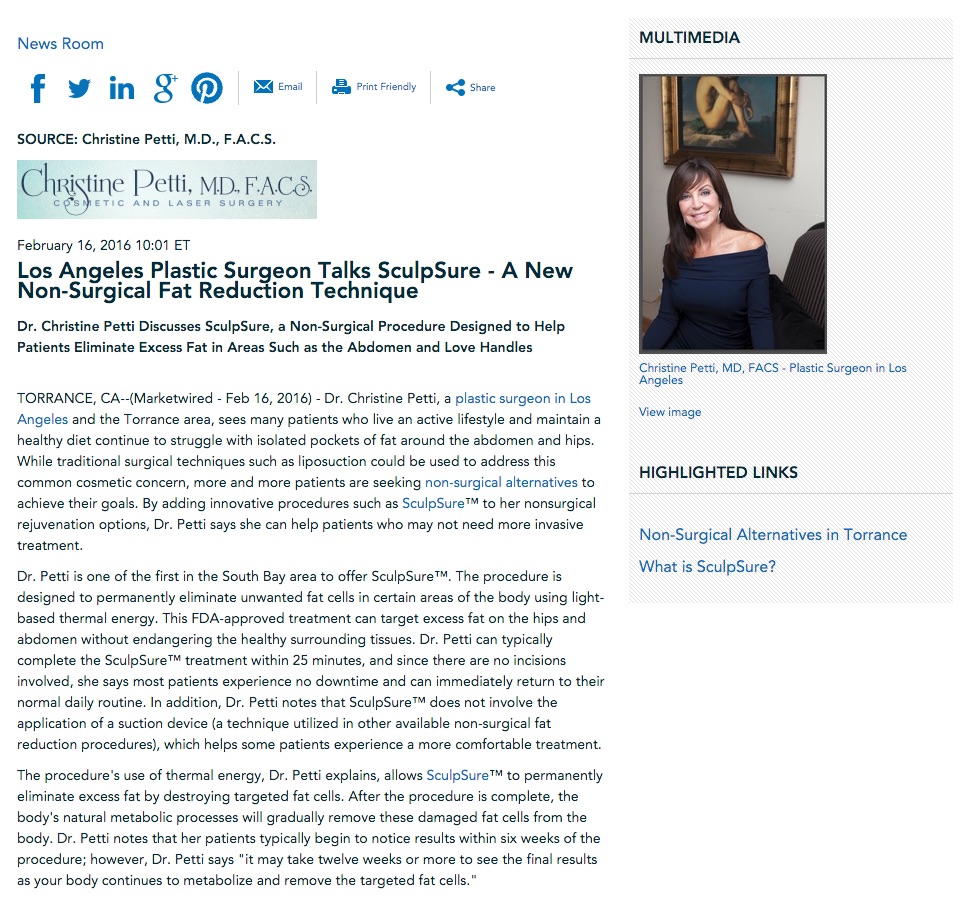 Dr. Christine Petti discusses SculpSure™, a non-surgical procedure designed to help patients eliminate excess fat in areas such as the abdomen and love handles.
Torrance, CA — Dr. Christine Petti, a plastic surgeon in Los Angeles and the Torrance area, sees many patients who live an active lifestyle and maintain a healthy diet continue to struggle with isolated pockets of fat around the abdomen and hips. While traditional surgical techniques such as liposuction could be used to address this common cosmetic concern, more and more patients are seeking non-surgical alternatives to achieve their goals. By adding innovative procedures such as SculpSure™ to her nonsurgical rejuvenation options, Dr. Petti says she can help patients who may not need more invasive treatment.
Dr. Petti is one of the first in the South Bay area to offer SculpSure™. The procedure is designed to permanently eliminate unwanted fat cells in certain areas of the body using light-based thermal energy. This FDA-approved treatment can target excess fat on the hips and abdomen without endangering the healthy surrounding tissues. Dr. Petti can typically complete the SculpSure™ treatment within 25 minutes, and since there are no incisions involved, she says most patients experience no downtime and can immediately return to their normal daily routine. In addition, Dr. Petti notes that SculpSure™ does not involve the application of a suction device (a technique utilized in other available non-surgical fat reduction procedures), which helps some patients experience a more comfortable treatment.
The procedure's use of thermal energy, Dr. Petti explains, allows SculpSure™ to permanently eliminate excess fat by destroying targeted fat cells. After the procedure is complete, the body's natural metabolic processes will gradually remove these damaged fat cells from the body. Dr. Petti notes that her patients typically begin to notice results within six weeks of the procedure; however, Dr. Petti says "it may take twelve weeks or more to see the final results as your body continues to metabolize and remove the targeted fat cells."
Dr. Petti reveals that many individuals have seen a 24 percent reduction in the areas SculpSure™ targets for fat removal. She notes that this procedure can often be a good option for patients who may not need a procedure such as liposuction to effectively address common "trouble spots" like the abdomen and flanks. Dr. Petti says SculpSure™ can be a more convenient option for patients looking to get rid of diet- and exercise-resistant fat in a way that fits into their busy lifestyles. She notes that individuals who are considering this procedure should consult with a board-certified plastic surgeon to see if SculpSure™ is an ideal treatment for their needs.
About Christine Petti, MD, FACS
Dr. Christine Petti is a plastic surgeon, certified by the American Board of Plastic Surgery and an active member of the American Society of Aesthetic Plastic Surgery (ASAPS) and the American Society for Plastic Surgeons (ASPS). A graduate of Saint Mary's College of Notre Dame and Georgetown University, Dr. Petti earned her medical degree from The Medical College of Pennsylvania. Dr. Petti completed her plastic surgery residency at The University of Chicago, Pritzker School of Medicine. She is a Fellow of the American College of Surgeons and a medical expert for The Medical Board of California. She has published numerous scientific manuscripts on laser body contouring, laser liposuction and laser cellulite treatment. Dr. Petti is the Medical Director of Palos Verdes Plastic Surgery Medical Center and Spa Bella, Medical Day Spa, located in the South Bay area of Los Angeles, California. She has been featured as an expert on a variety of popular television programs, including "The Doctors," "20/20," and "Inside Edition." Dr. Petti is available for interview upon request.
For more information about Dr. Petti and her practice, please visit dr-petti.com and facebook.com/drpetti.
Contact:
Christine Petti, MD, FACS
Cosmetic and Laser Surgery
3400 W. Lomita Blvd., Ste. 305
Torrance, CA 90505
(310) 539-5888
Rosemont Media
(858) 200-0044
www.rosemontmedia.com