Los Angeles Plastic Surgeon Discusses Motivations for Breast Implant Revision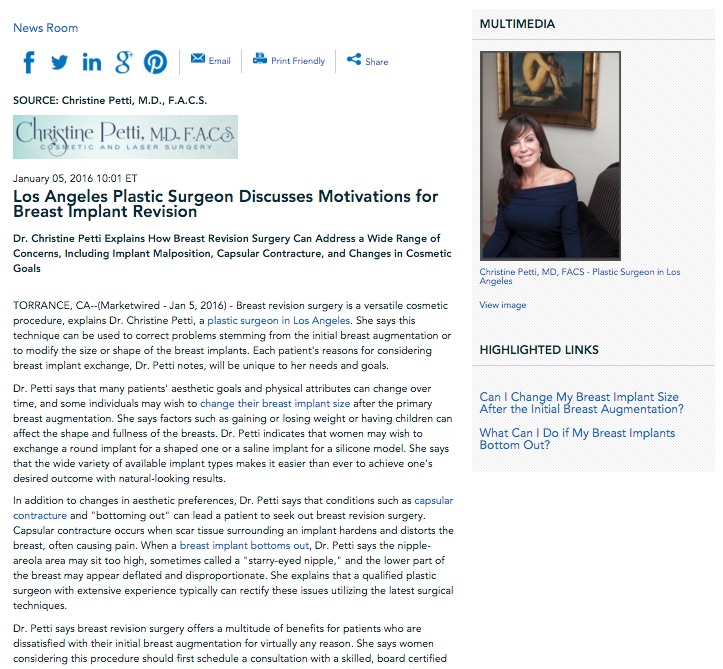 Dr. Christine Petti explains how breast revision surgery can address a wide range of concerns, including implant malposition, capsular contracture, and changes in cosmetic goals.
Torrance, CA — Breast revision surgery is a versatile cosmetic procedure, explains Dr. Christine Petti, a plastic surgeon in Los Angeles. She says this technique can be used to correct problems stemming from the initial breast augmentation or to modify the size or shape of the breast implants. Each patient's reasons for considering breast implant exchange, Dr. Petti notes, will be unique to her needs and goals.
Dr. Petti says that many patients' aesthetic goals and physical attributes can change over time, and some individuals may wish to change their breast implant size after the primary breast augmentation. She says factors such as gaining or losing weight or having children can affect the shape and fullness of the breasts. Dr. Petti indicates that women may wish to exchange a round implant for a shaped one or a saline implant for a silicone model. She says that the wide variety of available implant types makes it easier than ever to achieve one's desired outcome with natural-looking results.
In addition to changes in aesthetic preferences, Dr. Petti says that conditions such as capsular contracture and "bottoming out" can lead a patient to seek out breast revision surgery. Capsular contracture occurs when scar tissue surrounding an implant hardens and distorts the breast, often causing pain. When a breast implant bottoms out, Dr. Petti says the nipple-areola area may sit too high, sometimes called a "starry-eyed nipple," and the lower part of the breast may appear deflated and disproportionate. She explains that a qualified plastic surgeon with extensive experience typically can rectify these issues utilizing the latest surgical techniques.
Dr. Petti says breast revision surgery offers a multitude of benefits for patients who are dissatisfied with their initial breast augmentation for virtually any reason. She says women considering this procedure should first schedule a consultation with a skilled, board certified plastic surgeon who will customize a treatment plan based on the needs and goals of the individual.
About Christine Petti, MD, FACS
Dr. Christine Petti is the Medical Director of Palos Verdes Plastic Surgery Medical Center and Spa Bella, located in the South Bay area of California. She is certified by the American Board of Plastic Surgery and she is an active member of the American Society for Plastic Surgeons (ASPS) and the American Society of Aesthetic Plastic Surgery (ASAPS). Dr. Petti attended Georgetown University and received her medical degree from The Medical College of Pennsylvania. She completed additional training at The University of Chicago, Pritzker School of Medicine and she is a Fellow of the American College of Surgeons. Dr. Petti has served as a featured expert on "The Doctors," "20/20," "Inside Edition," and other television shows. She is available for interview upon request.
For more information about Dr. Petti and her practice, please visit dr-petti.com and facebook.com/drpetti.
Contact:
Christine Petti, MD, FACS
Cosmetic and Laser Surgery
3400 W. Lomita Blvd., Ste. 305
Torrance, CA 90505
(310) 539-5888
Rosemont Media
(858) 200-0044
www.rosemontmedia.com