Los Angeles Plastic Surgeon Dispels Myth That Mommy Makeover Linked to Reproductive Restrictions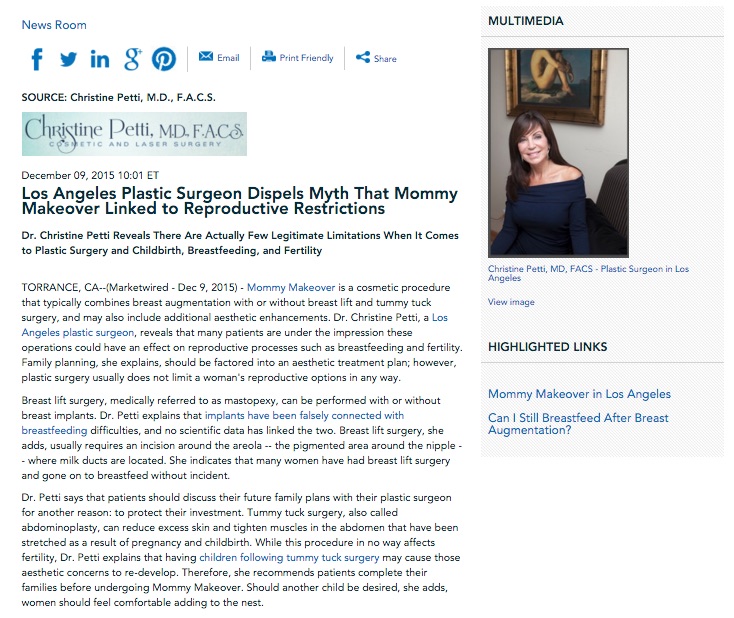 Dr. Christine Petti reveals there are actually few legitimate limitations when it comes to plastic surgery and childbirth, breastfeeding, and fertility.
Torrance, CA — Mommy Makeover is a cosmetic procedure that typically combines breast augmentation with or without breast lift and tummy tuck surgery, and may also include additional aesthetic enhancements. Dr. Christine Petti, a Los Angeles plastic surgeon, reveals that many patients are under the impression these operations could have an effect on reproductive processes such as breastfeeding and fertility. Family planning, she explains, should be factored into an aesthetic treatment plan; however, plastic surgery usually does not limit a woman's reproductive options in any way.
Breast lift surgery, medically referred to as mastopexy, can be performed with or without breast implants. Dr. Petti explains that implants have been falsely connected with breastfeeding difficulties, and no scientific data has linked the two. Breast lift surgery, she adds, usually requires an incision around the areola—the pigmented area around the nipple—where milk ducts are located. She indicates that many women have had breast lift surgery and gone on to breastfeed without incident.
Dr. Petti says that patients should discuss their future family plans with their plastic surgeon for another reason: to protect their investment. Tummy tuck surgery, also called abdominoplasty, can reduce excess skin and tighten muscles in the abdomen that have been stretched as a result of pregnancy and childbirth. While this procedure in no way affects fertility, Dr. Petti explains that having children following tummy tuck surgery may cause those aesthetic concerns to re-develop. Therefore, she recommends patients complete their families before undergoing Mommy Makeover. Should another child be desired, she adds, women should feel comfortable adding to the nest.
Ultimately, Dr. Petti believes that it can be very helpful for patients to discuss their desire to have children with their plastic surgeon. This is even more important, she says, when developing a treatment plan that includes breast augmentation, breast lift surgery, tummy tuck surgery, or a Mommy Makeover. Dr. Petti says that, with this information, a qualified, board certified plastic surgeon will tailor their approach to suit the needs and goals of the individual.
About Christine Petti, MD, FACS
The founder of Palos Verdes Plastic Surgery Medical Center and Spa Bella, Dr. Petti is a board certified plastic surgeon and a Fellow of the American College of Surgeons. She earned her medical degree after attending Georgetown University and The Medical College of Pennsylvania. Following graduation, she completed additional medical training at The University of Chicago, Pritzker School of Medicine. Dr. Petti is an expert reviewer for the Medical Board of California, and she is an active member of the American Society of Plastic Surgeons (ASPS) and the American Society for Aesthetic Plastic Surgery (ASAPS). She has been a featured expert on numerous television programs, including "The Doctors," "20/20," and "Inside Edition." Dr. Petti is available for interview upon request.
For more information about Dr. Petti and her practice, please visit dr-petti.com and facebook.com/drpetti.
Contact:
Christine Petti, MD, FACS
Cosmetic and Laser Surgery
3400 W. Lomita Blvd., Ste. 305
Torrance, CA 90505
(310) 539-5888
Rosemont Media
(858) 200-0044
www.rosemontmedia.com