Optimizing Smartlipo Results Requires Special Training, States Los Angeles Plastic Surgeon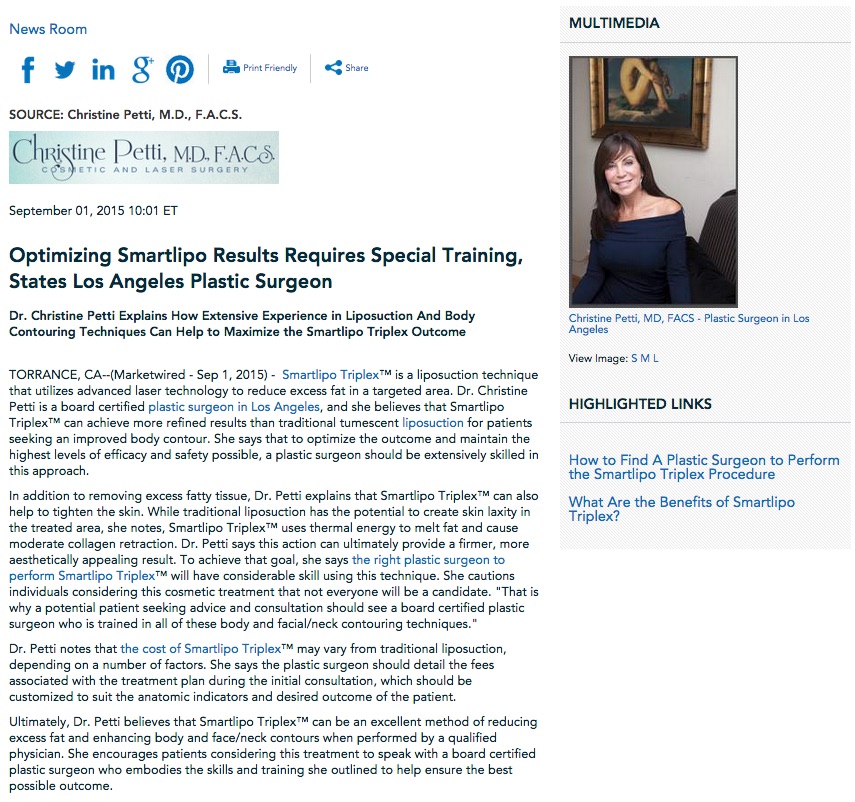 Dr. Christine Petti explains how extensive experience in liposuction and body contouring techniques can help to maximize the Smartlipo Triplex™ outcome.
Torrance, CA — Smartlipo Triplex™ is a liposuction technique that utilizes advanced laser technology to reduce excess fat in a targeted area. Dr. Christine Petti is a board certified plastic surgeon in Los Angeles, and she believes that Smartlipo Triplex™ can achieve more refined results than traditional tumescent liposuction for patients seeking an improved body contour. She says that to optimize the outcome and maintain the highest levels of efficacy and safety possible, a plastic surgeon should be extensively skilled in this approach.
In addition to removing excess fatty tissue, Dr. Petti explains that Smartlipo Triplex™ can also help to tighten the skin. While traditional liposuction has the potential to create skin laxity in the treated area, she notes, Smartlipo Triplex™ uses thermal energy to melt fat and cause moderate collagen retraction. Dr. Petti says this action can ultimately provide a firmer, more aesthetically appealing result. To achieve that goal, she says the right plastic surgeon to perform Smartlipo Triplex™ will have considerable skill using this technique. She cautions individuals considering this cosmetic treatment that not everyone will be a candidate. "That is why a potential patient seeking advice and consultation should see a board certified plastic surgeon who is trained in all of these body and facial/neck contouring techniques."
Dr. Petti notes that the cost of Smartlipo Triplex™ may vary from traditional liposuction, depending on a number of factors. She says the plastic surgeon should detail the fees associated with the treatment plan during the initial consultation, which should be customized to suit the anatomic indicators and desired outcome of the patient.
Ultimately, Dr. Petti believes that Smartlipo Triplex™ can be an excellent method of reducing excess fat and enhancing body and face/neck contours when performed by a qualified physician. She encourages patients considering this treatment to speak with a board certified plastic surgeon who embodies the skills and training she outlined to help ensure the best possible outcome.
About Christine Petti, MD, FACS
Dr. Petti is a board certified plastic surgeon and the Medical Director of the Palos Verdes Plastic Surgery Medical Center and Spa Bella, a medical spa. The practice is an official training center for Cynosure® laser procedures. Dr. Petti received medical training from Georgetown University, The Medical College of Pennsylvania, and The University of Chicago, Pritzker School of Medicine. She is a Fellow of the American College of Surgeons, the American Society of Plastic Surgeons, and the American Society for Aesthetic Plastic Surgery. Dr. Petti has been a featured expert on "The Doctors," a CBS television series, for four years. She has also been a guest on ABC's "20/20" and NBC's "Inside Edition." Dr. Petti is available for interview upon request.
For more information about Dr. Petti and her practice, please visit dr-petti.com and facebook.com/drpetti.
Contact:
Christine Petti, MD, FACS
Cosmetic and Laser Surgery
3400 W. Lomita Blvd., Ste. 305
Torrance, CA 90505
(310) 961-2530
Rosemont Media
(858) 200-0044
www.rosemontmedia.com