Many Factors Affect Natural Appearance of Breast Implants, Says Los Angeles Plastic Surgeon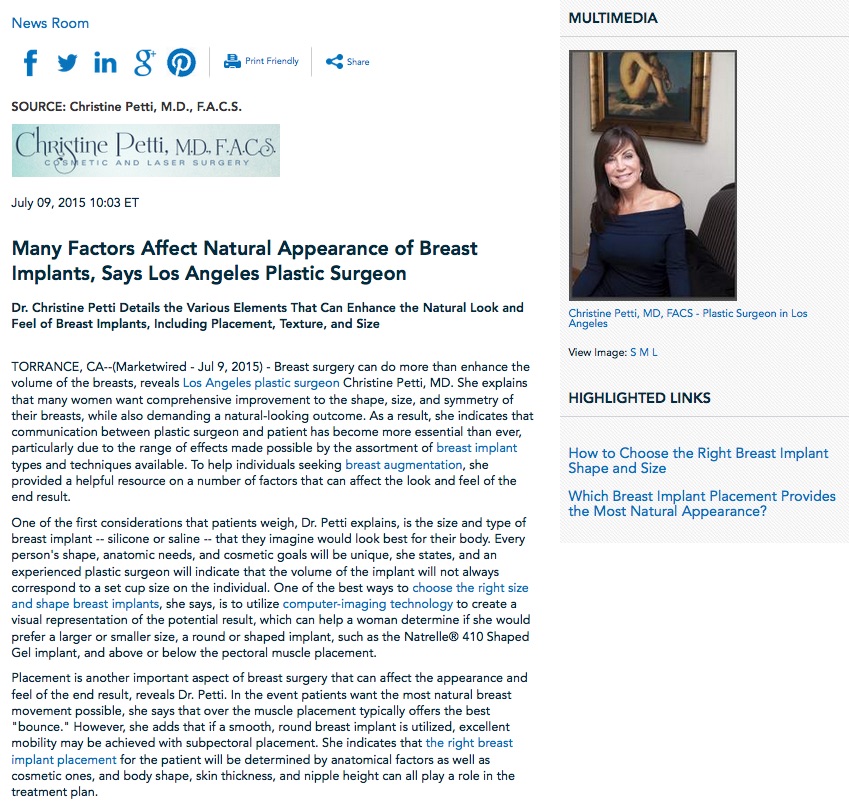 Dr. Christine Petti details the various elements that can enhance the natural look and feel of breast implants, including placement, texture, and size.
Torrance, CA—Breast surgery can do more than enhance the volume of the breasts, reveals Los Angeles plastic surgeon Christine Petti, MD. She explains that many women want comprehensive improvement to the shape, size, and symmetry of their breasts, while also demanding a natural-looking outcome. As a result, she indicates that communication between plastic surgeon and patient has become more essential than ever, particularly due to the range of effects made possible by the assortment of breast implant types and techniques available. To help individuals seeking breast augmentation, she provided a helpful resource on a number of factors that can affect the look and feel of the end result.
One of the first considerations that patients weigh, Dr. Petti explains, is the size and type of breast implant—silicone or saline—that they imagine would look best for their body. Every person's shape, anatomic needs, and cosmetic goals will be unique, she states, and an experienced plastic surgeon will indicate that the volume of the implant will not always correspond to a set cup size on the individual. One of the best ways to choose the right size and shape breast implants, she says, is to utilize computer-imaging technology to create a visual representation of the potential result, which can help a woman determine if she would prefer a larger or smaller size, a round or shaped implant, such as the Natrelle® 410 Shaped Gel implant, and above or below the pectoral muscle placement.
Placement is another important aspect of breast surgery that can affect the appearance and feel of the end result, reveals Dr. Petti. In the event patients want the most natural breast movement possible, she says that over the muscle placement typically offers the best "bounce." However, she adds that if a smooth, round breast implant is utilized, excellent mobility may be achieved with subpectoral placement. She indicates that the right breast implant placement for the patient will be determined by anatomical factors as well as cosmetic ones, and body shape, skin thickness, and nipple height can all play a role in the treatment plan.
Ultimately, Dr. Petti believes that communication and customization offer the best avenues for achieving optimal breast surgery results with regard to a natural look and feel. She says that patients who want to obtain fuller, shapelier, and more harmonious breasts through augmentation surgery should consider these factors and others when discussing their needs and goals with a board certified plastic surgeon.
About Christine Petti, MD, FACS
A board certified plastic surgeon and Fellow of the American College of Surgeons (FACS), Dr. Petti has been in solo practice for over 27 years. She serves as the Medical Director of the Palos Verdes Plastic Surgery Medical Center and Spa Bella, a medical spa. After attending Georgetown University and The Medical College of Pennsylvania to earn her medical degree, she completed formal plastic surgery training at The University of Chicago, Pritzker School of Medicine. A member of several esteemed medical organizations, including the American Society for Aesthetic Plastic Surgery (ASAPS) and the American Society of Plastic Surgeons (ASPS), Dr. Petti has also been a featured expert on several television programs, including "The Doctors" on CBS, "20/20" on ABC, and "Inside Edition" on NBC. She is available for interview upon request.
For more information about Dr. Petti and her practice, please visit dr-petti.com and facebook.com/drpetti.
Contact:
Christine Petti, MD, FACS
Cosmetic and Laser Surgery
3400 W. Lomita Blvd., Ste. 305
Torrance, CA 90505
(310) 961-2530
Rosemont Media
(858) 200-0044
www.rosemontmedia.com