Experience Key for Smartlipo™ Procedure, States Los Angeles Plastic Surgeon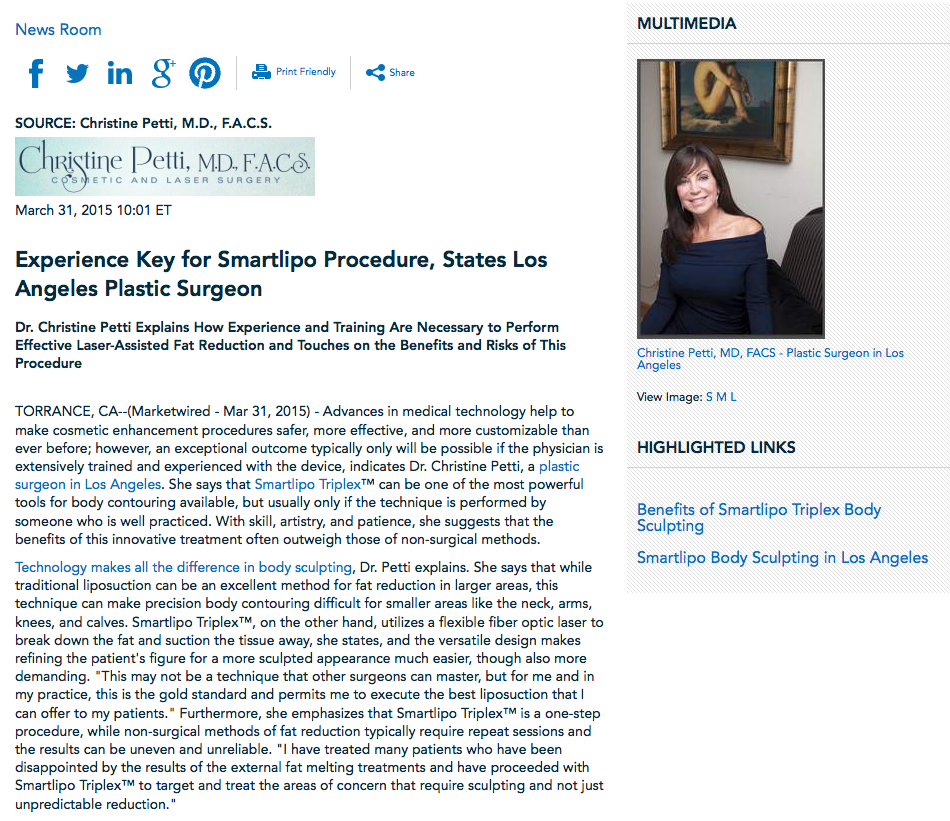 Dr. Christine Petti explains how experience and training are necessary to perform effective laser-assisted fat reduction and touches on the benefits and risks of this procedure.
Torrance, CA—Advances in medical technology help to make cosmetic enhancement procedures safer, more effective, and more customizable than ever before; however, an exceptional outcome typically only will be possible if the physician is extensively trained and experienced with the device, indicates Dr. Christine Petti, a plastic surgeon in Los Angeles. She says that Smartlipo Triplex™ can be one of the most powerful tools for body contouring available, but usually only if the technique is performed by someone who is well practiced. With skill, artistry, and patience, she suggests that the benefits of this innovative treatment often outweigh those of non-surgical methods.
Technology makes all the difference in body sculpting, Dr. Petti explains. She says that while traditional liposuction can be an excellent method for fat reduction in larger areas, this technique can make precision body contouring difficult for smaller areas like the neck, arms, knees, and calves. Smartlipo Triplex™, on the other hand, utilizes a flexible fiber optic laser to break down the fat and suction the tissue away, she states, and the versatile design makes refining the patient's figure for a more sculpted appearance much easier, though also more demanding. "This may not be a technique that other surgeons can master, but for me and in my practice, this is the gold standard and permits me to execute the best liposuction that I can offer to my patients." Furthermore, she emphasizes that Smartlipo Triplex™ is a one-step procedure, while non-surgical methods of fat reduction typically require repeat sessions and the results can be uneven and unreliable. "I have treated many patients who have been disappointed by the results of the external fat melting treatments and have proceeded with Smartlipo Triplex™ to target and treat the areas of concern that require sculpting and not just unpredictable reduction."
Dr. Petti also reveals additional benefits of Smartlipo™ for body contouring, saying that the procedure can help to firm and tighten the skin by stimulating collagen production in the treated area. "Patient education and safety is of the utmost importance to me, and I take the time to disclose these issues and concerns to my patients."
Ultimately, Dr. Petti believes that patients should thoroughly research the available options if considering surgical fat reduction and body contouring, as well as select a board-certified plastic surgeon with expertise in each modality they perform. The latest technology often can provide dramatically improved results and a more satisfying experience but only in the hands of a skilled professional, she cautions. "Whatever it takes to get the best shape in a safe medical/surgical setting is my mission."
Dr. Petti says, "The best reward for me is to see the liberating effects Smartlipo Triplex™ has on a patient's life, due to the freedom they now have to look and feel their best in their own skin."
About Christine Petti, MD, FACS
In private practice since 1988, Dr. Petti is a board-certified plastic surgeon with extensive training in aesthetic plastic surgery, aesthetic breast surgery, and non-invasive cosmetic rejuvenation procedures. The Medical Director of the Palos Verdes Plastic Surgery Medical Center, her practice is an official training center for Cynosure lasers, including Smartlipo Triplex™, Cellulaze™, and PrecisionTx™. In addition to receiving numerous professional accolades, she has also been a guest speaker on "The Doctors" on CBS, "20/20" on ABC, and "Inside Edition" on NBC as a medical expert. A Fellow of The American College of Surgeons (FACS), she is also an active member of the American Society of Plastic Surgeons (ASPS) and the American Society for Aesthetic Plastic Surgery (ASAPS). Dr. Petti is available for interview upon request.
For more information about Dr. Petti and her practice, please visit dr-petti.com and facebook.com/drpetti.
Contact:
Christine Petti, MD, FACS
Cosmetic and Laser Surgery
3400 W. Lomita Blvd., Ste. 305
Torrance, CA 90505
(310) 961-2530
Rosemont Media
(858) 200-0044
www.rosemontmedia.com