Los Angeles Plastic Surgeon Performs Breast Revision Surgery to Correct Multitude of Concerns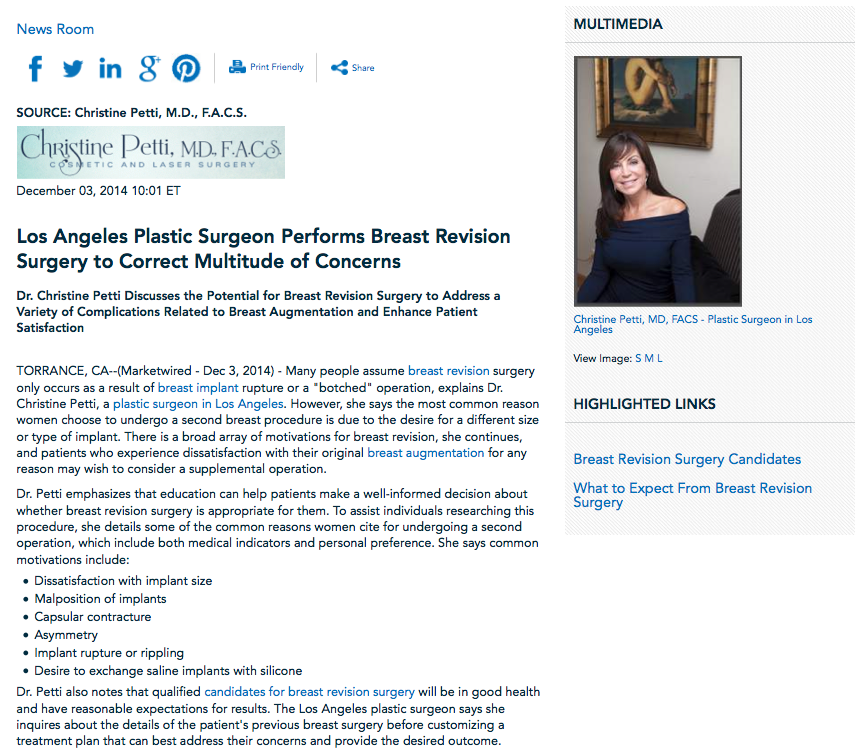 Dr. Christine Petti discusses the potential for breast revision surgery to address a variety of complications related to breast augmentation and enhance patient satisfaction.
Torrance, CA—Many people assume breast revision surgery only occurs as a result of breast implant rupture or a "botched" operation, explains Dr. Christine Petti, a plastic surgeon in Los Angeles. However, she says the most common reason women choose to undergo a second breast procedure is due to the desire for a different size or type of implant. There is a broad array of motivations for breast revision, she continues, and patients who experience dissatisfaction with their original breast augmentation for any reason may wish to consider a supplemental operation.
Dr. Petti emphasizes that education can help patients make a well-informed decision about whether breast revision surgery is appropriate for them. To assist individuals researching this procedure, she details some of the common reasons women cite for undergoing a second operation, which include both medical indicators and personal preference. She says common motivations include:
Dissatisfaction with implant size
Malposition of implants
Capsular contracture
Asymmetry
Implant rupture or rippling
Desire to exchange saline implants with silicone
Dr. Petti also notes that qualified candidates for breast revision surgery will be in good health and have reasonable expectations for results. The Los Angeles plastic surgeon says she inquires about the details of the patient's previous breast surgery before customizing a treatment plan that can best address their concerns and provide the desired outcome.
Women should also prepare for the procedural and recovery experience, she adds. Knowing what to expect from breast revision surgery can generally make the healing process advance more smoothly, typically leading to higher patient satisfaction. In most cases, Dr. Petti notes that the pocket that held the breast implant will have to be modified to create a more natural-looking appearance. Structure-enhancing sutures are also often utilized, she explains, to help ensure a shapely and symmetrical outcome.
Ultimately, Dr. Petti hopes to dispel rumors that breast revision surgery is only for "botched" breast augmentations or implant ruptures. Patients who are experiencing dissatisfaction with their breast surgery for any reason, she encourages, should speak with a qualified plastic surgeon to determine if they may benefit from a second operation. She says that while typically no one plans for future modifications when undergoing breast augmentation, women should not have to live with an outcome they do not love.
About Christine Petti, MD, FACS
Dr. Petti, a board-certified plastic surgeon, attended Saint Mary's College of Notre Dame for her undergraduate education, followed by Georgetown University and The Medical College of Pennsylvania, where she earned her medical degree. She then completed a plastic surgery residency at The University of Chicago, Pritzker School of Medicine, before founding her private practice in Los Angeles in 1988. She has been featured on numerous TV shows as a medical expert, including "The Doctors" on CBS, ABC's "20/20," and NBC's "Inside Edition." She is also an active member of several prestigious medical associations. Dr. Petti is available for interview upon request.
For more information about Dr. Petti and her practice, please visit dr-petti.com and facebook.com/drpetti.
Contact:
Christine Petti, MD, FACS
Cosmetic and Laser Surgery
3400 W. Lomita Blvd., Ste. 305
Torrance, CA 90505
(310) 961-2530
Rosemont Media
(858) 200-0044
www.rosemontmedia.com