Los Angeles Military Couple Discuss Their Transformation Experience With Plastic Surgery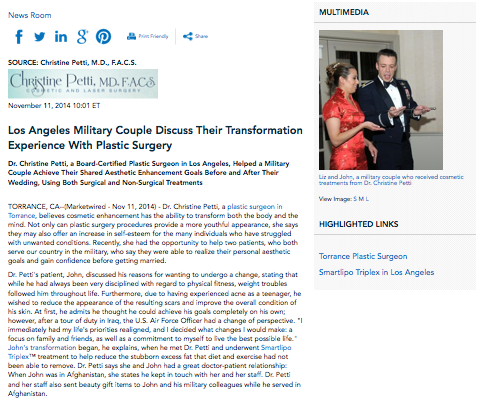 Dr. Christine Petti, a board-certified plastic surgeon in Los Angeles, helped a military couple achieve their shared aesthetic enhancement goals before and after their wedding, using both surgical and non-surgical treatments.
Torrance, CA—Dr. Christine Petti, a plastic surgeon in Torrance, believes cosmetic enhancement has the ability to transform both the body and the mind. Not only can plastic surgery procedures provide a more youthful appearance, she says they may also offer an increase in self-esteem for the many individuals who have struggled with unwanted conditions. Recently, she had the opportunity to help two patients, who both serve our country in the military, who say they were able to realize their personal aesthetic goals and gain confidence before getting married.
Dr. Petti's patient, John, discussed his reasons for wanting to undergo a change, stating that while he had always been very disciplined with regard to physical fitness, weight troubles followed him throughout life. Furthermore, due to having experienced acne as a teenager, he wished to reduce the appearance of the resulting scars and improve the overall condition of his skin. At first, he admits he thought he could achieve his goals completely on his own; however, after a tour of duty in Iraq, the U.S. Air Force Officer had a change of perspective. "I immediately had my life's priorities realigned, and I decided what changes I would make: a focus on family and friends, as well as a commitment to myself to live the best possible life." John's transformation began, he explains, when he met Dr. Petti and underwent Smartlipo Triplex™ treatment to help reduce the stubborn excess fat that diet and exercise had not been able to remove. Dr. Petti says she and John had a great doctor-patient relationship: When John was in Afghanistan, she states he kept in touch with her and her staff. Dr. Petti and her staff also sent beauty gift items to John and his military colleagues while he served in Afghanistan.
During the course of treatment, John says he met his future wife and fellow Air Force service member, Liz, at an official military function in Beverly Hills. He states that once he realized they shared similar difficulties with weight loss and a desire to remain healthy and active, he offered to introduce her to Dr. Petti. Inspired by the success of his surgery, John says that Liz also requested the Smartlipo Triplex™ procedure.
After the conclusion of a military tour, John and Liz walked down the aisle together. "Through our efforts and what Dr. Petti gave us, Liz and I were able to have our dream wedding after I returned from Afghanistan. We looked and felt the best we had in our entire lives, and the photos prove it!" Proud of who they had become, John notes he and Liz were ready to finalize their transformation process with some facial treatments. He says with Dr. Petti's recommendation, he chose the SmartSkin CO2™ laser skin peel to help reduce his acne scars and even his skin tone and texture. Additionally, he says they both utilized STEMOLOGY® skin care products, and Liz refreshed her appearance with a Bella Facial called Youth Activating UltraGlo.
Dr. Petti says she is elated she could assist both John and Liz with their aesthetic enhancement goals as well as the couple's desire to improve their sense of self worth. John says he and Liz are very satisfied with their experience with Dr. Petti and her plastic surgery practice. "We are very grateful to Dr. Petti and the team! They helped us achieve our dreams, and we highly recommend to anyone wanting to do something to improve how they look and feel to consider a consultation."
About Christine Petti, MD, FACS
Board-certified plastic surgeon Dr. Petti has been in private practice in the Los Angeles area since 1988. She attended Georgetown University followed by The Medical College of Pennsylvania to attain her medical degree, after which she completed her plastic surgery residency at The University of Chicago, Pritzker School of Medicine. She has been a featured speaker on the CBS television show "The Doctors" on multiple occasions, and has appeared on ABC's 20/20 as a medical expert. Dr. Petti is also an active member of several esteemed medical organizations, including American Society of Plastic Surgeons, The American Society for Aesthetic Plastic Surgery, and the Los Angeles Medical Association. She is available for interview upon request.
For more information about Dr. Petti and her practice, please visit dr-petti.com and facebook.com/drpetti.
Contact:
Christine Petti, MD, FACS
Cosmetic and Laser Surgery
3400 W. Lomita Blvd., Ste. 305
Torrance, CA 90505
(310) 961-2530
Rosemont Media
(858) 200-0044
www.rosemontmedia.com