His and Hers Transformation: The Afterglow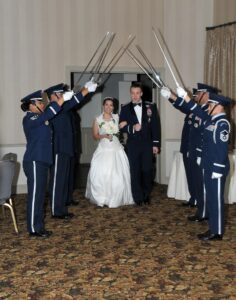 In most cases, patients come to us as individuals, seeking to rejuvenate the face and body and, for some, to boost their sense of self-esteem. However, John and Liz, a military couple striving to achieve long-held aesthetic goals, opted to undergo cosmetic enhancement before they walked down the aisle. In the final installment of our blog series on John and Liz's transformation, the two United States Air Force members continue the rejuvenation process by focusing on enhanced skin care and facial treatments.
In our recent blog post about John's transformation, he mentioned his discomfort with acne scars stemming from his teenage years. After speaking with our experienced cosmetic surgeon, Dr. Christine Petti, he decided to try SmartSkin CO2™ laser skin rejuvenation to minimize the scars and improve the overall tone and texture of his face. In addition, this innovative fractional laser skin resurfacing system can often reduce fine lines and wrinkles, brighten under eye circles, minimize pigmentation, and tighten skin.<
To further refresh his appearance and help to ensure longer-lasting results, John received a microdermabrasion treatment and performed at-home maintenance utilizing STEMOLOGY® skin care products and the Clarisonic Pro Skincare System.
Liz also wanted to enhance her appearance, so she chose the Youth Activating STEMOLOGY® Facial, one of our many Spa Bella Facials that are designed to gently exfoliate, hydrate, and smooth the skin for a more vibrant look and softer feel. At home, she helps to maintain her results by using STEMOLOGY® skin care products and the Clarisonic Pro system.
John and Liz have selflessly dedicated their lives in service to our nation and to each other, and they wanted to fulfill a desire for comprehensive body and facial rejuvenation that they'd held for years. In discussing their shared experiences over the course of their treatments, they both expressed delight in having achieved their goals, and they spoke of their appreciation for Dr. Petti and her team for their exceptional care, talent, and support throughout the process.
For more information about our facial rejuvenation treatments or to schedule a consultation with Dr. Petti, please contact our office today.