His and Hers Transformation: Liz
Many women dream of the day they will walk down the aisle. For one woman, her wedding vision involved an aesthetic transformation that provided an enhanced sense of confidence and a unique shared experience with her fiancé. In this inspiring patient testimonial, Liz, a U.S. Air Force member, shares with us her story of rejuvenation just as John shared his in our last post.
Health has always been a priority for Liz, who struggled with weight troubles in childhood. Determined to overcome her difficulties, she worked hard, exercised regularly, and maintained a healthy diet. Still, there were a few stubborn pounds that refused to budge. One day, while attending an official military function in Beverly Hills, she happened upon John, a fellow Air Force member. There was an immediate spark and they quickly fell in love. Empathetic to her weight struggles, John recommended that Liz meet his plastic surgeon, our Dr. Christine Petti.
As their love continued to blossom, the military couple became engaged. Liz, inspired by John's renewed sense of confidence and impressive results, resolved to undergo Smartlipo Triplex™ treatment as well. She was eager to reduce the excess weight that diet and exercise hadn't been able to remove before saying, "I do." Once she completed the procedure and her results were achieved, she felt ready to walk down the aisle, explaining that she had never felt so beautiful in her life.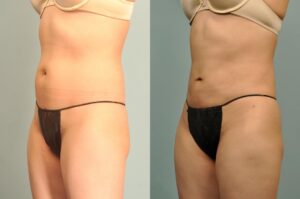 Smartlipo Triplex™ is designed to target pockets of excess fat in a minimally-invasive manner. This is an excellent method of fat reduction for Liz and John, as they are both active military personnel who cannot spend a lot of time recovering from surgical procedures. Furthermore, Smartlipo Triplex™ is intended for patients who are at or close to their ideal weight, as was this couple.
Delighted with their results, John and Liz decided to extend their cosmetic enhancement goals as they began their life together. In our next post, we will discuss the facial rejuvenation procedures they decided to undergo to finalize their aesthetic transformation.
For more information about Smartlipo Triplex™, or if you wish to schedule a consultation with Dr. Petti, please contact us today.