Los Angeles Plastic Surgeon and Her Medical Spa Voted "Best" by Daily Breeze Readers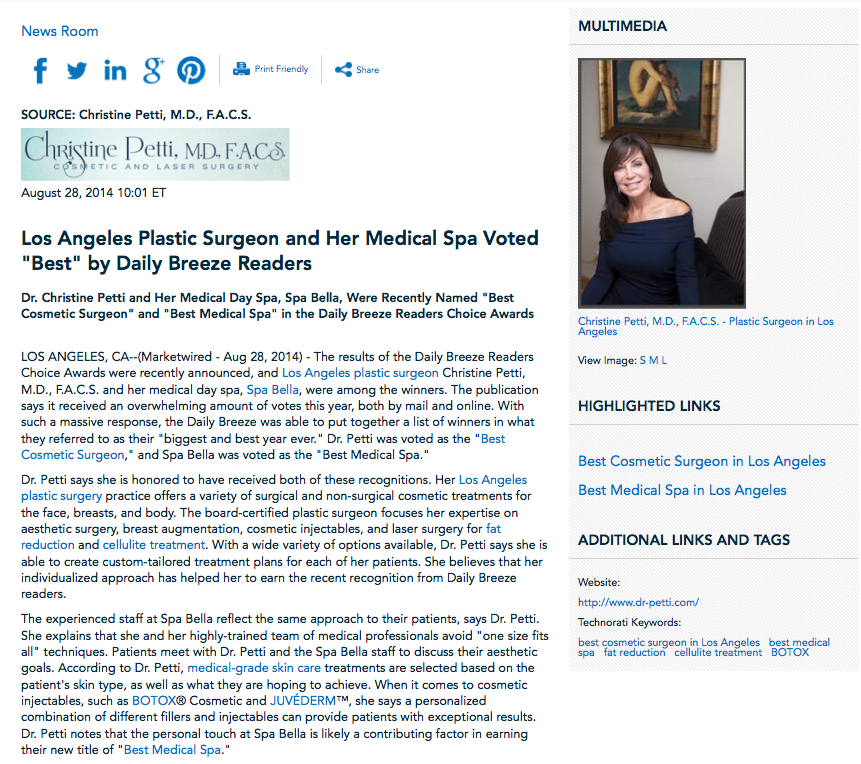 Dr. Christine Petti and her medical day spa, Spa Bella, were recently named "Best Cosmetic Surgeon" and "Best Medical Spa" in the Daily Breeze Readers Choice Awards.
Los Angeles, CA — The results of the Daily Breeze Readers Choice Awards were recently announced, and Los Angeles plastic surgeon Christine Petti, M.D., F.A.C.S. and her medical day spa, Spa Bella, were among the winners. The publication says it received an overwhelming amount of votes this year, both by mail and online. With such a massive response, the Daily Breeze was able to put together a list of winners in what they referred to as their "biggest and best year ever." Dr. Petti was voted as the "Best Cosmetic Surgeon," and Spa Bella was voted as the "Best Medical Spa."
Dr. Petti says she is honored to have received both of these recognitions. Her Los Angeles plastic surgery practice offers a variety of surgical and non-surgical cosmetic treatments for the face, breasts, and body. The board-certified plastic surgeon focuses her expertise on aesthetic surgery, breast augmentation, cosmetic injectables, and laser surgery for fat reduction and cellulite treatment. With a wide variety of options available, Dr. Petti says she is able to create custom-tailored treatment plans for each of her patients. She believes that her individualized approach has helped her to earn the recent recognition from Daily Breeze readers.
The experienced staff at Spa Bella reflect the same approach to their patients, says Dr. Petti. She explains that she and her highly-trained team of medical professionals avoid "one size fits all" techniques. Patients meet with Dr. Petti and the Spa Bella staff to discuss their aesthetic goals. According to Dr. Petti, medical-grade skin care treatments are selected based on the patient's skin type, as well as what they are hoping to achieve. When it comes to cosmetic injectables, such as BOTOX® Cosmetic and JUVÉDERM™, she says a personalized combination of different fillers and injectables can provide patients with exceptional results. Dr. Petti notes that the personal touch at Spa Bella is likely a contributing factor in earning their new title of "Best Medical Spa."
Ultimately, Dr. Petti says she and her friendly, knowledgeable staff at Spa Bella will remain dedicated to providing high standards of patient care. She hopes that with their continued efforts to go above and beyond patient expectations, they will be able to earn these recognitions again for many years to come.
About Christine Petti, M.D., F.A.C.S.
Board-certified plastic surgeon Dr. Petti is medical director of her Los Angeles area cosmetic surgery practice, as well as her practice's medical spa, Spa Bella. She has been featured as a medical expert on ABC's 20/20, "The Doctors" on CBS, and various other television programs. Prior to earning her medical degree, Dr. Petti attended medical school at both Georgetown University and The Medical College of Pennsylvania. After medical school, she went on to train in her plastic surgery residency at The University of Chicago, Pritzker School of Medicine. She is currently an active member of several prestigious medical organizations, including the American Society for Aesthetic Plastic Surgery, the Los Angeles County Medical Association, and the American Society of Plastic Surgeons. Dr. Petti is available for interview upon request.
To learn more about Dr. Petti and her practice, please visit dr-petti.com or facebook.com/drpetti.
Contact:
Christine Petti, M.D., F.A.C.S.
Cosmetic and Laser Surgery
3400 W. Lomita Blvd.
Suite 305
Torrance, CA 90505
(310) 961-2530
Rosemont Media
[email protected]
(858) 200-0044
www.rosemontmedia.com