Los Angeles Plastic Surgeon Undergoes Facial Procedure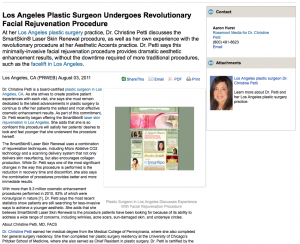 At her Los Angeles plastic surgery practice, Dr. Christine Petti discusses the SmartSkin® Laser Skin Renewal procedure, as well as her own experience with the revolutionary procedure at her Aesthetic Accents practice. Dr. Petti says this minimally-invasive facial rejuvenation procedure provides dramatic aesthetic enhancement results, without the downtime required of more traditional procedures, such as the facelift in Los Angeles.
Dr. Christine Petti is a board-certified plastic surgeon in Los Angeles, CA. As she strives to create positive patient experiences with each visit, she says she must remain dedicated to the latest advancements in plastic surgery to continue to offer her patients the safest and most effective cosmetic enhancement results. As part of this commitment, Dr. Petti recently began offering the SmartSkin® laser skin rejuvenation in Los Angeles. She adds that she is so confident this procedure will satisfy her patients' desires to look and feel younger that she underwent the procedure herself.
The SmartSkin® Laser Skin Renewal uses a combination of rejuvenation techniques, including Micro Ablative CO2 technology and a scanning delivery system that not only delivers skin resurfacing, but also encourages collagen production. While Dr. Petti says one of the most significant changes in the way this procedure is performed is the reduction in recovery time and discomfort, she also says the combination of procedures provides better and more immediate results.
With more than 9.3 million cosmetic enhancement procedures performed in 2010, 83% of which were nonsurgical in nature [1], Dr. Petti says the most recent statistics show patients are still searching for less-invasive ways to achieve a younger aesthetic. She adds that she believes SmartSkin® Laser Skin Renewal is the procedure patients have been looking for because of its ability to address a wide range of concerns, including wrinkles, acne scars, sun-damaged skin, and undereye circles.
About Christine Petti, MD, FACS
Dr. Christine Petti earned her medical degree from the Medical College of Pennsylvania, where she also completed her general surgery residency. She then completed her plastic surgery residency at the University of Chicago's Pritzker School of Medicine, where she also served as Chief Resident in plastic surgery. Dr. Petti is certified by the American Board of Plastic Surgery, and is a Fellow of the American College of Surgeons. She is also a member of the American Society of Plastic Surgeons, and the American Society for Aesthetic Plastic Surgery. Along with her appearances on daytime talk shows such as "The Doctors," Dr. Petti has authored a number of medical articles in both the U.S. and Canada.
Palos Verdes Plastic Surgery Medical Center is located at 300 W. Lomita Blvd., Ste. 307, in Torrance, CA 90505, and can be reached at (310) 961-2530, or found online at dr-petti.com or the Palos Verdes Plastic Surgery Medical Center Facebook page.
[1] Cosmetic Surgery National Data Bank Statistics. The American Society for Aesthetic Plastic Surgery. Retrieved on July 18, 2011 from surgery.org/media/statistics
###