Los Angeles Plastic Surgeon Sends Simple Luxuries to Troops in Afghanistan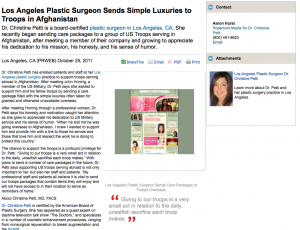 Los Angeles, CA (PRWEB) October 25, 2011 – Dr. Christine Petti is a board-certified plastic surgeon in Los Angeles, CA. She recently began sending care packages to a group of US Troops serving in Afghanistan, after meeting a member of their company and growing to appreciate his dedication to his mission, his honesty, and his sense of humor.
Dr. Christine Petti has enlisted patients and staff at her Los Angeles plastic surgery practice to support troops serving abroad in Afghanistan. After meeting John Homrig, a member of the US Military, Dr. Petti says she wanted to support him and his fellow troops by sending a care package filled with the simple luxuries often taken for granted and otherwise unavailable overseas.
After meeting Homrig through a professional contact, Dr. Petti says his honesty and motivation caught her attention as she grew to appreciate his dedication to US Military service and his sense of humor. "When he told me he was going overseas to Afghanistan, I knew I wanted to support him and provide him with a link to those he serves and those that love him and respect the work he is doing to protect this country."
The chance to support the troops is a profound privilege for Dr. Petti. "Giving to our troops is a very small act in relation to the daily, unselfish sacrifice each troop makes." With plans to send a number of care packages in the future, Dr. Petti says supporting US troops serving abroad is not only important to her, but also her staff and patients. "My professional staff and patients all believe it is vital to send our troops packages that contain items they will enjoy and will not have access to in their location to serve as reminders of home."
About Christine Petti, MD, FACS
Dr. Christine Petti is certified by the American Board of Plastic Surgery. She has appeared as a guest expert on daytime television talk show "The Doctors," and specializes in a number of cosmetic enhancement procedures, ranging from nonsurgical rejuvenation to breast augmentation and the facelift.
Dr. Petti's plastic surgery practice, Palos Verdes Plastic Surgery Medical Center, is located at 3400 W. Lomita Blvd. Suite 307 Torrance, CA 90505, and can be reached at (310) 961-2530, or found online at dr-petti.com or facebook.com/drpetti.
###