Plastic Surgeon in Los Angeles on Restoring Your Pre-Baby Body with a Mommy Makeover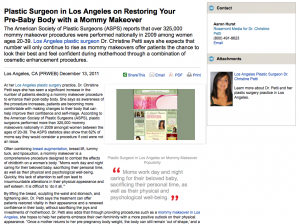 The American Society of Plastic Surgeons (ASPS) reports that over 325,000 mommy makeover procedures were performed nationally in 2009 among women ages 20-39. Los Angeles plastic surgeon Dr. Christine Petti says she expects that number will only continue to rise as mommy makeovers offer patients the chance to look their best and feel confident during motherhood through a combination of cosmetic enhancement procedures.
At her Los Angeles plastic surgery practice, Dr. Christine Petti says she has seen a significant increase in the number of patients electing a mommy makeover procedure to enhance their post-baby body. She says as awareness of the procedure increases, patients are becoming more comfortable with making changes to their body that can help improve their confidence and self-image. According to the American Society of Plastic Surgeons (ASPS), plastic surgeons performed more than 325,000 mommy makeovers nationally in 2009 amongst women between the ages of 20-39. The ASPS statistics also show that 62% of moms say they would consider a procedure if cost were not an issue.
Often combining breast augmentation, breast lift, tummy tuck, and liposuction, a mommy makeover is a comprehensive procedure designed to combat the effects of childbirth on a woman's body. "Moms work day and night caring for their beloved baby, sacrificing their personal time, as well as their physical and psychological well-being. Quickly, this lack of attention to self can lead to insurmountable alterations in their physical appearance and self esteem. It is difficult to 'do it all.'"
By lifting the breast, sculpting the waist and stomach, and tightening skin, Dr. Petti says the treatment can offer patients restored vitality in their appearance and a renewed confidence in their body, without sacrificing the joys and investments of motherhood. Dr. Petti also adds that through providing procedures such as a mommy makeover in Los Angeles, she hopes to help her patients embrace their own femininity with a more positive outlook on their physical appearance. "Once a mother returns to her pre-pregnancy body weight, the body can still remain 'out of shape,' and a mommy makeover may be the only solution to return a mother's body to her pre-pregnancy state. This is not vain surgery, it is restorative and vital in many cases, so it is something worth investigating to make the right choices and seek the best opinions from surgeons whom not only have good technical skills, but are also warm, understanding, and ethical."
Whether patients are choosing to combine procedures through a mommy makeover or undergo a single enhancement, Dr. Petti says cosmetic surgery is growing in popularity and approval at her practice; an observation confirmed by the latest study from the American Society for Aesthetic Plastic Surgery (ASAPS). She adds that as plastic surgery continues to increase in demand, patients should be sure to consult with a qualified and experienced board-certified plastic surgeon before undergoing any procedure.
"The subject of mommy makeovers has never truly been unpopular; however, in the past our society conducted these conversations in closed settings because the topic could be considered taboo. Today, mothers and families are open to discussions about the changes a mother experiences: husbands and even children are privy to discussions about what happens to a woman's body after pregnancy, and how difficult it can be for a mother to truly 'get it back.' This combination of procedures is discussed in doctor's offices and family homes, in magazines and newspapers, on the radio, TV shows, and on the internet, so there is a lot of information out there."
Because of the amount of information available, along with the complexity of combining several cosmetic procedures, Dr. Petti urges anyone considering a mommy makeover, or any form of aesthetic enhancement, to seek the opinion of a board-certified plastic surgeon. "Regardless of the procedure, the patient must find the best resource, based on good medicine, good surgery and excellent patient communications to find a plastic surgeon whom can evaluate and execute in such a way as to realistically meet their individual goals and expectations."
About Christine A. Petti, MD, FACS
Dr. Christine Petti graduated summa cum laude from St. Mary's College of Notre Dame University, after which she received a research grant from the National Institute of Health for a fellowship at the Department of Pharmacology at Georgetown University. She completed her Doctor of Medicine degree at the Medical College of Pennsylvania where she also completed a general surgery residency and received the distinction "Best Surgical Resident." Dr. Petti finished her plastic surgery residency at the University of Chicago's Pritzker School of Medicine and was Chief Resident in plastic surgery. She is board-certified by the American Board of Plastic Surgery, a Fellow of the American College of Surgeons, and a member of both the American Society of Plastic Surgeons and the American Society for Aesthetic Plastic Surgery. Dr. Petti has appeared on several national and cable television outlets, including The Plastic Surgery Channel web news discussing the Mommy Makeover procedure.
Located at 3400 W. Lomita Blvd., Suite 307 in Torrance, CA, Dr. Petti's practice can be reached at (310) 961-2530. She can also be contacted online through the website www.dr-petti.com or www.facebook.com/drpetti.
###