New FDA-Approved Treatment for Cellulite Now Available at Los Angeles Plastic Surgery Practice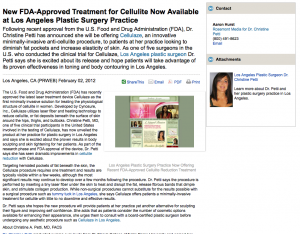 Los Angeles, CA (PRWEB) February 02, 2012 – Following recent approval from the U.S. Food and Drug Administration (FDA), Dr. Christine Petti has announced she will be offering Cellulaze, an innovative minimally-invasive anti-cellulite procedure, to patients at her practice looking to diminish fat pockets and increase elasticity of skin. As one of five surgeons in the U.S. who conducted the clinical trial for Cellulaze, Los Angeles plastic surgeon Dr. Petti says she is excited about its release and hope patients will take advantage of its proven effectiveness in toning and body contouring in Los Angeles.
The U.S. Food and Drug Administration (FDA) has recently approved the latest laser treatment device Cellulaze as the first minimally invasive solution for treating the physiological structure of cellulite in women. Developed by Cynosure, Inc., Cellulaze utilizes laser fiber and heating technology to reduce cellulite, or fat deposits beneath the surface of skin around the hips, thighs, and buttocks. Christine Petti, MD, one of five clinical trial participants in the United States involved in the testing of Cellulaze, has now unveiled the product at her practice for plastic surgery in Los Angeles and says she is excited about the proven results in body sculpting and skin tightening for her patients. As part of the research phase and FDA approval of the device, Dr. Petti says she has seen dramatic improvements in cellulite reduction with Cellulaze.
Targeting herniated pockets of fat beneath the skin, the Cellulaze procedure requires one treatment and results are typically visible within a few weeks, although the most significant results may continue to develop over a few months following the procedure. Dr. Petti says the procedure is performed by inserting a tiny laser fiber under the skin to heat and disrupt the fat, release fibrous bands that dimple skin, and stimulate collagen production. While non-surgical procedures cannot substitute for the results possible with a surgical procedure such as tummy tuck in Los Angeles, she says Cellulaze offers patients a minimally-invasive treatment for cellulite with little to no downtime and effective results.
Dr. Petti says she hopes the new procedure will provide patients at her practice yet another alternative for sculpting their figure and improving self confidence. She adds that as patients consider the number of cosmetic options available for enhancing their appearance, she urges them to consult with a board-certified plastic surgeon before undergoing any aesthetic procedure such as Cellulaze in Los Angeles.
About Christine A. Petti, MD, FACS
Dr. Christine Petti graduated summa cum laude from St. Mary's College of Notre Dame University and earned her Doctor of Medicine degree from the Medical College of Pennsylvania, where she completed her residency in general surgery with the awarded distinction of "Best Surgical Resident." She completed her plastic surgery residency at the University of Chicago's Pritzker School of Medicine and served as Chief Resident in Plastic Surgery during 1988. Dr. Petti is board-certified by the American Board of Plastic Surgery and is a member of the American Society of Plastic Surgeons and the American Society for Aesthetic Plastic Surgery. She serves as past Assistant Clinical Professor of Plastic Surgery at the University of Southern California and has been a Fellow of the American College of Surgeons since 1992. Dr. Petti regularly appears on national and cable television, including "The Doctor's", to offer her professional expertise. She has also been named the #1 Cosmetic Surgeon in The South Bay by the Daily Breeze of Los Angeles Readers Poll.
Located at 3400 W. Lomita Blvd., Suite 307 in Torrance, CA, Dr. Petti's practice can be reached at (310) 961-2530. She can also be contacted online via the website dr-petti.com or facebook.com/drpetti.
###